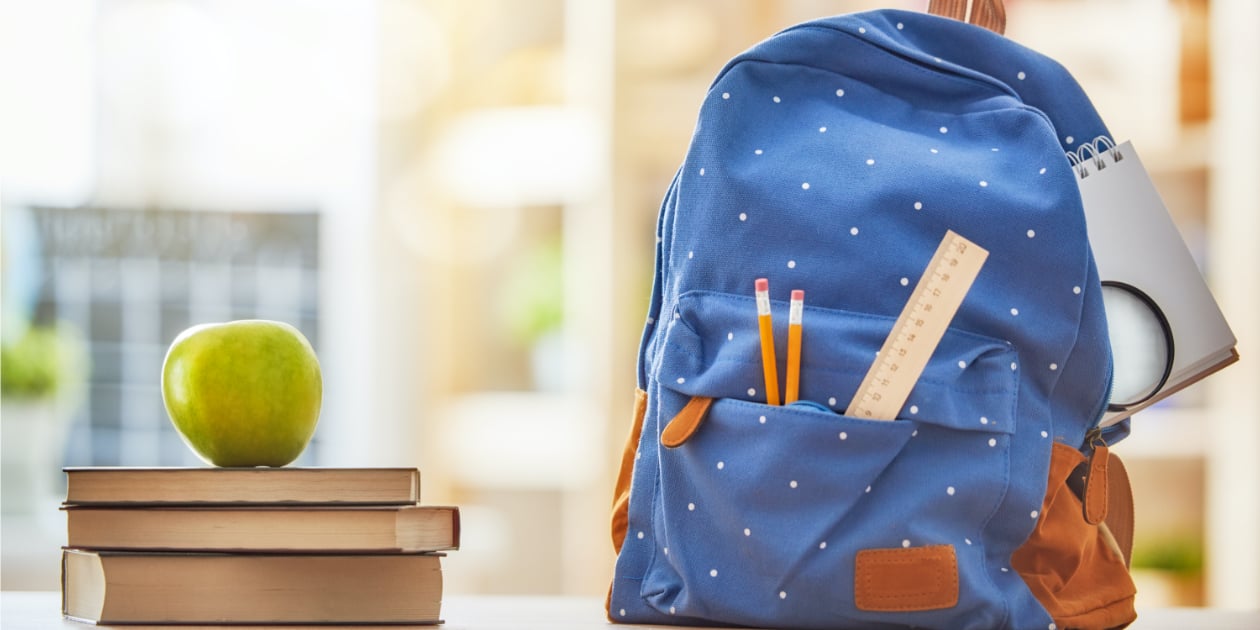 Summer's over, and the smells of football season and colored pencils are in the air. Whether you're a room parent, a teacher, or a school administrator, you've likely stared at your school calendar already wondering how you're going to get everything done in the months ahead. Organization is the key. From fundraisers to classroom parties to parent teacher conferences, SignUpGenius can help you get the job done with lots of efficiency and a little bit a' style!
Room Parents Use SignUpGenius for…
Fundraisers:
With SignUpGenius, you can
coordinate your school fundraisers
in a few different ways. You might use a sign up for gathering volunteers to work an event. You could also use it as a platform for people who want to commit pledges to the cause. Why not invite the whole student body to your fundraising event and get their RSVP's with a sign up where they tell you what times and in which activities they'd like to participate?
Teacher Appreciation: Teacher Appreciation Day, historically, ends up scoring your child's teacher a dozen banana bread loaves and twenty or so batches of chocolate chip cookies. Save her the monotonous carb overload and create a sign up where parents can list what gift they plan to bring so that no one gives the same thing! You can also coordinate a group gift basket and ask families to sign up to bring one or two things to contribute to the basket.
Parent Volunteers: As a room parent, you know you can't do it all by yourself! Create a group from your class roster in your SignUpGenius account and every time you have a classroom need, you can create a sign up in minutes to shoot out to the group. Have those willing parents provide reinforcements for holiday parties, school carnivals, 100th day of school celebrations, end-of-the-year parties, and more. Whether you need food brought in for parties or a regular schedule of classroom parent volunteers, you can coordinate it all on SignUpGenius!
Field Trip Chaperones: Field trip to the farm? The museum? Wherever your next expedition might be, you'll need to organize a crew of parent chaperones to help keep the kiddos in order. With a sign up by SignUpGenius, volunteers can see who else will be joining them, receive an automatic reminder by email, and even swap with another parent if they end up with a scheduling conflict…all without your help!
Create a sign up to raise money through a school-wide campaign. View an Example
Teachers Use SignUpGenius for…
Parent/Teacher Conferences:
Teachers, SignUpGenius is a great tool for organizing dates and time slots for parent/teacher conferences and PTA meetings. You won't have to worry about double-booking a time slot or collecting a mess of special requests. Parents will even receive a reminder about their conference with you ahead of time. Finally,
scheduling made simple!
Student Birthdays: You want your little ones to know you care about them growing up! Birthdays are a big deal, especially in elementary school. "The Happy Birthday Song" sung by their classmates and special cupcakes could really make your students' day, so create a sign up at the beginning of the year for parents to sign their child's name along with their birthday so no one's special day is forgotten. Have parents list allergy reminders in the comment section as well. You'll receive an email reminder about each birthday as many days in advance as you'd like.
School Supply Donations: At the beginning of the year, there are plenty of school supplies to go around as faithful parents send in everything from the list they received over the summer. But what happens come February when the whole class is sniffling and you're out of tissues? No one wants to spend their meager salary on more dry erase markers, so why not create a school supply donation sign up and email it to parents? They'll be more than willing to send in an item or two, and you won't have to worry about getting 30 boxes of crayons and no glue sticks with your handy dandy sign up where everyone can see who's covering each need.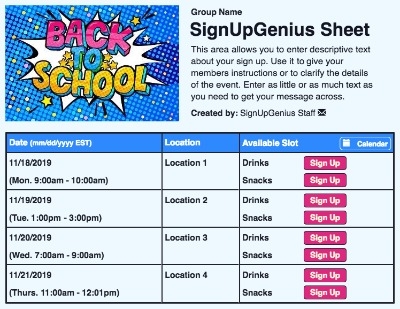 Administrators Use SignUpGenius for…
Carpool Line Volunteers:
The carpool line can be one of the most stressful parts of the school day for teachers and faculty, especially if there aren't enough people to man it. Scheduling carpool duty can be a snap with a sign up for teachers, staff and parent volunteers.
Staff Meetings: Weekly meetings are necessary for keeping all faculty and staff on the same page during the school year. Issues often come up that aren't on the agenda to discuss. How do you ensure that everyone gets a chance to be heard without going over your time limit? Create a recurring sign up for each staff meeting with a few 5-10 minutes time slots for teachers each week to enter their name and topic they would like to discuss. This will prepare faculty for what's to come and give everyone a chance to be heard.
Schoolwide Events: Want to send out an all-school invite for a drama club performance or end-of-school ceremony without wasting any paper? Let SignUpGenius help. You can list the details of the event on the sign up and decide whether or not you want guests to RSVP.
Check out SignUpGenius paid plans for more advanced features like multiple administrators, tabbing between sign ups and ad removal, just to name a few.
The organizational possibilities are endless with SignUpGenius as a tool. If you need to organize people, coordinate events, or gather supplies, SignUpGenius can help. We've even made sure that you can get creative and personal with unique templates and a myriad of ways to design each sign up. We know...your school year just got a whole lot happier!