30 Staycation Ideas for Families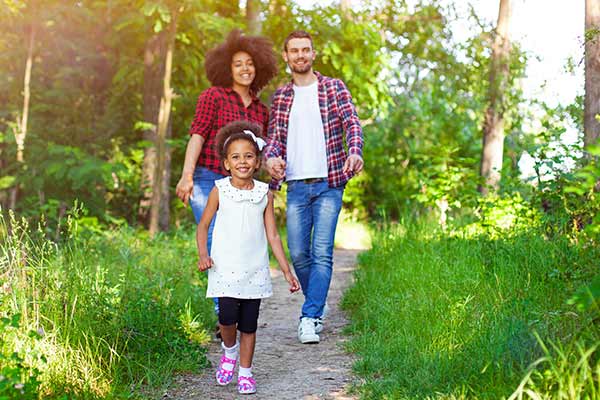 Many people never open their eyes to all the intriguing spots in their own hometowns. Plan a staycation that gives your family a chance to learn about your local area's attractions and spend quality time together — the true aim of any vacation. 
Put the World on Hold - When your staycation starts, turn down the ringers on your phone and put an out-of-office message on your email. Doing these things will put your home and your family's mindset on vacation mode.
Have a Quiet Day - On the first day of your staycation, sleep in late or take a nap. Encourage quiet play, so everyone has a day to recharge before the real fun kicks off.
Try Geocaching - It's a real world outdoor treasure hunt. Using a GPS-enabled device, your family hunts to find hidden objects in your local area. There are 2 million geocaches in the world. You can get a free online account, plus there are plenty of guides on how to get started.
Go on a Stuffed Animal Adventure - Let your child take his favorite stuffed animal everywhere on your staycation. Snap photographs and encourage him to make a journal as a fun keepsake of your hometown adventures.
Build a Tree House - Has someone been dreaming of a backyard retreat? Purchase the needed materials and your family can bond while creating a lasting sanctuary. If you're not handy, hire someone to do this before your staycation, and then enjoy your new refuge during your down time.
Plan a Film Festival - Plan a movie marathon — maybe featuring a trilogy you want to introduce to the kids or a theme like princesses or martial arts. Consider taking the movie theater outdoors with a projector, lawn chairs and blankets. Show movies on the side of your house, and invite the neighbors.
Plan snacks for a neighborhood movie night with an online sign up. View an Example
Cook a Destination Dinner - Can't make it to Asia? Bring the continent's flavors to your home through a themed dinner. Either order out or dish it up in your own kitchen. Set the mood with themed decorations.
Play Tourist - Check out local, state and national parks nearby — these are often chock full of free fun! Local museums and historical sites can offer an entertaining afternoon. There must be one or two places your family hasn't explored yet, so put them on your list.
Tour a Local Factory - What is your town known for? Many places are home to large manufacturing plants, whether it's for a famous automobile brand or bakery item. Research if you can book a tour — and possibly sample any goods while you're there.
Book a Nearby Hotel with a Pool - Springing for a hotel room in your own stomping grounds is often cheaper than an out-of-town trip. Also, you can avoid long-distance travel hassles and get a break from cooking while still feeling like you are away from home. Make sure the hotel has a pool — this can provide your kids hours of fun.
Climb a Mountain - What's the highest peak within a one- or two-hour radius? Plan a fun day trip to get outside and enjoy the fresh air. Pack a picnic and plenty of water for the climb.
Create an Amusement Park Bucket List - Get up early and head to the nearest amusement or water park. From thrill rides to waterslides, you likely won't have to go far to find a day's worth of fun. Make a point to ride the park's most well-known attractions by making a list beforehand and carefully strategizing — or even splurging for a fast pass to skip the lines.
Forget your normal routine for the week and truly kick back with your family. A staycation can be both relaxing and memorable!