25 Best Housewarming Gifts for New Neighbors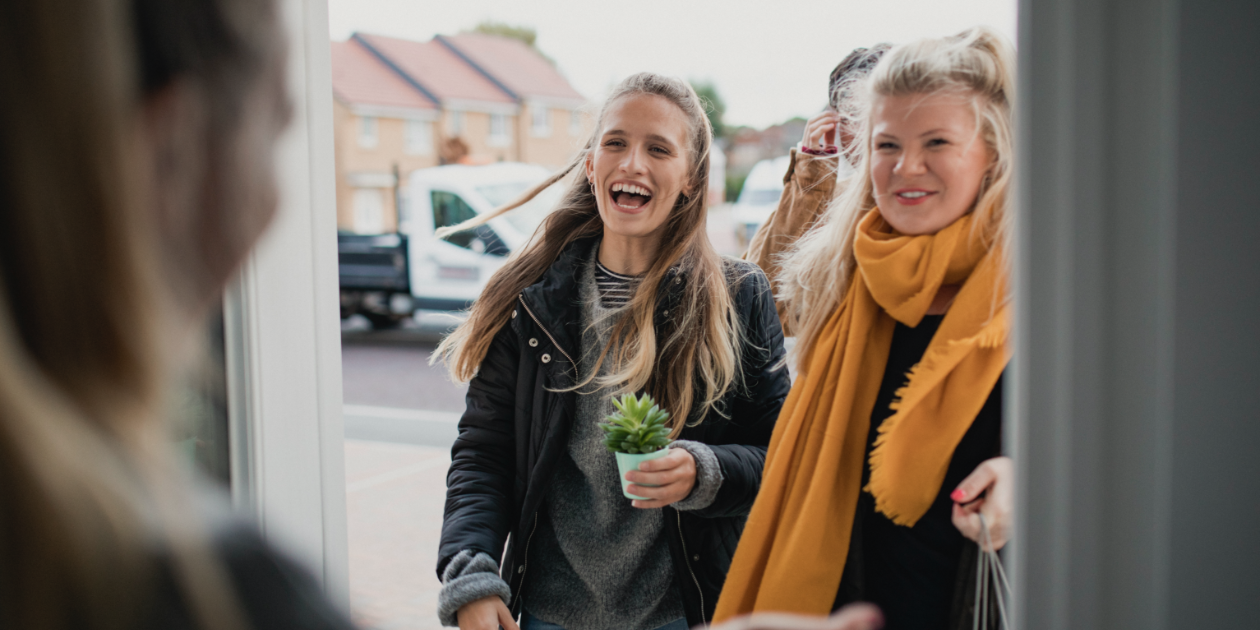 New neighbors call for a big welcome! Be the first to make those new to the neighborhood feel welcome with a small housewarming gift. It's a perfect way to meet the new neighbors and establish a good relationship. Your gift will show great hospitality and make a positive impression on them.
From baked goods from the heart to an indoor herb garden, these 25 suggestions have something for every type of homeowner. Many of these options are budget friendly and offer the perfect excuse to stop by, say hello and make new friends! 
Movie Night Basket - After a long day of unpacking and getting settled into a new home, the new owners will be ready to rest and chill. Make their night special with a basket full of treats to go with their favorite flick or latest binge — include popcorn, candy, drinks and a list of must-see shows. If the neighbors have kids, recommend one of these classic kid movies.
Plants - Houseplants are a great way to decorate the space of a new home. Bring the beauty of nature inside with an easy to care for houseplant or stunning succulent bowl.
Gift Cards to Local Restaurants - Do you know where to get the best doughnuts, pizza or mid-afternoon coffee fix? Share your favorite foodie finds and include gift cards to local hot spots.
Sweet Treats - Home baked sweets are always a great gift. Even if the treat isn't their favorite, the act of giving a sweet treat is a welcomed gesture. Make sure to check for food allergies! Whether it's cookies, brownies or cakes, say welcome to the neighborhood when you share your favorite dessert — and don't forget to include the recipe.
Bird Feeder - A bird feeder can be a cute decoration to the yard. The sound of chirping birds is a joyous song in the morning. Make the new neighbors and winged creatures happy with the gift of a bird feeder. Include seed and birding book for a special touch.
Meal Delivery - Order a few meals from your favorite meal delivery service and have them sent straight to their door! Go the old-fashioned route and prepare a casserole or other dish that can easily be cooked and served. Rally other neighbors to the cause and schedule the meals with an online sign up. They will welcome a few nights off from kitchen duty.
Indoor Herb Garden - Meals just taste better with flavors from an indoor herb garden. Plus, this is an easy way to say hello. Assemble chives, parsley and basil in a decorative container. Be sure to include a card for herb care — such as watering or the amount of sun needed.
Organize a neighborhood potluck with an online sign up. View an Example
Spa Time - Help the new owners get their relaxation on with everything needed to get away from it all without leaving home. Fill a pretty basket with bath bombs, salts, candles and a big fluffy towel and send the stress packing.
Stock the Bar - Stock the new in-house drink station with cute cocktail napkins, fun bottle openers, glassware and the libation of your choice. For a non-alcohol option, throw in glass bottles of soda, fruit drinks and flavored sparkling water.
Yard Games - If the new abode includes outdoor space, backyard games can be a great way to help them enjoy their yard. It's also a great thing to have when you're throwing a backyard barbeque or potluck. Whether you include a game of croquet, cornhole or a large Jenga set, it's sure to be a lasting gift for backyard fun.
Babysitting Time - If you have a great sitter in your neighborhood, chip in to treat neighbors who are parents to babysitting time for a night out!
Event Tickets - Introduce the family to the city or neighborhood with tickets to a local festival or minor league baseball game. Make it a group outing and plan to attend together!
Sample Sign Up
Cutting Board - A kitchen can never have too many cutting boards. Spice things up by choosing some that are colorful, inscribed with their new address or family name or select a classic black walnut board.
Welcome Mat - Every home needs a welcome mat. Not only is it needed for wiping off the shoes, it's also a great decorative piece for a new home. Make your new friends feel at home with a colorful and fun welcome mat. 
Picture Perfect - Picture frames are always a good way to decorate a new home. Give a gift the new neighbors will treasure no matter where they live. For an extra touch, take a picture of the home or ask the real estate agent for one and put it in a decorative frame as a stock photo.
Specialty Foods - Every city has a specialty food store that provides local food fare. Purchase local honey, jams and jellies from a local farmers market or specialty food store and include the items in fun basket. It's a great way to give them some local taste and introduce them to places to find these fun items.
Picnic Basket - A well-stocked picnic basket is a great excuse to get out of the house. Include a list of nearby parks, greenways or trails perfect for spending the day in nature. 
Coordinate meals for neighbors in need with an online sign up. View an Example
Pet Perks - If the new family includes a four-legged member, put together a gift with treats, toys and a guide with scoop on local parks, vets, pet stores and groomers.  
Candles - Say welcome home with a sweet and savory candle set they can use in every room of their new pad. If you know a local artisan that makes candles, be sure to use them as a great way to support a local business.
Notes in a Jar - Ask neighbors to write notes of welcome on colored paper then fold and put them in a clear vase or container for an easy to assemble gift. These positive messages will really make the new neighbors feel special!
Olive Oil and Spice Set - Keep life flavorful with a selection of olive oil infused with garlic, lemon, basil or other herbs. Package with some fresh bread or crackers and oil accessories like a dipping dish and dressing shaker.
Decorative Word Art - Whether you include a quote or art based on a specific word, these items a fun gift and really help bring inspiration into the home. You can find these as plaques, frames or other decorative forms.
Wall Hanging Kit - A house becomes a home when pictures, art and memories go up on the wall. Help get the project started with a picture hanging kit that includes a hammer, nails, wire and a level.
Flowers - Add a pop of color among all the brown boxes with a bouquet of sunshine delivered to their door. 
Coffee/Tea Bar - When the new homeowner sits down after a long day of unpacking, they will think of you when they unwrap a ready-to-go coffee or tea bar with delicious flavors and all the add-ins they need to make the perfect cup.
With this list of ideas, you are sure to make a positive first impression on the new neighbors. Plus, hospitality is contagious. Before you know it, a small gift could create a welcoming atmosphere and friendships throughout the neighborhood. Keep this list handy and add your own ideas so you can be ready to welcome new neighbors! 
Courtney McLaughlin is a freelance writer in Charlotte, N.C. She gratefully shares her life, home and heart with her daughter and their dog.