45 Girls Night Out Ideas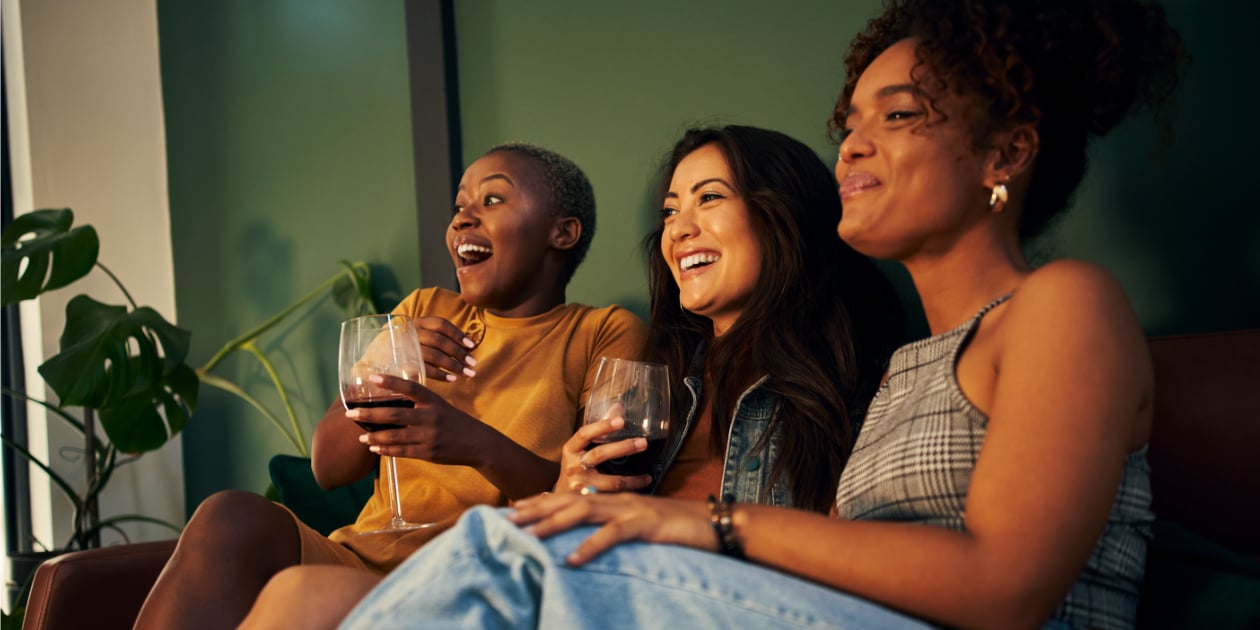 Girls Night Out (and in some cases, Girls Night In) has become a treasured tradition for women of all ages. Whether you're looking to plan a laid-back get together, virtual gathering or a night out on the town, we've got plenty of options for you and your best gal pals.
Shop Together
Boutique Shopping - Many locally owned shops will stay open just for a special night of shopping as long as you arrange it in advance. Ask for a special discount and make sure to have some light bites on hand. If you can't make it to a store in-person, ask about setting up a special promo code or discount with the retailer and shop online while attending a virtual hang out with your girls.
Wine Tasting - Plan a night at your favorite wine shop or host a wine tasting at your home. Planning a virtual hang out? Have everyone order the same offerings from a local wine club and share reviews of which wines you liked the best and why.
Pop Up Shop - Many women take on extra work or part-time jobs selling products to make ends meet. Support their hard work and invite each of your friends to bring their products to one big party. Create a space for each vendor and make sure they have access to your Wi-Fi for taking payments.
Secret Santa (Any Time of Year) - Everyone loves receiving a gift bought with them in mind. Give each person the name of someone else coming to the party and ask them to bring a gift for that person. Set a spending limit and even a theme.
Plan a wine tasting night for the girls with an online sign up. View an Example
Chill Out Together
Pajama Party - This is about as lowkey as it gets. Pop some popcorn and make sure everyone knows it's really okay to come in their favorite pajamas. Feel free to have a pillow fight before the night is over!
Spa Night - Hire someone to come to your home or organize an after-hour session just for you and your crew at the spa. For a simpler at-home version, provide face masks, foot spas (a shallow bucket with warm water works great) and pamper yourselves with all the comforts of home. (Bonus: If you really want to wow your girls, have robes monogrammed for each of them and give as a take-home gift, or mail it to them ahead of time.)
Watch Party - Plan to watch your favorite show with your favorite friends. (It doesn't have to be The Bachelor, though that show is known for bringing groups together to watch the drama play out.) Genius Tip: Create a sign up to coordinate food and drinks that pair well with the theme of whatever show you're screening.
Movie Night - Pick a classic movie and dress up like the characters. If doing a virtual movie night, suggest a type of food that ties in with the genre and everyone can cook up a dish or order take out.
Chick Flick Movie Marathon - There's nothing like watching some good chick flicks together with your favorite friends. Sex and the City, anyone?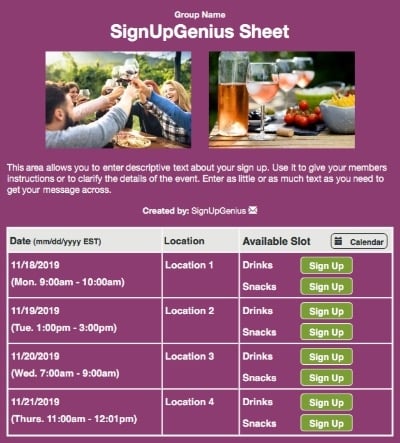 Plan a Party
Theme Night - Celebrate the 80's, 90's or 2000's by asking your friends to dress the part. Play music and games that match the decade and gather in-person or virtually to party.
Swap Healthy Recipes - Sometimes we get in a rut and need some inspiration for new meals to make for the family. Ask each attendee to bring a copy of a recipe to share (or ask everyone to send a link and send out an email). Bonus if they bring the dish too!
Arcade - Head to a local arcade and feel like a kid again playing Pac-Man, Galaga, Frogger, Skee-Ball and more.
Makeover - Hire a professional makeup artist to make everyone look fabulous. Then make sure to take photos as a group and individually to remember the moment.
Makeup and Skincare Swap - Everyone buys one of their favorite products to swap with another guest at the party. Everyone loves a good recommendation and the chance to try something new.
Around the World - Each guest brings a different appetizer or small bite inspired by cuisine from a different region of the world. Have labels ready to identify the name of the dish, where it is from and the ingredients.
Dessert Party - Ask each guest to bring their favorite dessert. Make sure there's enough for everyone at the party to try everything and try have options for those with food allergies. Serve hot chocolate or freshly brewed coffee with the sweets. Encourage everyone to have seconds!
Murder Mystery - For one night everyone is a suspect! Pick up a murder mystery party kit or check out ideas online to host a whodunnit party. Award the winners with murder mystery books as prizes!
Bust a Move - Host a dance party. Consider everything from line dancing to salsa to hip hop, and burn calories while having a blast. Create a shareable playlist of old-school favorites and fun new beats.
Karaoke - Get a karaoke machine, bedazzle the microphone, and make sure you take some videos to document the remarkable (or disastrous) singing.
Virtual Happy Hour - Even if you can't all get together in the same place, you can still have a virtual reunion. Set up a time for a video call to catch up with your friends. There are even apps to help you and your girls play a game during your time together.
Gag Gift Swap - Challenge guests to bring silly items to make each other laugh. Give out prizes for "most random," "best gift" and "most creative." The funnier the better!
Escape Room - Everyone loves a challenge and working together to solve a mystery can be a lot of fun. Who else would you want to be locked in a room with other than your best girls? You will create quite a memorable experience.
Game Night - Have some old-school fun with games like Twister, Monopoly and Charades. Ask everyone to vote on what games you will play together. Offer virtual games for online gatherings.
Laugh it Off - Get tickets to a comedy show. Even if it's not a headlining act, you are bound to share some laughs.
Get your crew together to tackle an escape room with an online sign up. View an Example
Get Creative
Cake Decorating - This fun and messy activity will no doubt lead to some pretty (and tasty) desserts. For a virtual event try hosting a DIY cake decorating competition and share your pictures with one another.
Jewelry Making Party - Plan an event at the local bead shop or ask if you can host one at your home.
Host a DIY Crafting Party - Pick a group project and make sure to tell everyone what supplies they'll need. Consider making seasonal wreaths, centerpieces, candles, or festive string art. You can make this a regular event and take turns choosing the craft project.
Give Back - Find a place where you can volunteer together and impact your local community. Make sure it involves a meaningful cause that will resonate with your group.
Painting Party - Most communities have paint and sip shops where you and your friends can create a work of art while sipping your favorite wine. Make sure to reserve the space for the night just your party.
Coordinate a volunteer outing at a local food pantry with an online sign up. View an Example
Add Some Glamour
Fancy Meal - Hire a chef to cook a fabulous dinner at your house. You will feel like VIPs while having the relaxed vibe of being at home.
Attend a Charity Event - Sometimes it's fun to get all dressed up and support a good cause with your girls. Plan ahead and go dress shopping (at the mall or in your closets) with one another to make sure you have the perfect outfits. Dance the night away and make a donation to the cause.
Progressive Dinner - Enjoy drinks at a bar, then appetizers at one restaurant, main course at another and still another for dessert. Choose a few within walking distance if the weather is nice.
Treat Yourselves to a Fancy Restaurant - What's the hottest new place in town? The one where it's tough to get a reservation because the food is so good. Pick an off night of the week to make it easier for your group to get on the list. Since you're only paying for one meal, it won't hurt as much when the check comes.
Rent a Fabulous House - Splurge on an over-the-top, "only for a special occasion," kind of place with lots of great amenities like a pool. Splitting it among all the girls can make it affordable for a weekend getaway.
Have a Photo Shoot - Consider hiring a professional photographer and make sure you encourage everyone to get dressed up and ready for their close-up. Grab fun props and you'll make some memories and have fun new group and profile pics.
The Great Outdoors
Go Big or Go Home - Try an outdoor adventure activity as a group like stand-up paddleboarding, kayaking, rock climbing or visit a local ropes course. Plan a fun dinner out after and ask everyone to share how they felt getting out of their comfort zone.
Campfire - Stock up on all the fixings for s'mores. Research some good ghost stories, maybe even local ones. Or throw out some icebreaker questions to learn even more about your favorite people! Genius Tip: Try some of these funny icebreaker questions.
Glamping - Spend the night in the great outdoors, well sort of. Glamping means camping out in a luxury tent with all the comforts of home. Or rent an RV and take a road trip over a long weekend.
Pool Party - Create a playlist with songs that celebrate living the good life. Find some fun floats and colorful beach towels to create a festive feeling. Add some tropical twists to the menu like mango salsa and fruity drinks with umbrellas.
Drive-in Movie - They're back! Lots of small towns have revived the drive-in movie. Even if your community doesn't have an actual drive-in, baseball parks and even restaurants are putting up big screens and inviting people to special showings. Search your local publications or social media for events.
Group Fitness Class - Hire your favorite yoga instructor or personal trainer to teach a class just for you and your girls. Make sure to have smoothies or fresh fruity drinks available for after.
Learn Together
Book Club with a Twist - The original girls night! Go old school and pick a book to read and discuss. Try something new and have everyone bring their favorite book to swap and each guest goes home with a new read. Also. many authors love interacting with book clubs and will host Zoom get togethers with their fans. Do some research on author ideas or ask your local bookstore.
Learn a Skill - It's never too late to learn something new. Hire an expert to teach you how to make a signature cocktail, hold your own in poker or even change a tire. Want to really up the ante? Try belly dancing. It will be a night to remember!
Take a Cooking Class - Sign up to take a class together at a cooking studio so there's plenty of room for everyone to discover their inner Ina Garten. Make sure it's a meal you all want to learn to make.
Visit a Museum - Check out a new exhibit at your local art or history museum or attend a lecture on a timely topic. Afterward, discuss what moved or inspired you about the experience over dinner or coffee.
There's nothing like a little girl time to make you feel refreshed and recharged. If people in your crew aren't comfortable gathering in a large group, many of these activities can work just as well (ok, almost as well) remotely. Get creative and mark some time on the calendar for your friends.
Michelle Boudin is an investigative reporter for WCNC TV and a freelance writer.