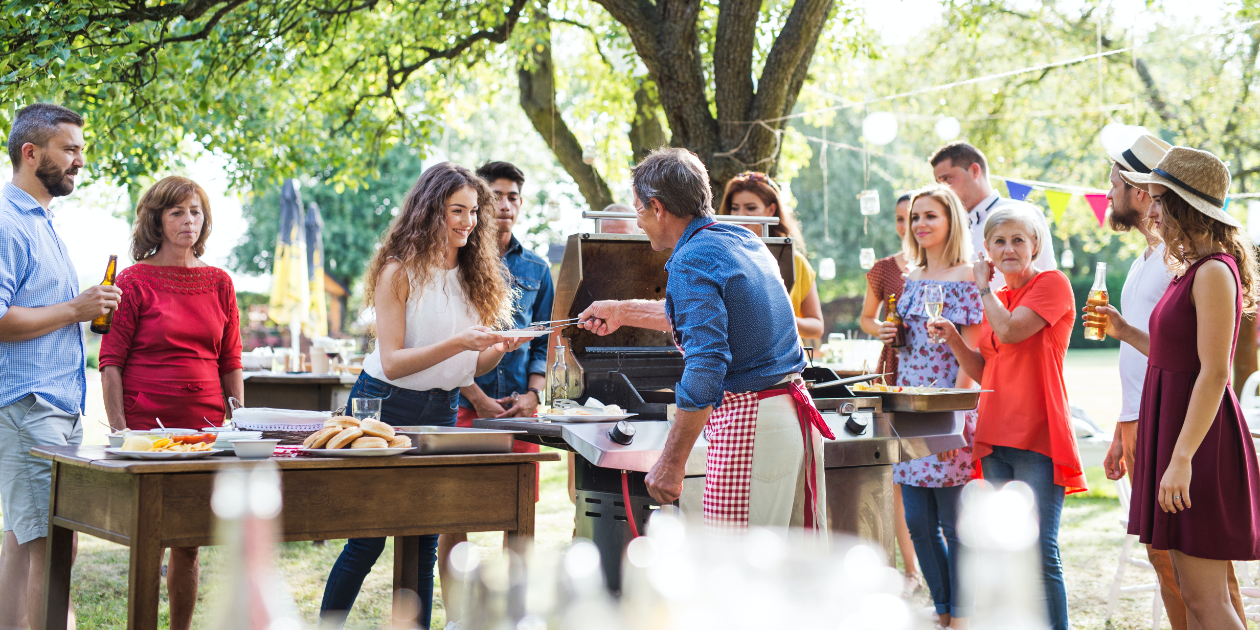 Do you know your neighbors? Whether you're already best friends or you've never met, a block party is a great way to bring the whole neighborhood together to enjoy food, activities, conversation and make memories.  
If this is your first neighborhood block party, you may want to start by reaching out to your neighbors and assembling a block party team that will work together to organize and throw the event. Then, poll your neighbors to find a day/weekend that will be the most convenient for everyone.  
Once you have a date on the calendar, look into whether your area or HOA requires a block party permit, send out invites, and start planning activities based on the age and interests of the attendees. Don't be afraid to think outside of the box. "Block Party" might immediately conjure up images of a hot summer soiree, but a block party can be just as fun in the winter when everyone is tired of sitting in their houses. Sometimes, a little neighborly fun is just what the doctor ordered.  
Planning tips for your block party
Ready to plan your block party? Here are important things to consider as you start to plan.  
Food - Consider options like a potluck or cookout to simplify preparation and make it easy to accommodate people with special diets.
Theme - Choosing a theme sparks excitement about the event and helps everything come together smoothly.
Music – Music sets your party vibe, creating a laid-back atmosphere to put your neighbors at ease as they get to know each other.
Activities - Activities will keep the kids entertained, while also giving everyone a chance to make memories.
Rentals - Will you need long tables for food and activities? Figure out if you can borrow what you need from neighbors or if you'll need to rent them in time for the party.
Weather - Consider the weather forecast around the time of your block party.
Logistics - You'll need a plan for setting up, running the party, and cleaning up after. Hopefully, everyone will want to pitch in, but if that is not the case, have a plan so your block party is simple to organize.
Traffic – Have a plan for how you'll handle people that need to drive in and out of the neighborhood. You don't want any traffic jams or to inconvenience your other neighbors.
Sign Ups – Online sign ups make it easy to share information with your neighbors so they can sign up for food, drinks, activities, or help with logistics.
Budget - Will the block party organizers bankroll the party or will everyone be expected to chip in? Consider costs and make a plan.
Block party themes and food
Everybody loves to eat! The menu can be related to the theme of the party or serve as the main event. Here are some ideas to get you thinking.  
Potluck Style – Simplify meal planning and ask everyone to bring a dish. Create an online sign up with a list of food items and party supplies and invite guests to sign up for their choice. This works great if you're doing themed food such as all Mexican, outdoor BBQ style, or sweets and sips.
Family Favorites - Ask guests to bring a favorite family recipe everyone loves. Sharing the story behind each dish is a great way to break the ice as neighbors mingle.
Bake-Off - Put everyone's baking skills to the test with a bake-off. Let neighbors decide what they'll bring to share, just make sure they know how many people are attending, so they can bring enough for everyone to try it.
Cookie Exchange - Great around the holidays, a cookie party asks everyone to bring a "cookie" or small, bite-sized treat, such as brownies or lemon bars. They should bring enough for everyone and have cute containers that people can use to take all their cookies to go.
Luau Theme - Tiki torches, Hawaiian food, flower leis, and fruit bowls will make for a festive, neighborhood luau.
Food Trucks - Want to take the night off from cooking? See if you can get some local food trucks to come out and park near your event. Some might require a small deposit to show up, while others will be happy to take advantage of a hungry group of people.
Camping Theme - Have neighbors set up their family tent and bring their favorite BBQ/camping recipe. Play fun games and don't forget to finish by roasting s'mores over a fire pit. Genius Tip: Try some of these campfire games.
Burger/Hot Dog Bar - Create a list of items needed to create the ultimate burger or hot dog bar, complete with toppings, sauces, side dishes and drinks. Ask neighbors to sign up for the part they'd like to bring and then set it up on a super long table.
Pancake Breakfast - Avoid the scorching heat by having your block party earlier and enjoying a neighborhood pancake breakfast. Cook pancakes on griddles outdoors, have everyone bring their favorite toppings and syrups and enjoy breakfast together.
Taco Fiesta - It's doesn't have to be Tuesday for tacos! Mexican food is always a favorite, and many fast casual spots offer reasonably priced catering for a taco spread with all the fixings.
Southern Style Buffet - This is a great way to blend take out and homemade dishes to save time and still wow the crowd. Pick up fried chicken, pork barbeque and side dishes like biscuits and macaroni and cheese from local businesses. Ask guests to bring southern-inspired sides and salads with ingredients like bacon and black-eyed peas.
Red, White and Blue - Celebrate the 4th of July with neighbors! Deck out your party area in red, white and blue décor and encourage guests to dress with patriotic flair. Keep the menu simple by grilling burgers, hot dogs and veggies with simple sides likes chips and salad. Serve ice cream and popsicles for dessert. Don't forget the sparklers!
Chili Cookoff - This spicy theme is perfect for football season! Invite neighbors to bring their chili creations and arrange a display of crockpots (you need access to outside electrical outlets or a large indoor space like a clubhouse). Invite guests to sample different chilis and pass out slips of paper or printed ballots to vote for their favorites. Genius Tip: Plan the ultimate chili cookout with these tips and ideas.
Italian Feast - Pasta is a delicious way to feed a large group! Request volunteers to make several lasagnas or generous portions of spaghetti and meatballs (or both depending on the size of your group). Serve big bowls of salad and bread to complement the pasta. Bonus if you have red and white checkered tablecloths!
Pizza Party - Simplify menu planning and order pizza from a favorite local restaurant! Pizza is always a hit – order vegetarian options and look for places that offer gluten-free crust if people in your group have diet restrictions.
Invite neighbors to a block party with an online sign up. View an Example
Ideas to help guests connect
You've pulled off the feat of getting the neighborhood together! Try some of these ideas to help guests connect and start new friendships.  
Break the Ice – Put a few extroverts in charge of throwing out icebreaker questions to the whole group or smaller groups of guests as they circulate through the party. Genius Tip: Get the conversation going with these interesting things to talk about and these getting to know you questions.
Photo Booth - Set up an area where people can take silly photos for their social media channels. A fun backdrop and lots of props is all that is needed.
Neighbors for Hire – Set up a bulletin board and provide post-Its and push pins so people can share their small businesses or services like babysitting and pet sitting.
School Spirit – Invite neighbors to dress in spirit wear from their favorite school or college! This is a great way to spark conversation as neighbors discover they share an alma mater or a fierce rivalry.
Make Your Own Name Tag – Especially if it's your first get together, name tags make it easier for neighbors to get to know each other. Include a fun suggestion like listing their favorite sports team along with their name.
Sample Sign Up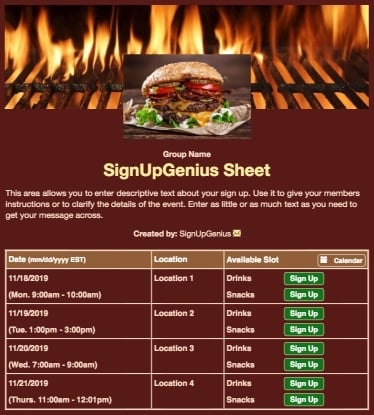 Fun activities for kids
Bike & Scooter Decorating - Set up stations where kids can decorate their bikes and scooters with tassels, garland, washable paint and more.
Bike Parade - Now it's time to show off those decorated bikes! Have an adult lead the parade on their wheels of choice, while the kids (and any adults who want to join, too) follow behind. Make sure there's music to keep things festive.
Water Balloon Fight - It's easier than ever to fill up water balloons, so you'll be able to make hundreds in just a matter of minutes. Have the ultimate water balloon fight by placing buckets of water balloons around the fight area for easy access.
Candy Leis - Kids love candy! Have an area where kids can create their own candy lei and then they can wear it for the rest of the day. Although, if it's going to be hot, you may not want to use candy that will melt and make a mess.
Face Painting Station - Have an artist in your neighborhood? Ask a few of them to rotate at a face painting station where the kids (or adults) can be adorned with washable face art.
Inflatables - Inflatables are such a hit. Rent a few for the kids and they'll be entertained for hours. If you get jousting sets or inflatable sumo suits, neighbors can sign up to battle each other in the arena while everyone watches  in amusement.
Bubble Blast - Kids love bubbles! Pick up a few bubble machines and put out plenty of large bubble wands and create a bubble area where kids can run and play.
Large Outdoor Games - Games are just more fun when they're huge. Rent giant versions of easy games like Connect 4, Jenga, Kerplunk and more.
Special Guest - Does anyone in the neighborhood have a special talent or know someone who does? Consider bringing in a special guest for kids such as a balloon artist, a magician, a Disney character or any other live entertainment.
Plan a 4th of July cookout with an online sign up. View an Example
Fun activities for everyone
Art Party - Everyone loves art! Have an area designated for art, put out tons of chalk or large canvases with tons of washable paint and let everyone paint super canvases together. Save these paintings for your next block party and display them proudly.
T-Shirt Decorating - Plain white shirts and tie dye or paint are affordable and make for a fun activity that everyone loves. Let each person decorate their block party shirt and then encourage them to put it on for a big group picture.
Talent Show - Do your neighbors have lots of talents? If you live around some bold personalities, they might love an opportunity to get on stage and share their skills. Give people plenty of time to plan their talent in advance and then create a schedule of talents for the show. If you can create a little stage, even better.
Karaoke - Some neighbors may be too shy, but others might jump at the chance for a fun sing along. Karaoke sound systems are easy to rent and can be very entertaining for everyone.
Outdoor Movie - If you've ever seen a movie outdoors, it can be a lot of fun for everyone. Rent a large outdoor screen and a projector from your library or tech equipment store. Ask everyone to bring their own chairs, blankets, bean bags and other types of seating. Rent a large popcorn machine and have a table with movie snack favorites. Or you can ask each family to bring their favorite movie treat to share with everyone. Choose a family-friendly film that is suitable for all ages.
Pet Parade - Show off those furry friends and creepy crawlies with a pet parade! If the pet can't walk on their own, their owner can proudly carry them for all to see. At the end, have all of the pets and their owners stay in an area where all the neighbors can vote on prizes such as "best behaved", "creepiest pet", "cutest pet" and more.
Bean Bag Toss - Easy to set up, easy to play, easy to pack up. A bean bag toss is great for all ages and is perfect for your block party.
Hire a Band - Know a local band or musician? See if you can have them come and do a performance for your event!
Scavenger Hunt - Create a custom scavenger hunt themed to your neighborhood and let everyone work in groups to see who wins.
Carnival Games - Set up areas for classic carnival games, such as bobbing for apples, the three-legged race, egg toss and more.
Trivia – Watch your block get fired up over a game of trivia! Mix up neighbors into different groups to answer questions and let the competition begin. Include kid-friendly questions and include fun categories like movies and sports. Genius Tip: Include some magic with these Disney trivia questions for all ages.
There are so many ways to make your block party a big hit. Have fun planning and working together to create an event that is perfectly suited for your neighborhood. Remember that all the effort will be worthwhile when you're able to bring everyone together and go from just neighbors to friends.   
Erica Jabali is a freelance writer and blogs over at ispyfabulous.com.