30 Simple Tips to Stay Organized as a Mom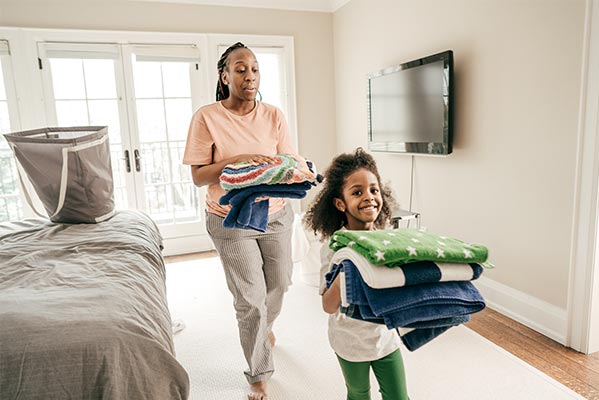 Do you want to be more organized than you are? Start small and add from there with these 30 tips.
Write it Down - Making lists is an excellent way to stay organized and track progress. If you're not a paper and pen person, consider trying an app designed for greater productivity or a large dry erase board on the wall. Regardless of the tool you use, it is important to write everything in one place so you can chip away at things throughout the day.
Prioritize - Now that you have a list, it's time to prioritize the items on it according to your personal goals and schedule. Keep the most important tasks at the top of the list and tackle those tasks first. As priorities shift, update your list and clearly define success for yourself.
Expect Rollover - If you don't complete certain tasks, that's okay! Give yourself permission to roll them over to the next day's list. Daily prioritize your list and move any items that aren't important.
Plan Ahead - Set timelines for tasks and chip away at them little by little to avoid the frantic frenzy of procrastination or feeling rushed. For example, start accounting for the actual travel time it takes to pack everyone up and leave the house to get to an appointment or to soccer practice. Allowing yourself some margin of free time between tasks will release stress. Also, keep non-perishable snacks in your car in case the kids get hungry.
Use Sign Ups - Coordinate a potluck, meal plan for a friend in need, volunteer opportunity or church event with SignUpGenius. No more wasted time sorting through reply-all emails. Download the SignUpGenius app to respond to sign ups and send group messages on the go.
---
Save time when you collect money for group gifts or fundraisers on your sign ups!
---
Weekly Planning Meeting - Choose a specific time each week to meet with your spouse or significant other and look over your week. Talk about potential schedule conflicts and create solutions.
Evaluate Your Environment - Are you living or working in a cluttered or dirty environment? Organize! Turn on some music and start tidying in 15-minute increments. In no time your space will start feeling more pleasant, and you will be more productive when there is less clutter.
Sort Your Items - Look for items that you haven't used in the past year and recycle them, donate them, or sell them. Set up a system for ongoing sorting of items (for example, set aside three bins in the utility room labeled recycle, donate and sell).
Stop Thinking and Start Doing - Motivate yourself with little rewards if you can knock out a few of the not-so-fun tasks first!
Ask for and Offer Help - Decide on a few things you are going to do really well and delegate (or don't do) the rest. Get creative with running your household and look for ways to increase efficiency and help others at the same time. For example, try swapping favors with friends or neighbors.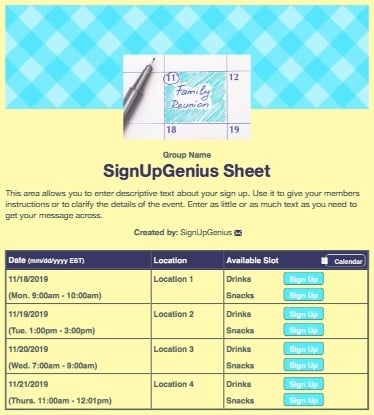 Take Notes - Whether it be via phone, tablet or good old pencil and paper, write it down to be more efficient. The more you can get out on paper, the less you'll need to keep in your head.
Set Reminders - If you are responsible for sending group reminders, it may be wise to plan that event or activity using a sign up. That way you can rely on SignUpGenius to send reminder texts or emails for you.
Central Location - Your keys, purse, checkbook, etc. should be laid in the same easy-to-find place before you go to bed at night. Designate a hook or a shelf on the wall or a dish on an entryway table. This alleviates a grand search in the morning when time matters most.
Clear Counters - Your kitchen countertop is probably one of the busiest spaces in your home as family members gather and eat throughout the day. Every night before you go to bed, create a clutter-free space on your countertops to enjoy breakfast the next morning and plan out the rest of the day.
Meal Plan - Planning out your meals for the entire week will help save time and energy with one weekly grocery shopping trip. Use leftovers as lunches or meal ingredients.
Pray or Meditate - You will find that some quiet time can give you great perspective on what's really important and what things can wait (or be eliminated) from the task list entirely.
Set Healthy Boundaries - Say yes to the things you can reasonably handle and say no to everything else. Don't spread yourself too thin or run yourself ragged with extra commitments and responsibilities.
Strive for Progress - Seriously. There is no such thing as the perfect mom, so stop trying to be her. Learn to embrace the person you are and live in a way that magnifies your strengths and enables growth.
Adapt - You simply cannot prepare for everything. Moms need to be flexible and willing to adapt to an ever-changing world.
Set Rotating Schedules - Is it your turn to help with your child's scout outing, bring snacks, or drive the carpool? Schedule these activities online with SignUpGenius. You'll save yourself so much time, and other moms will thank you for it!
---
Help organize activities at school with online sign ups. See examples here.
---
Stick with What Works - Don't become distracted with the latest and greatest "things" if a system or value you have is already working well. When your current methods aren't working, then it is time to look for new ideas and current trends.
Hire a Professional - If you have the extra income, it may be wise to leave some tasks to a professional from time to time. You can outsource your laundry, housecleaning and grocery shopping. Or hire a mother's helper for bedtime or an afterschool nanny for homework help and dinner preparation.
Divide and Conquer - Make a master list of household tasks that need to be completed daily, weekly, monthly and less frequently. Assign tasks to each family member.
Label It - When organizing items in bins, boxes, etc. mark them with a clear easy-to-read label. You can make your own labels with tape and markers or use a label maker tool.
Proximity is Key - Keep things close to where they are needed, such as coat hooks by the front door and your planner near your purse or bag. You could even store extra bed sheets under the mattress!
Find a Friend - Find someone who also wants to be more organized. Get together and share stories about what is working and what is not working in your household.
Unplug - Modern technology can increase our efficiency and distract us all at the same time. That's why it's important to turn everything off and focus on a task without distractions. This practice will develop a quiet, more focused mind.
Relax - Creating a little "me-time" in your schedule will help you feel happier and more fulfilled. Grab coffee with a friend, practice yoga, take a nap, read or get a massage.
Find Satisfaction in Today - As someone wisely said, "Yesterday is history, tomorrow is a mystery. Today is a gift." Receive and enjoy.
Live Your Best Life - Don't try to be anyone else. Chart your own course and find what works for you and your family's needs.
The most important part? Once you start organizing, don't stop! Keep at it and you will see results. Bask in the little changes that can become life-changing habits.
Visit our "Get Organized" board on Pinterest for more inspiration!