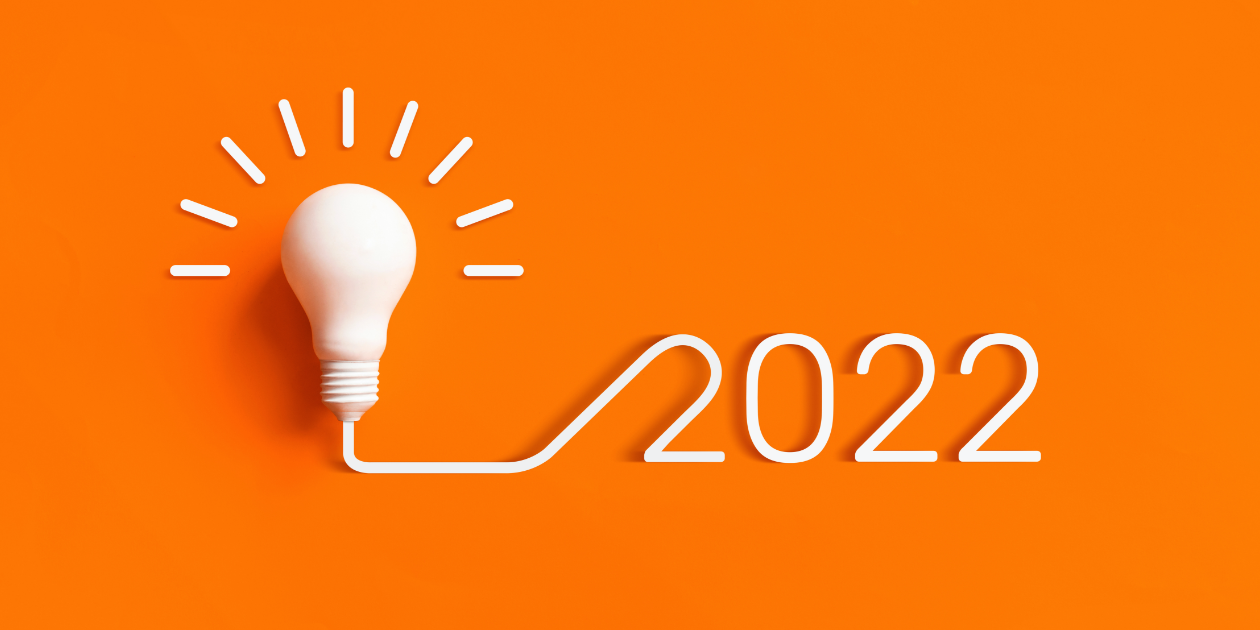 Whether you have a list of New Year's resolutions or are still focused on long-term goals, a new year brings the opportunity for a fresh start. Online sign ups can help turn your group and event ideas into reality, giving you an easy way to simplify event planning and communication with your group.  
Check out these five ways to use sign ups to boost your organizing and make a difference in the community this year.  
Give Back to Your Community
Bring people together to support an important cause and make an impact in the community. With online sign ups, it's easy to organize a group of volunteers to serve a local nonprofit or coordinate a drive to collect food or essential items. Even if you're not serving together in person, you can still find meaningful ways to serve by planning a
socially distant effort
. 
Create an online sign up in minutes with items you need to collect for a food drive or with volunteer slots to recruit for a group project. You can easily share your sign up and invite your group to participate. This reduces your workload in recruiting help and communicates needs or opportunities, along with an easy way for participants to sign up. You can also easily attach a waiver or other forms to your sign up or any sign up-related emails — if your opportunity requires one.
Check out these tips to plan a successful food drive and these volunteer opportunities and ideas for some inspiration to help guide you.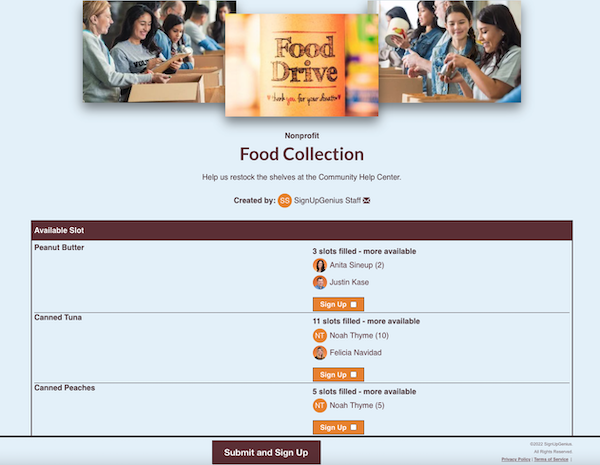 Simplify Organizing for Your Favorite Group
Does your soccer team need help coordinating snacks or carpool? Are you scheduling lunchroom volunteers or planning the big fundraiser for your school's PTA? Online sign ups help you skip the hassle of reply-all emails and ensure you have your needs covered. Choose from hundreds of
sign up designs
and help your group step up their organizing this year. 
SignUpGenius' basic plan includes many helpful free features and larger groups can benefit from the advanced features offered with our premium and Enterprise plans.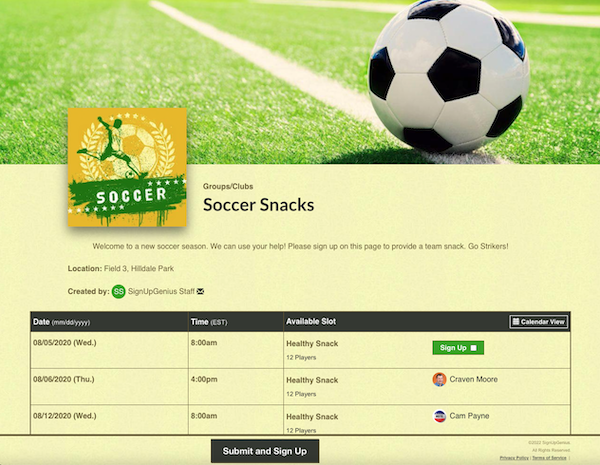 Bring Your Idea to Life
Have you been wanting to start a walking club or a Bible study group? Online sign ups simplify the process of inviting people to join your group and
schedule recurring events
. You can share the link to your sign up in an email or on social media, and participants will receive automatic confirmation and reminder emails. You can even
customize the text
in these automatically generated emails if you need to include specific information. 
Get started on organizing a book club with these ideas and browse these Bible study ideas for your small group.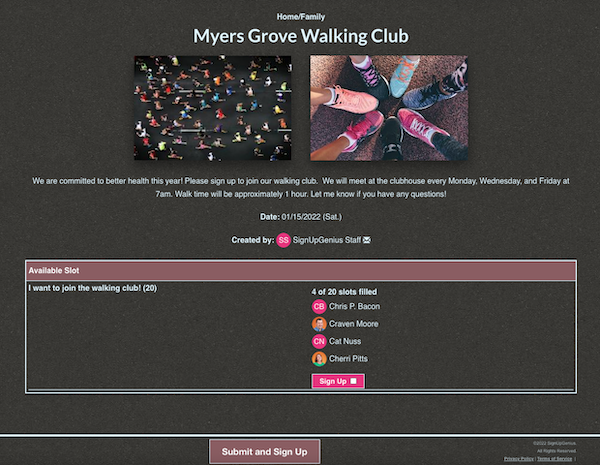 Organize Your Business
Want to reduce the time you spend
scheduling appointments or meetings
? Online sign ups make it easy to offer time slots for interviews or conference room reservations. You can add date parameters to
open and close your sign up
, assign
additional admins
to manage sign ups and even remove branding to use as your own custom software. Invite team members to professional training sessions or social events, giving a simple way to track attendees and send event details. 
SignUpGenius has a variety of uses for businesses and entrepreneurs. Whether you are a consultant, personal trainer or photographer – online sign ups can help you organize meetings and appointments with ease. You can book in-person or virtual appointments, and with our Zoom integration, you can include your video conference link on the sign up. Our tool can scale with your organization and even provide custom features to fit your branding and enterprise related needs. 
Streamline Nonprofit or Church Operations
Want to
grow volunteer support
for your nonprofit or church this year? Online sign ups help provide a smooth experience for volunteers and save work for your staff. Sharing your service opportunities online gives volunteers the chance to choose times that are most convenient for their schedules. You can find out additional information from participants with the
custom questions field
such as t-shirt size or lunch preference.
Genius Tip: Integrate sign ups to a CRM with our partner company, MembershipToolkit.
If your organization shares multiple sign ups with your audience, you can create an online hub with our portal page feature, available with our Enterprise subscription. A portal page works like a homepage for sign ups, allowing your group to view all your events through one link.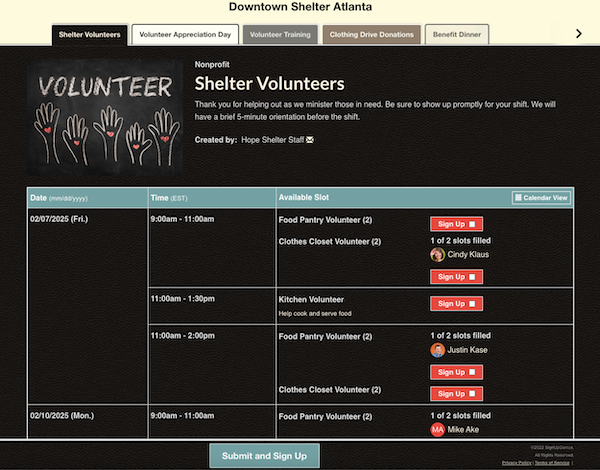 You can take on new adventures and help your favorite groups accomplish more this year with online sign ups. It's the perfect time to jump into your 2022 planning!