25 Tips for How to Start a Book Club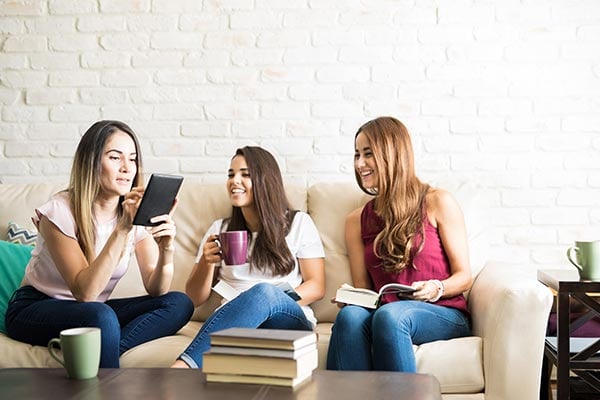 Let's face it, most of us would like to read more often than we do. One of the best ways to remedy that is to start a book club with friends or a group of like-minded people. Try these 25 tips to get started. 
The Basics: Planning for Your Book Club
Put First Things First - Before anything else, you need to decide what you hope to get out of this club. Do you want to have some quality time with girlfriends, meet new people or forge stronger bonds with people at work? Will you read fiction or non-fiction? These details will help you figure out who to invite and how to proceed.
Decide Who to Invite - Start by deciding who you want to ask to join. Girls Night Out book clubs are some of the most popular, but book clubs of all kinds are popping up. Invite neighbors or friends from across your city. You can start a couple's book club, a Bible study reading group or even a work reading group. Keep in mind where you plan to host the club when deciding who to invite.
Name It - Come up with a fun name for your new book club. This will help your group form an identity and will help keep members engaged and accountable.
Decide Where - You know what they say: location, location, location. Book clubs first started in people's homes, and that tradition can still work today. Rotate from one house to the next so that everyone takes a turn. Hosting duties mean a clean house and providing some drinks and nibbles, so it's nice to not have to host at your own home every time. Larger groups may decide to meet at a restaurant or rent a space at a church, library or local clubhouse. The location of your book club gatherings will help set the tone, so be mindful of whether you want a relaxed, casual setting or something more formal. Genius Tip: Create a sign up to coordinate hosting duties.
Decide When - Depending on who's in the club and how busy everyone is, you may decide to meet monthly, every other month or even quarterly. Just remember, you'll need enough time to read the full book in preparation for the meeting!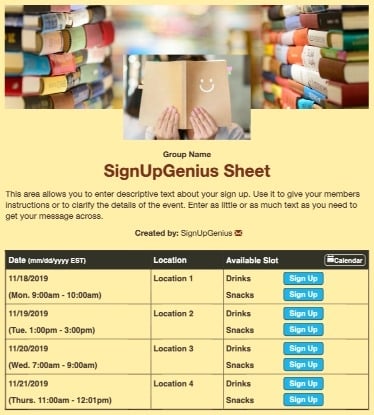 Decide What - Choosing a book can make or break your club — especially when you're just getting started. One of the simplest ways can be whoever hosts the meeting chooses the book. Keep in mind that it's okay if people like different topics. One of the best parts about a club is opening your eyes to new authors or subject matters. Also keep in mind that some clubs like to stick to a certain book price point. Decide if you want to limit your reading to paperback books or books you can get at the library.
Take Suggestions - Ask everyone to come to the first meeting with at least two books they think the group should read. Then assign someone to keep a list of the suggestions and the books you've read so you can reference these lists as you go along.
Find Inspiration - If you need ideas to get you started, reference already popular book clubs like Oprah's Book Club and Reese Witherspoon's Book Club. Goodreads is another great resource — it's the world's largest site for readers and book recommendations.
Get (and Stay) Organized - Decide on the best way for your group to stay in touch. Use an online calendar invite to help save the date. Decide if you want to meet on a set day (the first Tuesday of every month) or if you'll pick dates for the next meeting at the end of the current meeting. Genius Tip: Collect book club RSVPs with an online sign up.
---
Coordinate a community "Coffee and Conversation" event with a sign up. SAMPLE
---
Build Community: Ideas to Connect with Your Group
Plan Icebreakers - Start your first book club with a few icebreakers. The easiest one is to have people share a favorite book and describe why. Other good ones: Who is your favorite literary character? What book kept you up at night? What book did you hate? Genius Tip: Get to know club members better with these 100 would you rather questions.
Plan Discussion Points - Hopefully you've chosen a book that will prompt a good conversation. Many books will list questions to start with at the back of the book or you can search online. You can also find additional questions on the author website or the publisher's site.
Prepare Personal Reflections - As group leader, you set the tone for the discussion. In addition to talking about the book, ask people to relate some of the key concepts to their personal lives. This can spark some great conversations — hopefully you learn something new about each other and have some laughs (and maybe even a few tears) along the way. For example: How did the book touch you? Which character did you most relate to?
Stay Connected Online - Part of the fun of reading a book at the same time as a group of people is that when something happens in the book that you want to talk about, you have a built-in group of listeners. Start a Facebook page, group message or other online forum where members can leave comments and pose questions. Just remind members that people read at different paces, and you want to be careful about posting any spoilers!
Write Your Own Book - Well, sort of … Start a journal keeping track of all the things your group has done together. In addition to tracking the books you're reading, log the group's activities and milestones. This will be a fun "book" to read and reflect on down the road.
---
Recruit book fair volunteers with a sign up. SAMPLE
---
Field Trip Fun: Ideas for Activities and Outings
Plan an Author Visit - This can really elevate your club to a whole new level! Many authors love getting to meet their fans. You can aim big — bestselling authors often run contests to decide which book clubs they'll visit (check author websites for information) or extend an invite to a book written by a local author.
Organize a Book Swap - Set up a book swap among group members. Have everyone bring a handful of books they've already read (and liked!) to trade. This will give everyone a few extra books to read in between meetings or for an upcoming vacation.
Donate Children's Books - Since your club is all about reading, organize a book drive among members to help donate books to a local charity or children's hospital. Doing good feels good — and it's another way to bring your group together.  
Attend a Book Signing - This one will take some homework, but it can be worth it! Find an author the group loves or an author who has a new book coming out soon. See if they'll be making a stop in your town. You can also check with local bookstores to see which authors they'll be hosting.
Meet with Another Club - Once you've been meeting for a while, it can be fun to occasionally change things up. There are tons of book clubs and holding a joint meeting with another one can be a good way to inject some new energy into your club. Have both clubs read the same book and meet in a neutral place for discussion.
Coordinate a Book-related Activity - Find an activity that makes sense with the book you're reading. Maybe host a wine tasting or cooking class or take a field trip to a place that is central to the book.
Invite a Special Guest - If you're reading a book that mentions a psychic, invite one. Maybe there's a psychologist, a chef or a television reporter as a main character. Ask them to join your meeting and contribute to the discussion.
---
Organize volunteers for Read Across America Day with a sign up. SAMPLE
---
Celebrate Good Books: Plan a Party
Throw a Seasonal Bash - Everyone likes to celebrate and so should your book club. Have a "Books-Giving" around Thanksgiving. The host makes the turkey and everyone else can bring a potluck dish. At Christmas, coordinate a Secret Santa party for the group.
Plan a Themed Meeting - Use the book selection as a guide for coming up with a theme. Coordinate food and drinks based on the subject matter. For instance, if the book takes place in Italy, serve Italian food.
Have a Movie Night - Choose a book that has recently been made into a movie. Read the book first (this is a must!), then watch the movie as a group. Host your club after seeing the movie and include a comparison of the two in the discussion.
Play Who's Who - Ask club members to come to the meeting dressed as a favorite character. It can be entertaining to "guess" who each person has dressed as.
These ideas will encourage camaraderie and relationship-building. Plus, you'll finally get through some of those books you've been meaning to read! 
Michelle Boudin is a reporter at NBC Charlotte and a freelance writer.