25 Tips and Ideas for Planning a Successful Food Drive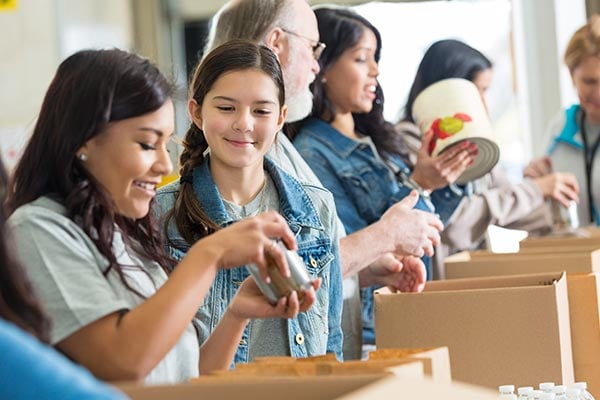 Whether you are part of a club, school, church or business that wants to organize a food drive, use this collection of ideas and tips to make the most impact possible. With the proper planning and follow through, your food drive can help those in need and let people of all ages and abilities make a difference. 
Goal Setting and Getting Ready
Get the basics handled first so that everything will run smoothly once the actual food drive begins. 
Choose a Partner - Start by deciding which organization your food drive will benefit. Reach out to local nonprofits: food pantries, homeless shelters, as well as less obvious options like senior citizen or after-school centers. Start a relationship and line of communication to determine what their greatest needs are.
Determine Food Items - Once you have a partner organization, establish exactly what types of items should be gathered. Will it be only canned food items or are frozen and fresh foods needed? Is there a need for cooking staples, such as oils and flour? Are there specific needs, such as items for infants or nursing mothers? This will affect what the drop-off sites look like, as well as how you publicize.
Set Measurable Goals - After determining the quantitative and qualitative needs of your partner organization, set goals so that participants can easily measure how close you are to accomplishing them. Genius Tip: According to the Department of Agriculture, approximately 1.2 pounds of food equals one meal. Estimate the number of meals you plan to donate by multiplying your poundage goal by 1.2 meals.
Delegate the Work - A successful food drive requires efficient delegation. Start with a small committee that will help plan the goals and logistics of the food drive, and then put leaders in place over different areas, such as volunteer recruitment and publicity.
Get the Word Out - Start publicizing for the event ahead of time with fliers and social media posts. Local media outlets often welcome stories about community events. Send an email to the community desk editors of newspapers, TV stations and news sites with all of the basic information about the food drive and the kick-off event. Large businesses often are also willing to put bins in the lobbies of their buildings.
Plan a Kick-off Event - Rally everyone to fight hunger with a kick-off event. Whether the food drive is in several locations over a period of time or one day in one spot, you can hold an event where the partner organization gets to share about its mission and purpose.
---
Determine volunteer needs and set up a sign up to organize efforts. SAMPLE
---
Theme Ideas
A meaningful theme will help boost involvement and give your group cohesion for publicity and branding materials. 
"Meat" the Need - Depending on the need of your partner organization, you may want to focus on gathering high-protein food items. To take advantage of this theme, create posters and cardboard cutouts with meat-related images. You can even have your drop-off site volunteers dress up as "meatheads" and wear fake sirloin steak hats all day. If fresh meat isn't accepted, remember there are plenty of canned options and protein alternatives.
Fall Bounty - Capitalize on the autumnal themes of harvest and plenty by emphasizing that not everyone has the luxury of a full plate of food. Create a fall-centered theme for your food drive, encouraging donors to "share the bounty."
Make Every Bean Count - Beans and legumes make for nutritious and sustainable food items. For this theme, you can make a beanstalk — à la "Jack and the Beanstalk" — at the drop-off spot, and give away "magic beans" (jelly beans) as a small thank you for donors.
Farm-to-Table - Focus on nourishing food items that are found in a garden or farm (canned tomatoes, green beans, corn). Your food drive can be a fun and easy farm theme, complete with red checkered tablecloths and a cutout tractor. You could also go in a farmer's market direction, and partner with local food growers to gather wholesome and/or organic food items.
Read to Feed - An easy and effective school food drive, this theme is built on a reading competition in which students collect pledges from friends and family members. Students set goals to read a certain number of books over a period of time, and sponsors donate cans of food to support the goal.
Cirque du Solving Hunger - For this theme, use canned food items as admission to a performance or carnival. The main event can be anything from a "Cirque du Soleil"-style acrobatics show featuring local gymnastics talent to a church festival with games and prizes.
Demographic Focused - After determining the needs of your partner organization, you can use those specifics to focus the theme. For example, gather baby boxes filled with formula and baby food, food items for women that are iron-rich and calcium-filled or kid packs with food like mac-n-cheese and applesauce. Your promotional theme can be built around these focuses, with baby bottle images on fliers or a social media photo series of the strong, single moms your food drive will benefit.
Winter Is Coming - When the cold months begin, the need for hot food increases. Ask people to donate warm and hearty items like stew, boxes of pasta or soup. Create a winter-themed promotional campaign around your food drive, and you could also incorporate a coat drive if you have the resources!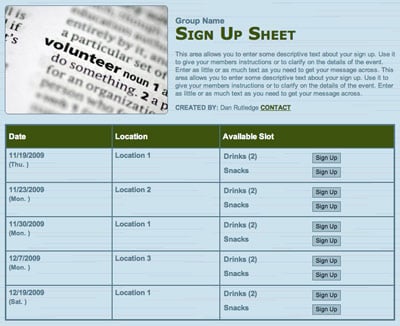 Where and How to Collect
Once you've finished the initial preparations and have an idea of a theme to help publicize your food drive, it's time to get down to the details. 
Collection Site Options - You can execute a food drive in several different ways, from a single-site drop off on a single day to an extended food drive over a period of time to an event-related drive. Determine which method is most effective for your group and makes the most sense for the type of donors you are targeting.
Build a Network - Ask volunteers to publicize the food drive through word-of-mouth with their coworkers, church small groups and schools. If operating a multi-site food drive, work with your group members to set up at different locations where they have connections to gather donations from a variety of people.
Location, Location, Location - It is helpful to target heavily trafficked areas that the people who have seen publicity materials can easily access, like a school carpool line or outside of a church sanctuary. Make sure you are in an area where your audience will have a higher likelihood of participating — targeting random passersby in a grocery store parking lot will probably not be as successful as setting up in a neighborhood park where you have put up fliers and sent out a blurb in the community newsletter. (Porch pickups are another idea that makes it easy for people to participate.)
Schedule Shifts - Once you have dates, times and locations organized, make sure that each collection site is covered by splitting up volunteers over several shifts. Volunteer shifts don't have to be too intensive — they can keep an eye on the collection boxes, answer any questions from donors, and hand out small thank you tokens. Genius Tip: Learn how the Pasadena Jaycees used SignUpGenius to plan a successful food drive.
Make it Competitive - A little competition always spices up donation-related events. Encourage donors to form teams and compete to see who brings the greatest amount or poundage of food items. Set a goal for your office and have different departments compete to see who meets the goal first.
Engage Local Celebrities - Make the food drive a community event by having local celebrities — an anchor from the TV station, the mayor, sports stars — work a shift or two to boost participation and visibility.
Provide a Fact Sheet - Don't just collect food, but also work to educate your community on the needs around them. Give donors a fact sheet that includes statistics on hunger, along with some background information on both the hosting and receiving organizations.
---
Schedule volunteers for your food drive with an online sign up! SAMPLE
---
After the Food Drive
Your work isn't done once all the food has been donated. Put proper systems in place and you'll easily be able to duplicate efforts in years to come. 
Organizing + Delivering Food - Delegate a team to sort and deliver the food items to your partner organization. You can also make this task an "all hands on deck" day where everyone in your organization comes together to help. A bonus: They get to see the effects of your successful food drive!
Goal Celebration - Show appreciation to your volunteers by throwing a pizza party or ice cream sundae night where they can relax and celebrate accomplishing your group's goals. Invite leaders from your partner organization to join and share how the food drive helped them. Genius Tip: Try these 50 low-cost volunteer appreciation ideas.
Check in with Organization - After a month or two, follow up with your partner organization to see how they distributed your food drive items. Maybe there were some items that were not needed and they now have a surplus. Talk about takeaways with your partner organization, and note any adjustments you can make for the next food drive.
Report Back to Volunteers & Donators - If possible, you can work with your partner organization to meet some of the people who benefited from the food drive. Take photos or videos, but most importantly listen to these community members so that you can learn from their experience. You can then report back to volunteers and donors with a letter or blog post that shares the perspectives of individuals who were directly affected by their generosity.
Mahatma Gandhi once said, "There are people in the world so hungry that God cannot appear to them except in the form of bread." Kudos to you for stepping out and fighting what may seem like an overwhelming problem, one pound of food at a time. 
Carolina Grace Kennedy is a recent college graduate navigating adult-ish life in Charlotte. She loves social justice advocacy, naps and pretending she can sing like Ariana Grande.