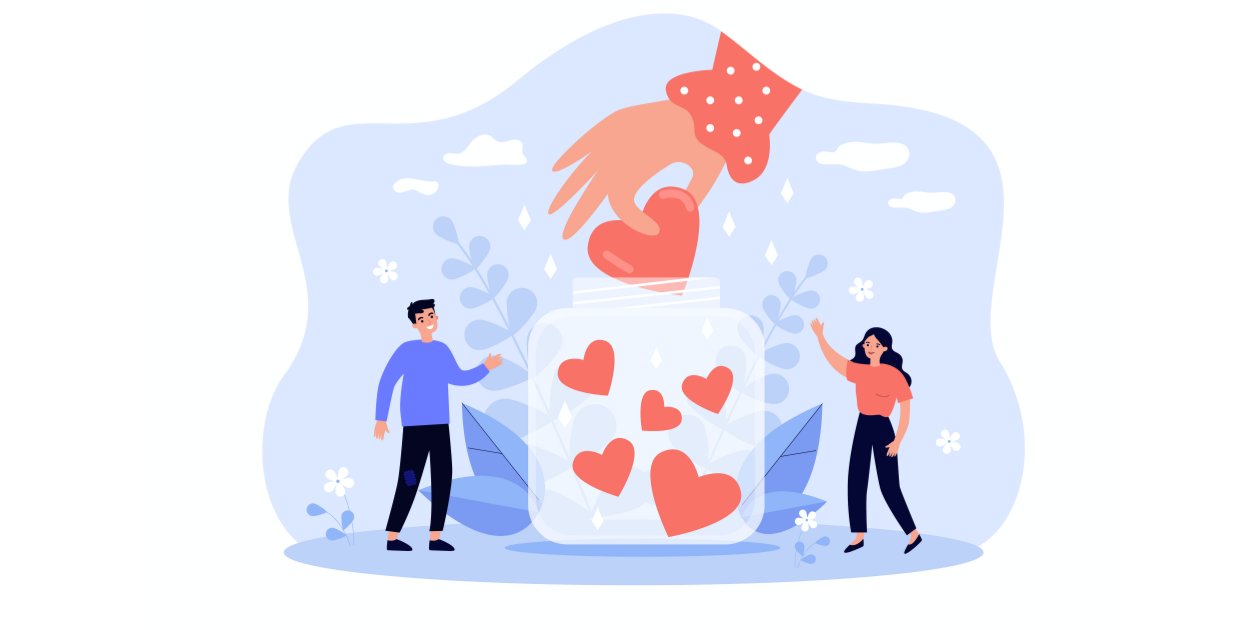 Persuading people to part with their time or resources for a cause close to your heart can be a challenging task. Part of the challenge is building awareness about your cause. The other challenge is mobilizing a group in a coordinated fashion to achieve your goal.
Fortunately, online sign ups can make it easy to spread the word about your event and mobilize a group of people. And, with our LumaPay feature, you can easily collect financial donations directly on your sign up - creating an easy way for people to give toward your cause. See these four tips for getting started with your donation sign up.  
Decide the donation 
There can be many different categories of donations including volunteering time, goods or money. One of the keys to getting started on your
fundraiser checklist
is to clearly outline how people can help. This can be done by choosing the donation options early in the process.  
If you need to coordinate donations for items you'd like to collect for a nonprofit. You can easily list out the items and volunteers can sign up to donate certain items and bring them to a drop-off location. Be sure to list the date and location you need the items dropped off. Additionally, you can create a slot for volunteers who can help sort and deliver the collected items. See how Nan Howard used a donation sign up to make a big difference for her favorite nonprofit.   
If asking for money better suits your fundraiser, get started with collecting monetary donations by visiting our fundraising page. We'll walk you through setting up a payments account, and you can see some of the common ways to organize a fundraising sign up. 
Genius Tip: Good Samaritans giving back to their community may like to donate anonymously. Make sure to provide an extra layer of privacy by hiding names on your sign up.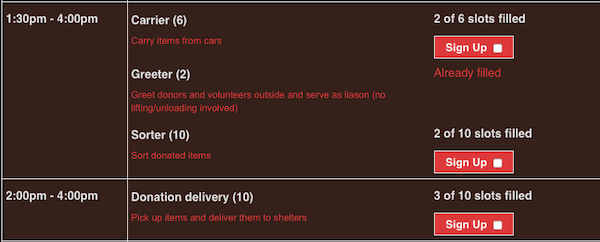 Communication is key 
Volunteers are no different than any of us, and with the back and forth of daily life, it can be easy to lose track of time and details. Stay ahead of any potential mistakes in the future by setting up
custom reminder and confirmation notifications
. If you think your contributors are more likely to check their phones, go ahead and schedule
text message reminders
to keep your charity top of mind. 
Remind volunteers where to check-in, what to bring, deadlines for donations, and even link a map to your sign up that will guide people directly to your event or donation locations. Check out these 4 messaging features for additional ideas and tools to help communicate with volunteers and share information that you don't want them to miss.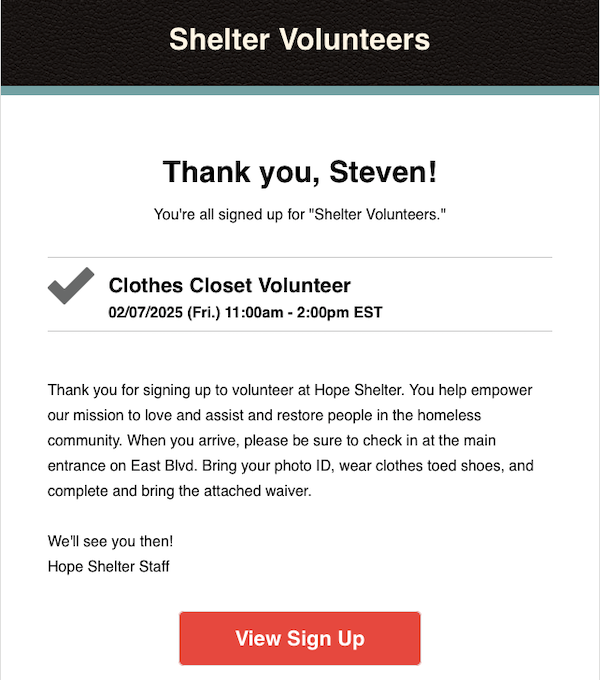 Share your sign up 
Once you have checked off the "Create a Sign Up" box on your to-do list, you are ready to start getting the word out about your fundraiser. One of the best ways to spur volunteer sign ups and donations is to
promote your sign up
so that you can easily let others know about the needs. Since a sign up has its own URL, it is easy to share in a variety of ways – making the sign up a promotional tool that contains all the information about your donation needs and an immediate way for people to respond. You can even
attach a spreadsheet
that lists all your needs on the sign up or in related emails.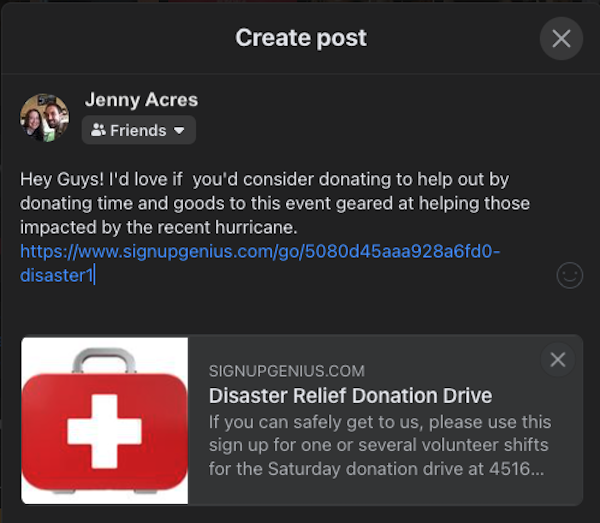 Expand your efforts to increase visibility into your event by directly integrating your sign up on your foundation's website. Tell people to simply visit your website to sign up or donate, and you can reach a new audience beyond the people you have email addresses for.  
No matter how you share your sign up, you will be putting your donation page directly in front of family, friends, and acquaintances who are likely to help out if they can. Don't forget to encourage them to share your link and website on their own social media accounts to help spread the word further!
Celebrate your cause 
At the end of the day, you want to express gratitude and appreciation towards the people who have volunteered or raised funds for your cause. This is a great way to help increase volunteer retention – especially if you involve storytelling elements that help link volunteer actions and how they have furthered your organization's mission. You might want to share images or a slideshow as well as a solid email that celebrates what you and your donors have accomplished together. You can
track volunteer hours
with our
premium plans
to see which group excelled in volunteering and you can run a payment report to view giving information. In either case, it's important to celebrate any donation achievement and volunteer efforts, no matter how small. 
Hosting a small celebration at the end of an event with all of your volunteers is a great way to show your appreciation, while also boosting volunteer recruiting efforts in the future. There are many appreciation gift ideas that can accommodate large or small-scale events, so try to find one way to thank volunteers and encourage better retention. 
Online sign ups can take a major weight off your shoulders during a hectic donation season. Put your pen to paper (or in this case, mouse to sign up) and bring your fundraising vision to life with the help of SignUpGenius.