30 National Volunteer Week Appreciation Gift Ideas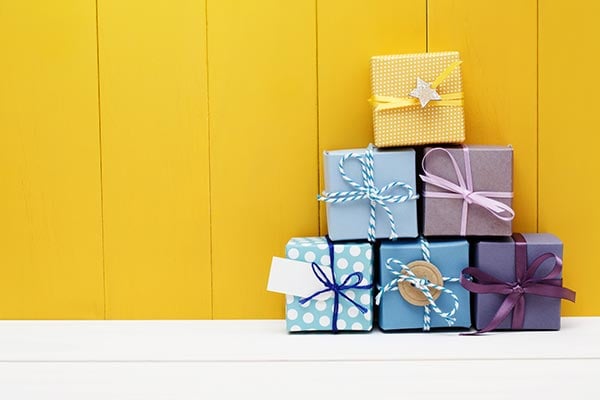 Volunteers are an integral part of nonprofits, enabling them to reach farther and do more with minimal resources. Let your volunteers know how appreciated they are by recognizing them with a small gift.
Meaningful Gifts
Thank You Note - Ask multiple staff members to write each volunteer a personalized thank you note and create an artistic thank you note collage when you put them together. Include meaningful photos as well.
Journal - Give a journal paired with a pen or freshly sharpened pencils. Consider writing a brief thank you note in the front of the journal.
Personalized Bracelet - Beaded bracelets are popular right now, and you can have these made from an Etsy shop or a local retailer. Consider including their initials on the bracelet. Don't need it personalized? Shop Noonday Collection and support fair trade.
Book - If your nonprofit has a history book or coffee table book about the organization (or about a cause your team is passionate about) this is a great gift to give volunteers. Personalize the inside cover by writing a brief thank you note and include the gifting date.
Trinkets - Give women a pretty trinket dish with their initials on it. Search options at Anthropologie to find the perfect one. For men (or women who don't wear jewelry), consider a trinket toy or character at Think Geek.
Flowers - Give a small bulb in a little pot tied with a ribbon. Your volunteer can enjoy watching it bloom and then replant it if they so desire. Paperwhites are great small fragrant bulbs. You can also consider daffodils or hyacinth. Many times, you can pick up pre-potted bulbs at your local nursery.
---
Organize a volunteer appreciation lunch with a sign up. SAMPLE
---
Treat Yo' Volunteers
Pampering - Consider giving volunteers a collection of lip balms, candles, lotions or bath bombs. You can also include cozy socks to encourage volunteers to put their feet up.
Nail Care - Give a gift card to a reputable nail salon or a small pouch with a few nail polish colors and a file. For men, consider beard oil or a gift card for their favorite barbershop.
Soap Set - Gift a small basket or gift bag of scented soaps. You can find these in varying price points. Search for local specialty stores.
Gift Cards - Simple but useful, give a gift card to a favorite restaurant or coffee shop. Go local if possible!
Signature Scent Candle - Give a candle from a small business such as Ella B's Candles. You can ask Ella B's to make a signature scent for your nonprofit and brand it with your organization's logo on the candle. This is a gift volunteers and donors will enjoy!
---
Distribute appreciation gifts to volunteers with a sign up. SAMPLE
---
Practical Gifts
Herbs - Little potted herb plants are perfect for cooking. They are often sold in small trios or individually. Find them at local nurseries, specialty garden stores or even in the produce section of many grocery retailers.
Writing Set - Give a practical and fun pencil pouch with freshly sharpened pencils and multicolored pens.
Tote - Consider a canvas tote or rectangular carryall bag with your organization's logo or the volunteer's first initial on it. Zipper pouches or packing crates also make a practical gift.
Cookbook - A cookbook from your state or region makes a statement. You can look online and at nearby bookstores as they usually carry local cookbooks and travel books. A food magazine with a gift card to a bookstore also works well for any recipient.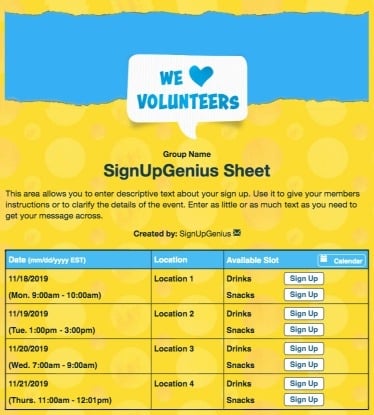 Charcuterie Board - A small cheese board with specialty cheese and crackers is a practical gift for entertaining.
Breakfast in a Basket - Pair a fun waffle or muffin mix along with a bag of coffee for breakfast in a bag. Personalize this gift by including a handwritten breakfast recipe from your own collection to share with volunteers.
Fruit Basket - Instead of a traditional fruit basket, give citrus fruits which have a longer shelf life. A basket or wooden bowl full of fresh clementines with a pretty green or aqua ribbon tied around it is a beautiful gift.
Coffee - Pair a nice coffee mug with gourmet coffee or tea and a gift card to a local coffee shop. Consider having a mug made with your nonprofit's logo or with your volunteer's name monogramed on it from a local pottery place or online retailer. This can be a classic mug or an insulated travel mug.
Water Bottle - Gift a reusable stainless-steel water bottle with a fun design or your company's logo on it.
---
Nominate volunteers for appreciation awards with a sign up. SAMPLE
---
Leather Goods
Catchall Tray - A leather catchall tray provides a place to store your phone, keys and wallet in one spot. Find them at Pottery Barn in a variety of sizes.
Keychain - You can make customized leather keychains at local shops or by searching online. Include your organization logo or a creative appreciation theme in your design.
Mousepad - The ultimate office supply. Personalize a mousepad with a logo or the volunteer's initials. Shop Holtz Leader Co.
Luggage Tag - Everyone can use a sturdy luggage tag. Shop Leatherology for the one that fits your organization.
Journal Cover - Journals come in all shapes and sizes. Choose the one that best reflects the personality of your volunteer.
Cord Holders - These make the perfect gift because everyone has a tangled mess of cords somewhere, from power cords to headphone cords. Shop Duram Factory for hand-crafted ones.
Clutch, Case or Zipper Bag - Leather makes a great bag because it is fashionable and durable. You can find affordable options at thrift stores or department stores.
Coasters - When entertaining or enjoying an evening at home, volunteers will daily use the gift of leather coasters.
Wristlet or Earrings - Shop Macy's for leather wristlets and Waterloo for earrings that make a statement.
Mason Jar Holder - Buy clear glass jars, leather jar holders from Holdster and a bunch of coffee gift cards. This gift works well if you have multiple volunteers to gift to as you can buy the jars in bulk.
No matter the size of your gift, make sure to include a note letting your volunteer know how much you appreciate them, their time and service. A simple gift can remind your volunteers that you recognize them and their efforts.
Andrea Johnson is a native Texan now living in Charlotte, N.C., with her husband and two daughters. She enjoys running, photography and good chocolate.