Fundraising Event Planning Checklist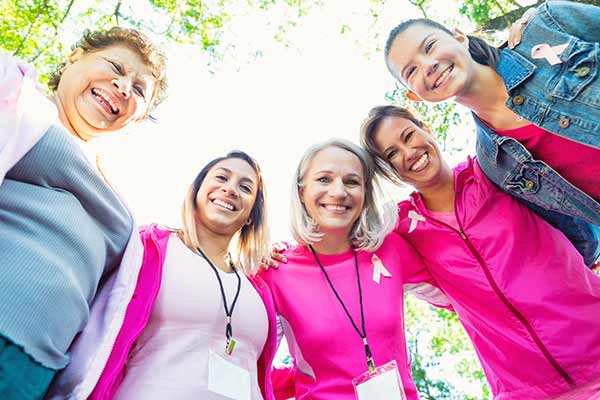 Fundraising events can raise a lot of money for your organization if they are well planned and executed, but they can also be time consuming and expensive. The key is strategic planning and clearly laying out your budget, purpose and goals beforehand. After selecting a date and creating a master plan for your event, it helps to create a timeline and checklist so you can stay on track. Good luck and have fun! 
Six Months Out (or More) 
Define Purpose - Before you start planning, decide the purpose of your event. Is it for fundraising or is it also about educating donors on your organization? Multiple goals are fine, but it is best to have one main purpose that drives the event. Keep your major and minor goals in mind as you go through the planning process so you stay focused on the big picture.
Set Goals and Objectives - Set the specific goals and objectives for your fundraising event. How much money are you trying to raise? Is it for one area or multiple areas of your nonprofit, business or group? Keep your fundraising goal in mind as you set your budget.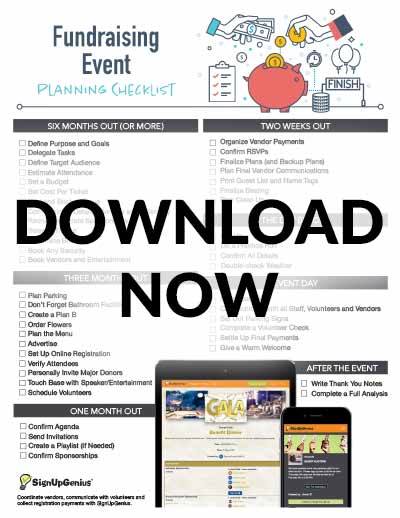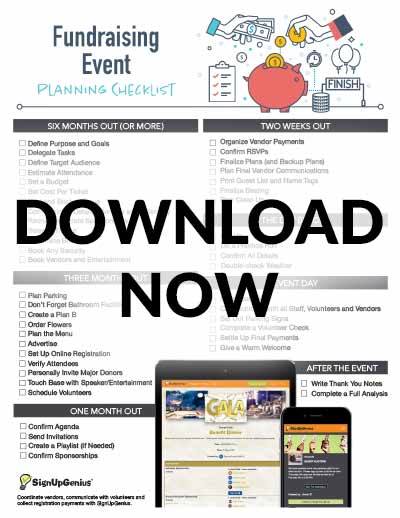 Delegate - Larger organizations may have an entire event planning department, which is a gift. If this is the case, give the team a clear outline of goals, objectives and your budget, and let them do the major planning. For the rest of us, it takes a village — or at least a really efficient committee. Have your lead event planner or director of development recruit a committee to oversee the various aspects of the fundraiser. The event will go much smoother if there are clear roles, objectives and expectations.
Target Your Audience - To determine who you are inviting and/or selling tickets to, think about who your target audience is and if the event is family-friendly. This will help determine your theme, food and activities. Additionally, if you are inviting your entire donor portfolio — whether it is 100 or 1,000 people — consider if you want to ask them to invite friends.
Estimate Attendance - Estimate how many people you think will come based off of how many you are inviting and what you know about your donor base. This will determine ticket pricing and the size of the venue you need to locate. Naturally, this is easier to estimate if it's an annual event.
Set a Budget - Outline a realistic budget and work within those parameters. If it is a first-time event, then you will have to do some educated guessing. Talk to other organizations of similar size that have held similar events and see if they have any suggestions on budgeting. Consider the costs of venue, food, speaker fees/travel/accommodations, band/DJ, flowers, décor and favors.
Set Cost Per Ticket - Determine what you want to earn per ticket to determine the cost per ticket and how many tickets you need to sell. Some events also have multiple ticket levels and entry points, such as a dinner ticket or drinks and an after-party ticket. You can also sell VIP tickets with special perks like valet parking and priority seating.
Find and Book a Venue - After deciding the size and scope of your event, find a venue that is within your budget and helps create the atmosphere you want at your fundraiser. Book it well in advance, and pay any required deposits. If your event is outdoors, it is good to research if you will need permits for tents, animals, sound, lighting, fireworks, etc.
Communicate Details - Alert all the appropriate people about your fundraiser, both internally and then externally. Your school, nonprofit or organization will want to put the fundraiser on the main calendar, and then set a time to invite donors and notify the public.
Recruit Corporate Sponsorships - Many fundraiser events involve corporate partners who sponsor a table or underwrite a certain part of the event. Forming these partnerships will directly impact your budget and how much you can spend in other costly areas such as food. Before recruiting, decide how you will recognize sponsors. In programs? From stage? On signs?
Select a Theme - Determine the tone and theme for your fundraiser. Some events are formal and some are casual. These factors will determine how you plan and decorate. Themed events are fun to plan and attend, but not every event needs to have one. Sometimes it is best to keep it simple and not change themes every year. By hosting the "X Annual Nonprofit Gala," you decrease the planning burden on your staff and volunteers as well as money spent on new décor and graphics. Genius Tip: Try one of these 30 fundraising event themes.  
Determine Branding - Develop a corresponding graphic for your event to promote it or decide if you are using your nonprofit's logo. If so, stay consistent with your branding while adding an element of visual interest.
Book Any Security - Consider whether you need security officers at your event and if so, work it into your budget.
Sign Vendors and Entertainment - Identify and book your speaker, band/DJ, entertainment, photographer/videographer and caterer (if one doesn't come with the venue). Once vendors confirm their participation, have a committee member or your event department work with them on necessary travel arrangements. Communicate your goals and expectations for the event and for the speaker or entertainer. Sign any necessary contracts and pay any needed deposits.
---
Coordinate a silent auction and collect payments with a sign up. SAMPLE
---
Three Months Out 
Plan Parking - Consider where people will park, and if you need to hire or recruit volunteer parking attendants. It is often helpful to have a parking map available on your website and to send people that information before the fundraiser. If it is a formal event, consider having valet parking available. Genius Tip: Add attachments to your sign ups to simplify event details for attendees.
Don't Forget Facilities - It's not the most glamorous thing to think about, but make sure you strategize how many restrooms your venue has in proportion to the number of attendees. You may need to bring in portable potties.
Create a Plan B - If your event is outside, have a plan B in place for rain, whether it is a tent or an alternate venue.
Order Flowers - If you are going to have flowers at your event, decide which flowers you want and place the order. Consider using flowers that are in season at the time of the event to save money. Greenery is also a budget-friendly option.
Plan the Menu - Finalize your menu with the caterer. If you are going to print menus for tables, go ahead and decide on a layout and font. Print them now or set a reminder to print them one month out.
Advertise - Three to four months out is the best time to start advertising your event to make sure it gets on people's calendars. You can share information on social media, through email newsletters and/or a save the date — either a mailed copy or digital invite.
Set Up Online Registration - Create an online registration if possible to streamline your RSVPs and payments all in one system.
Verify Attendees - Have a system where you can record who is attending and if they have paid. Decide if you are mailing or e-mailing tickets. Also, consider what you will do if people who aren't on the RSVP list show up on the night of the event. Genius Tip: Download event information with SignUpGenius custom reporting.
Target Invites - Cater your advertising toward your target audience. What works for millennials is not the same approach to use with baby boomers. No matter your audience, you have to convince people that the event is worth their time and money.
Invite Major Donors - Personally invite your major donors. Appoint a development officer or other staff member to call and invite donors to attend the event.
Touch Base with Speaker/Entertainment - Work with the speaker or entertainer for the event to confirm your expectations for the evening.
Schedule Volunteers - Depending on the size and scope of your event, consider asking volunteers to help, both before and the day of the event. Provide them with name tags or shirts and food the day of the event.
One Month Out 
Confirm Agenda - Finalize the agenda/timeline with all key players. Make sure all participants/performers/emcees know the schedule and expectations. Provide them with a point of contact if they have questions.
Send Invitations - Mail formal invitations four to six weeks before the event, and make sure to include a way to RSVP with a deadline of two weeks before the event so you have a good idea about numbers.
Plan Ambient Music - Decide on background music if a band or DJ isn't covering this for your event.
Confirm Sponsorships - Confirm all your corporate and private sponsorships and let them know how they will be recognized.
---
Recruit volunteers for your nonprofit with a sign up. SAMPLE
---
Two Weeks Out 
Organize Payments - Plan payment methods for vendors, performers, photographers and service staff.
Confirm RSVPs - Double-check attendance numbers with the venue and caterer to make sure you have enough tables, chairs and food. Expect that some people won't show up and some will come without RSVPing. It usually evens out but is always wise to have extra chairs and a few extra place settings.
Finalize Plans - Meet with your team lead or committee chairs to revisit each area of the event timeline. This is a good opportunity to fill in gaps and make sure everyone is on the same page. Be sure to develop necessary backup plans.
Plan Final Communications - Meet with the band, emcee, entertainment and volunteers to give them maps and an updated timeline for the night. 
Print Guest List and Name Tags - Confirm and print the guest list and name tags. Have blank name tags available for last-minute guests or missing name tags.
Finalize Seating - If you have assigned seating, confirm table arrangement and seating chart.
Plan Clean-Up - Make a cleanup plan and communicate it to your team so they know what to do once the event is over. Clarify what the venue will do and what your team is responsible to complete.
The Day Before 
Set Up - If possible, set up the venue the day before (or early in the morning on the day of the event). Make sure all signs are up, tables are in place and the registration area includes name tags, registration list, pens, and paper.
Do a Practice Run - If this is a large or complicated event with lots of moving parts, consider doing a practice run to make sure you know where everything will be set up and which people need to be where and when.
Confirm All Details - The day before is almost as important as the day of the event. Confirm all the major and minor details that are important to the event such as flower/decor delivery, food order, schedule and guest speaker travel.
Double Check Weather - If it looks like rain, implement Plan B for outdoor events and have umbrellas available and parking attendants on hand for indoor events. Even though rain won't hurt anyone, people tend to opt out of events when there is bad weather.
Event Day 
Finish Set Up - Set up anything that you weren't able to the day before.
Communicate - Make sure all staff, volunteers and vendors have copies of the schedule, instructions and contact phone numbers if they need to reach someone.
Settle Up - Pay vendors and make sure to thank them.
Set Out Parking Signs - If needed, put up parking signs that direct guests where to park. Block off areas where people shouldn't park and might try to do so.
Complete a Volunteer Check - Check in with volunteers to make sure they have everything they need.
Give a Warm Welcome - No matter what is going on behind the scenes, greet guests with a smile and let them know you are glad they have come.
---
Organize a capital campaign for your organization with a sign up. SAMPLE
---
After the Event 
Write Thank You Notes - Make sure to thank your participants, sponsors, donors and volunteers after the event. A note or a phone call goes a long way since people have spent their time, energy and money to make your event a success. When people feel appreciated, they are much more likely to participate again. Take the opportunity to remind them what their support helped to accomplish.
Complete a Full Analysis - Analyze your costs, revenue and estimated time that went into the event to determine how much money you raised for your cause and how much time it took from you, your staff and volunteers. Use this information to decide how to proceed with a similar event in the future.
Planning a fundraising event can be a smooth process with a well-outlined plan and a great team. Remember to stay focused on the big picture throughout the process and monitor your time and expenses to maximize your fundraising efforts. 
Andrea Johnson is a native Texan now living in Charlotte, N.C., with her husband and two daughters. She enjoys running, photography and good chocolate.