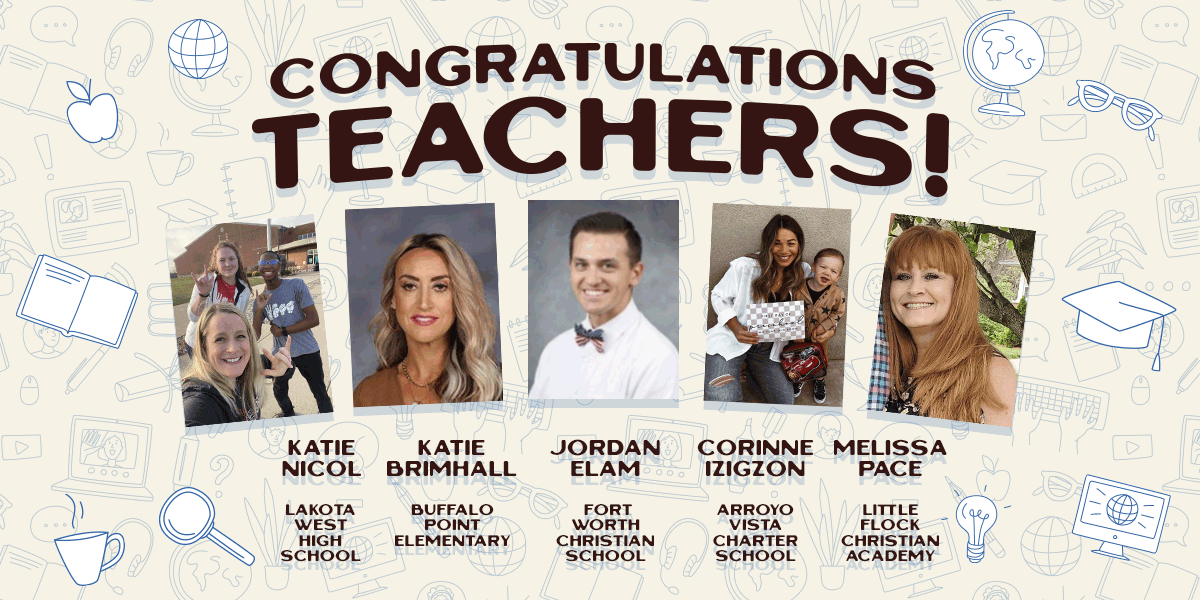 Teacher Appreciation Week 2022 is celebrated from May 2 to 6 and offers a time for students and parents to show gratitude to all the hardworking educators who deserve a heartfelt "thank you."
This year, we wanted to show our support for teachers through our Genius Teacher Appreciation Giveaway. We asked you to nominate teachers who have made a difference in the lives of their students and were overwhelmed by the incredible outpouring of love for educators. Over the course of three weeks, we received 140,133 giveaway entries for nominated teachers.
Five winners were randomly selected out of the thousands of teachers nominated to receive a $500 gift card as a thank you for their dedication and the impact they have on their students. We are excited to announce the five educators selected, along with a little more about why they were nominated!
Congratulations to these five genius teachers: 
Corinne Izigzon from Arroyo Vista Charter School
Corinne's nominator said she "goes above and beyond for the kids" she teaches. We're thankful for all she does to support her students and hope she enjoys this token of appreciation from her community!
Katie Nicol from Lakota West High School 
"I nominated this teacher because she is someone who I can trust and talk to and overall does so much more work than her job requires but doesn't mind it, and she has helped through so many things and that's why I believe she should get this." Katie has done more than asked of her and we are thankful for the impact she is making on her students each day.
Melissa Pace from Little Flock Christian Academy 
"I nominated Mrs. Pace because she is an awesome person and an awesome teacher. Not only does she teach a class full of Kindergartners, but she has 7 kids she has/is raising. She took on 3 boys that were in need and took them in as her own." Melissa is a kind-hearted woman who goes above and beyond for her students in and out of the classroom and we're grateful to present her with this prize. 
Jordan Elam from Fort Worth Christian School 
"Mr. Elam has been my favorite teacher that I've had during my middle school and high school career. He is an incredible teacher who cares for his students and is willing to help anyone with anything history-related. He also volunteers in his free time." Thank you, Jordan, for all you have done to inspire your students! 
Katie Brimhall from Buffalo Point Elementary 
Katie is "amazing at art!" Her students love her creativity in the classroom, and we're excited to celebrate her with this prize.  
Thank you, Teachers 
We want to extend our appreciation and gratitude to every teacher who was nominated, and to all the teachers inspiring students too. We are so thankful for the work you do; your commitment to educating and improving the lives of each of your students does not go unnoticed.
Happy Teacher Appreciation Week 2022!