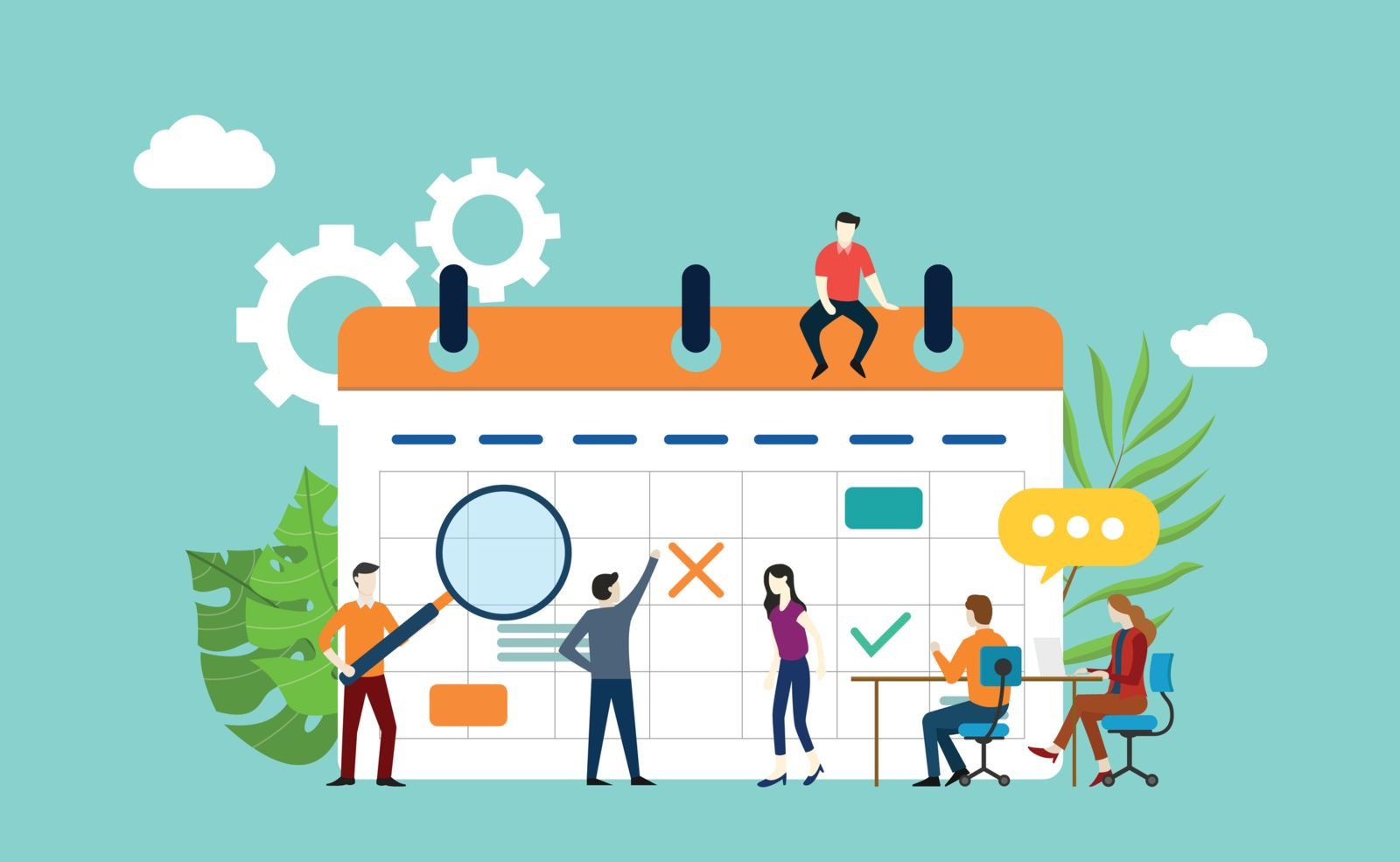 You've probably used our site to sign up for an for an event or even to create sign ups and organize your group. But have you used it to simplify all of your group organizing activities? At SignUpGenius, we see all sorts of ways that people use our site to simplify event, volunteer and group management. Just to keep you in the loop, we wanted to share the top five sign ups you should consider creating in the future.
Potluck, party and meal sign ups
Okay, maybe you've already created a potluck sign up on our site. But what about organizing a party, or perhaps recruiting
meal sign ups
for a family in need? In these cases, our site is perfect for creating slots to request volunteers for party items and meals. A meal sign up for a family in need or anyone welcoming a new baby is an easy way to make a big difference.
If you are organizing a meal sign up, be sure to require a comment and specify that participants need to enter the meal they plan to bring in that field. This way, everyone can see the dishes that are being delivered and can avoid too many of the same meal.
Plus, our site will send automatic reminders to participants. You can set the number of days in advance for when you want reminder emails to go to each participant. With our hide past dates feature, you can automatically hide meal sign up times that occurred already to keep current listings at the top.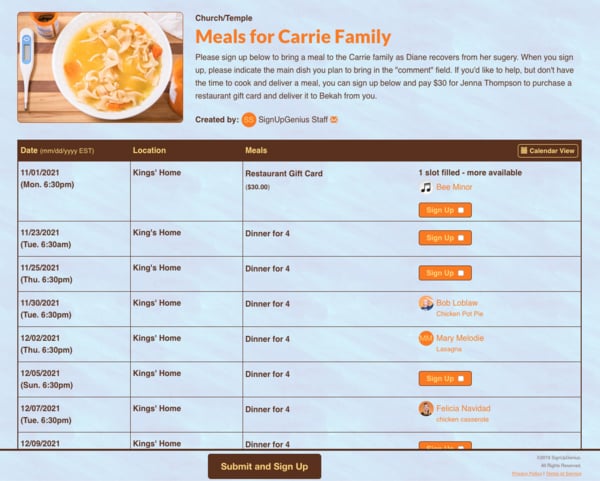 Appointment booking and meeting sign ups
Whether you are booking appointments for teacher conferences, coordinating auditions or booking photo session appointments, a sign up is a perfect solution. It's much easier than attempting to coordinate times with multiple individuals over email or spreadsheets.
Enter the dates and times of appointments or use our tool to generate recurring dates or times and voila — you are ready to book appointments. Participants can select appointment openings and sign up at their convenience.
Worried about people canceling their appointment at the last minute without notifying you? No problem. With our sign up locking feature, automatically lock appointments in advance to prevent last-minute deletions. Plus, the locking feature can also prevent last-minute sign ups.
Best of all, with our calendar sync feature, you can sync appointments to your personal calendar. When someone signs up, the appointment will automatically be added to your personal calendar.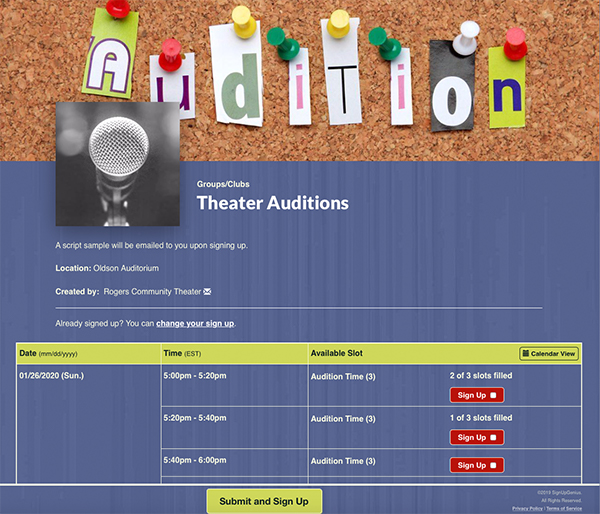 Volunteer recruitment sign ups
If you are an organizer of people or events, you likely need volunteers. Whether you are coordinating chaperones for a field trip, volunteers for a concession stand or shifts for a nonprofit, our sign ups make it easy. Create specific volunteer roles and time shifts for all of your needs.
Share the sign up on social media, post it on a website or email the link to spread the word about your volunteer needs and boost recruitment. With a sign up, there's no need to call, text or email specific people in search of volunteers. Simply broadcast the sign up.
Here are some of our product features that make volunteer management easier:
Create custom sign up
confirmation emails
to communicate helpful instructions or information to volunteers after they complete a sign up. Apply a similar message to your reminder emails as a way of emphasizing any necessary information to your participants.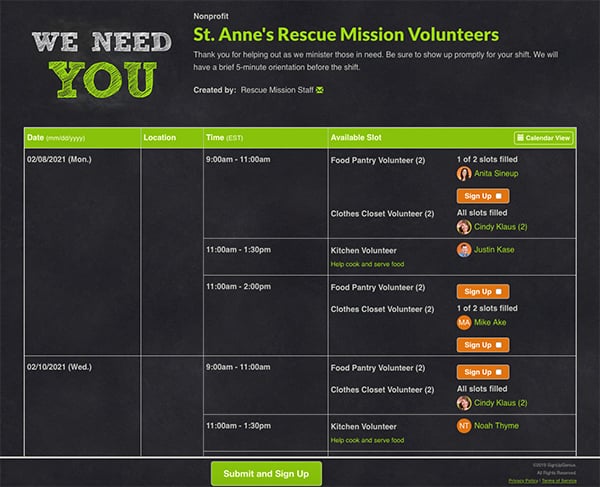 Donation and fundraiser sign ups
This is one of our favorite ways to make a big impact with a simple sign up. By creating a donation sign up, you can appeal to your audience and rally people to donate needed supplies for a nonprofit or emergency disaster relief. See how one sign up creator made a big impact by
collecting donations for a local nonprofit
.
Sign ups are also helpful for collecting needed supplies for a mission trip or donations for a group gift. Not only can you use a sign up to collect donations, but you can also recruit volunteers to help organize or deliver supplies to further help your cause.
If you are planning a fundraising event, it's easy to organize with an online sign up. Simply create volunteer shifts or roles and select the maximum number of volunteers needed for each role. If you need volunteers to work shifts at varying times, add time slots and assign those to the shifts. You can also collect money directly on the sign up, with LumaPay, for those wanting to make financial contributions online.
Genius Tip: Spread the word with these tips for promoting your sign up.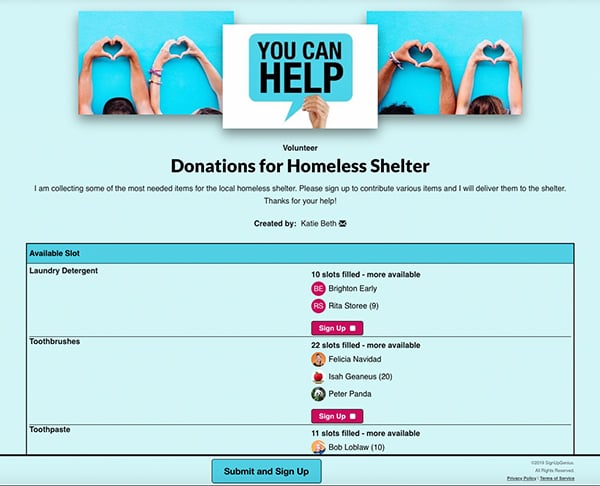 Group events or event registration
There's a good chance that you are part of some kind of group, from the PTA and your child's sports team to your church small group and book club. Organizing group events with an online sign up takes the pain out of handling attendees or managing registrations. Simply create an online sign up to serve as a tool for registering people for an event. Then, the registration process will handle itself.
Our site is widely used as an event registration tool. You can create a single registration slot or multiple registration slots to specify types of registration. For example, you may want to offer half-day versus full-day event registrations. In this scenario, you would create a distinct slot for each type of registration. You can even collect money and offer discounts or early bird specials to those who register in advance.
Like most registrations, you're going to need some additional information. With our Custom Question feature, you can create custom question fields for participants to complete as a part of the registration process.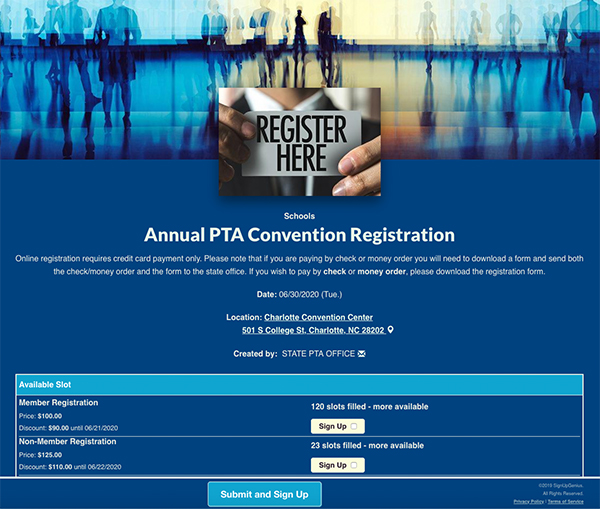 See? There are all sorts of useful ways that online sign ups make it easy to coordinate groups and events, beyond what you might normally do. With our flexible tool and advanced features, you can stay organized and have more time to connect with your group.