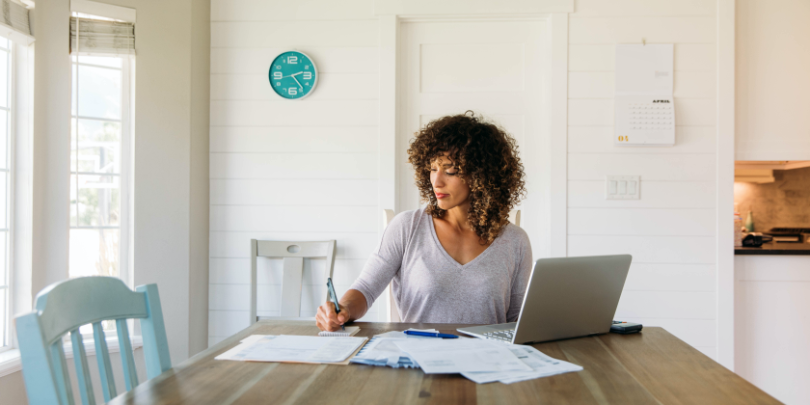 The coronavirus pandemic has forced the world to make some giant adjustments. Adjusting has become so common that the word "pivot" has come to describe the actions that people are taking to respond to the impacts of social distancing and stay-at-home orders.
Depending on the level of restrictions in your area, the manner in which you may need to pivot might look a little different. We're here to offer some general suggestions and guidelines on ways that you can pivot and still make an impact with online sign ups.
Schools
If you are a teacher, you are likely conducting a lot of online meetings. Whether you are scheduling check-ins or small group learning sessions, it can be difficult to manage all the appointments. Fortunately, online sign ups are an easy way to manage all your virtual meetings.
Simply create time slots that list available meeting times and share the sign up link with your group. Our new integration with Zoom allows for your online meeting location to be added as well. We have even created a helpful guide for scheduling video conferences with online sign ups.
Genius Tip: Create custom sign up confirmations to email the video call information or online meeting link to participants once they sign up.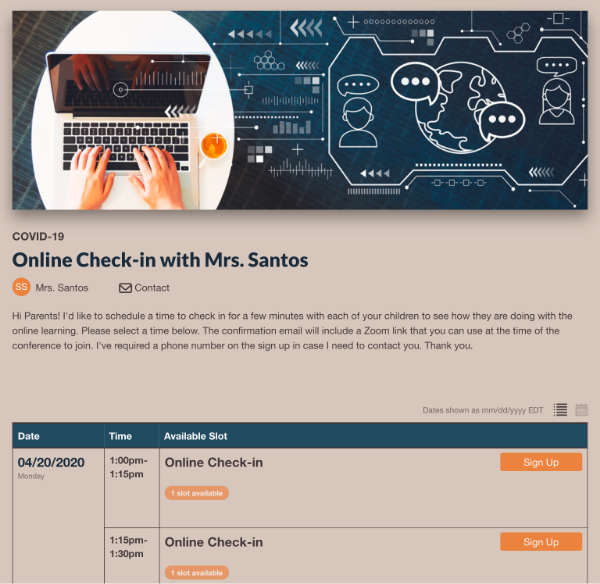 Friends and Family
There are all sorts of ways that families can connect during this time. But how do you celebrate events, such as graduations or birthdays, when you must maintain social distancing? Answer: with a little creativity!
For example, create a series of gift deliveries for a birthday so that gifts or cards get dropped off on the porch at regular points in time throughout the day. That way, the birthday boy or girl can be showered with gifts throughout the day and feel loved and celebrated by so many. It's guaranteed to be a memorable birthday.
Simply create a birthday celebration sign up with slots for people to sign up for various times to drop their gift off on the porch. (Note: the ordinances in your area will determine if this is feasible.)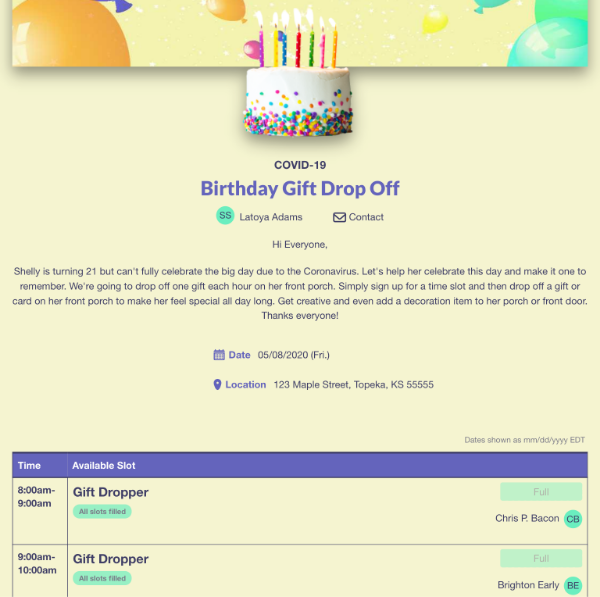 Businesses
Whether you
teach skill-based instructional classes
, offer
financial advising
or provide
physical therapy
, you can still offer many of these services virtually. Create an online sign up to schedule your appointments and even
collect money
or necessary information from participants.
If you are setting up video calls, there are a number of ways to share the link to virtual appointments on a sign up. While all personal information remains hidden and only accessible to the sign up creator, you can use enhanced security features to hide the names on sign ups and keep your appointments anonymous to others.
Genius Tip: If you are running a business, we highly recommend adding a professional touch to your sign ups. With our premium plans, you can remove ads and access our multi-photo designs. Starting at the Gold level, you have the option to customize the background and design a theme that matches your brand.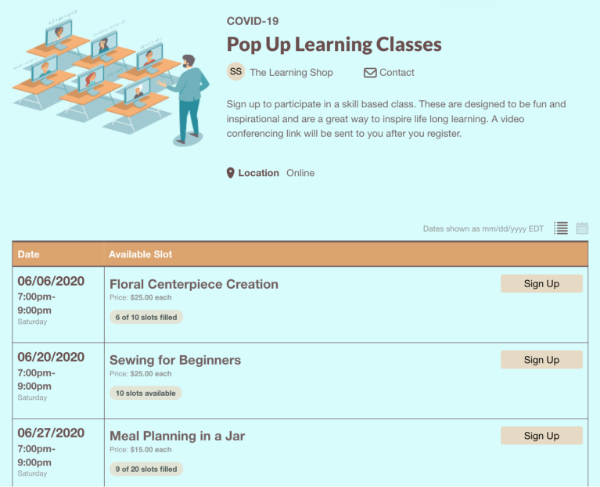 Churches and Temples
It's difficult for social and religious organizations to maintain community in these times of social distancing. Fortunately, online sign ups can help rally the troops to serve those in need or provide counseling.
Pastors can post a sign up to coordinate and schedule meetings for counseling or conversation with congregants. Congregants can create sign ups to schedule phone check-ins with isolated members in the congregation or recruit volunteers to take meals to someone in need. Simply create a time slot sign up to get started.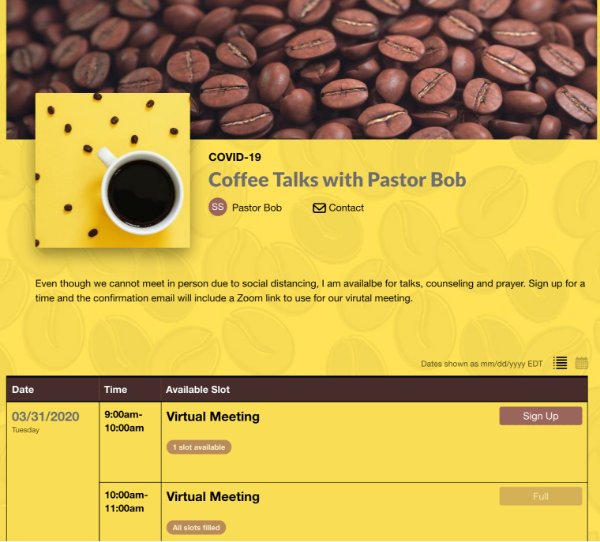 Colleges and Universities
Colleges around the country are scheduling admissions webinars and
advising appointments
with online sign ups. Professors can even schedule their
office hours appointments
online or set up
tutoring sessions
with a teaching assistant and connect
Zoom meeting links
directly to their sign ups.
Simply create a sign up that lists the dates and times available and invite your audience to sign up. Collect phone, email or other information on the sign up. Schedule video calls with those who have signed up. You can even opt to have the sign up generate automatic reminders for appointments.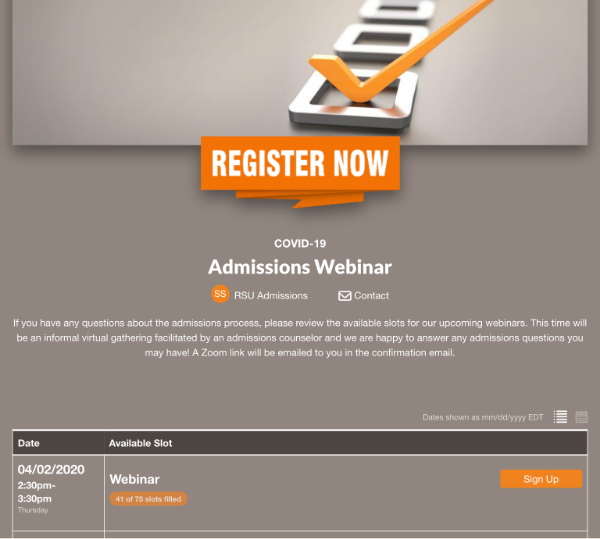 With a little creativity and organizing power, you can successfully pivot and adapt to the current changes. Online sign ups are an essential way to streamline communication, manage video calls or provide online lessons. And, when this is all over, you'll have a timesaving tool ready to help you coordinate people and events.