Create a Time Slot Sign Up
We offer a time-saving feature that allows you to quickly populate time slots if you are creating a sign up with regular appointment times or shifts. 
Log into your account and click the Created tab at the top. Select the pencil icon to the right of the sign up you want to edit.
At Step 3: Dates/Times, choose the Time Slot option.
If this is a one-day event, enter the same date for the beginning and ending date. 
If the event is more than one day, check the days of the week where time slots are needed.
Enter the beginning and ending time along with any increments needed (for example, every 30 minutes). The system will automatically populate the dates/times for you.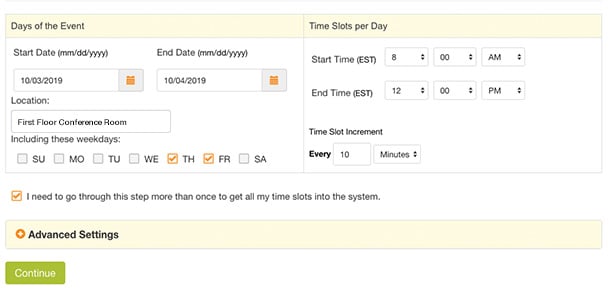 If you have more appointments/shifts that still need to be added, select the box that reads I need to go through this step more than once to get all my time slots into the system. Click Continue.
You will return to the dates/times page where you can click the Add Time Slots button to finish adding dates/times.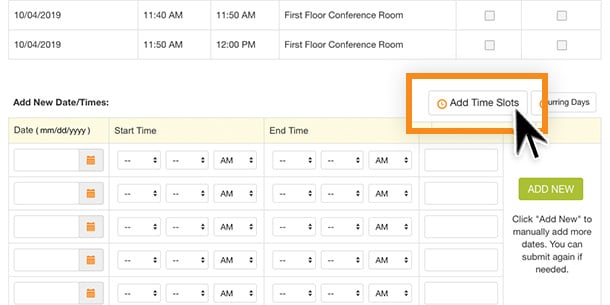 Once you have added all dates/times to the sign up, move to Step 4: Slots to enter the items or volunteers needed. For instance, if you're setting up employee interviews, you would name the slot "Interview Time" or if you're setting up parent teacher conferences, you would name the slot "Parent Teacher Conference Appointment."
Assign your slot entries to show for all dates/times or for only select dates/times.

Check your sign up preview to see time slots.