Thousands of schools around the country love how SignUpGenius makes it easy to create online sign ups for school events and volunteers. But, did you know that we now also offer an Enterprise level of SignUpGenius features?
SignUpGenius Enterprise is designed to consolidate and streamline our software at an organizational level. This means online sign ups can be branded and used as a custom software by the entire school.
What does that look like? Here are 5 ways that SignUpGenius Enterprise can be helpful to better coordinate your school's event and volunteer organizing.
Unlimited Admins
You need a sign up solution for your entire school. This includes teachers, staff and potentially a few key volunteer leaders. So, you'll need a software that everyone can access and use. Our Enterprise subscription will allow you to assign an unlimited number of administrators to the account.
With our Multiple Admin feature, you can customize each admin's permissions, giving them the ability to create sign ups or simply to view sign ups and run reports. There are a number of custom permissions you can assign to each admin.
You can even limit each admin's visibility in the account so they can only view specific sign ups. For example, you may only want admins to view the sign ups they have created and not have admin visibility into other admin's sign ups. All these and more can be accomplished with custom admin permissions.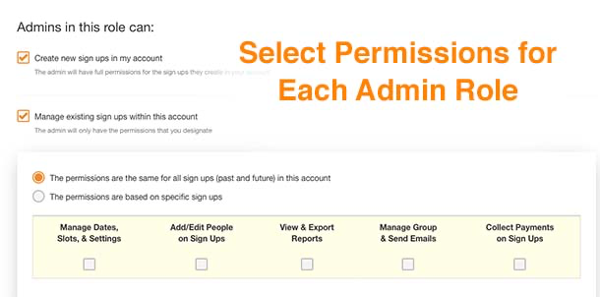 Portal Pages
Picture this: your school has created dozens of sign ups for teacher conferences, the book fair and other school volunteer roles. Yet, how are parents and volunteers supposed to locate all of these sign ups? Enter
Portal Pages
.
This page serves as a custom landing page that houses any number of sign ups you wish to display. You can customize the landing page to match your school logo and colors. You can also build up subscription lists through your portal page. People can opt-in and subscribe to receive emails and text messages, allowing you to build out volunteer lists or select groups to manage and communicate with.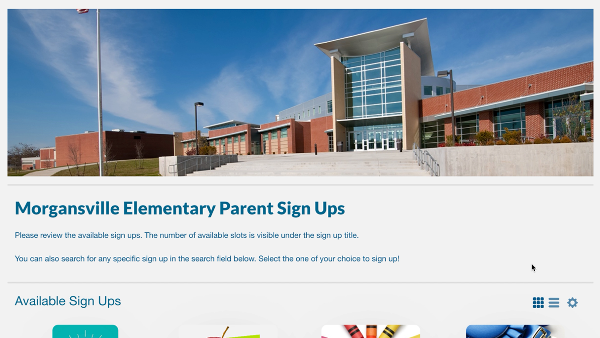 Remove SignUpGenius Branding
Wish you could have your own registration or form building software? With our brand removal feature, you can! This feature will remove SignUpGenius branding from the sign up. Additionally, you can customize the look of the sign up to match your organization's branding. This way, your sign up form will have the look and feel of your website.
Now you can have a software that works as an extension of your site and your audience will have a seamless sign up experience. This saves time and money by not having to hire a development team to create a custom software on your site.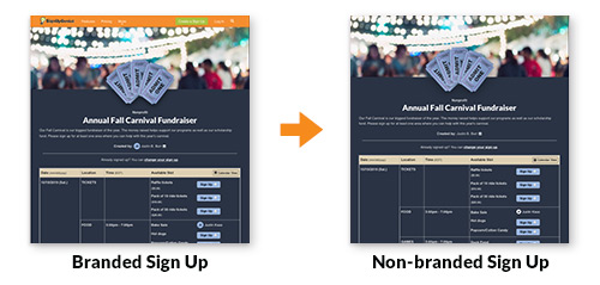 Embed Sign Ups
Sometimes it just makes sense to have people sign up right on your website. With our embed sign up feature, you can place a sign up from our site right on your webpage. Your audience won't need to go to our site in order to interact with your sign up. This is especially helpful if you create a form for event registrations, scheduling appointments or recruiting volunteers and want the sign up to appear on that page.
Keep in mind that you can gather a lot of information on your sign ups. So, if you embed a sign up for registering or collecting info, you can create custom questions or fields for participants to complete as part of the sign up process. Export this information to a report in a spreadsheet to access the information you need. Enterprise subscribers can create as many custom questions as needed on sign ups.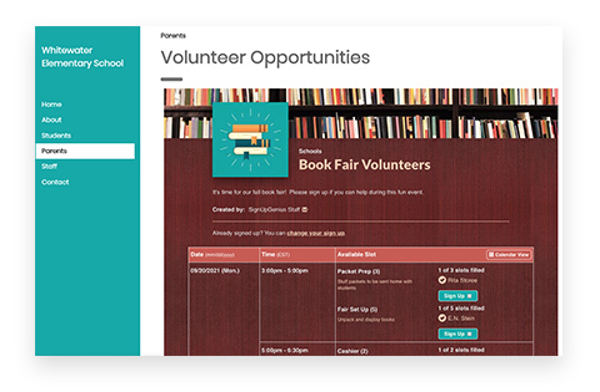 Payment via Purchase Order
You've gotten budget approval to use our software. Now you need to pay via purchase order. Since we are a small company with millions of users, it's not possible to process purchase orders for premium subscriptions. However, for Enterprise customers, we are pleased to process requests via purchase order. Our support team will work to ensure we complete and provide the necessary information you need. Additionally, you will have a dedicated support rep to answer questions and assist you directly.
Bonus: Integrations
If you need to use our site at an organizational level, it's likely that you need additional organizing tools that help you manage your database and communicate with parents. As a leader in school group organizing, we
integrate with a family of tools
.
Did you know that our software integrates with tools that can help schools manage a contact database or collect fundraising donations? With SignUpGenius Enterprise and our partners, we are a one-stop shop for all your school event and volunteer management needs.
What are you waiting for? With so many great features designed for organizations and without the cost and time involved with developing your own software, our Enterprise solutions are perfect for your event, volunteer and group organizing needs. From registrations to online forms, we've got you covered. So, go ahead and get started today!