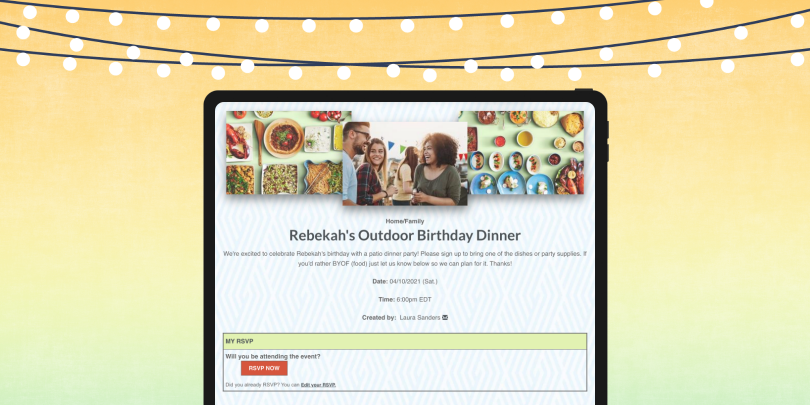 The lazy days of summer give us a chance to slow down and reconnect with our favorite people. It's the perfect time to bring family and friends together for an outdoor event in the sunshine or under the stars. This season is also a great time to give back to the community, whether you're using your skills to support a nonprofit online or volunteering in person.
Online sign ups make it easy to plan everything from a Fourth of July cookout to a food drive. Check out these five cool events to plan this summer.
Pool Party
Just bring a towel and sunglasses and let the summer fun begin! There's nothing better than celebrating 4th of July by the pool and feeling like a kid again with some
games for the whole crew
. Make it a red, white and blue event or go tropical with a Hawaiian theme. Check out
these tips to make planning your pool party
a breeze.
Invite guests with an online sign up and ask a custom question like "What's your favorite summer song?" Then cue up a playlist with everyone's songs of the season to set a festive mood.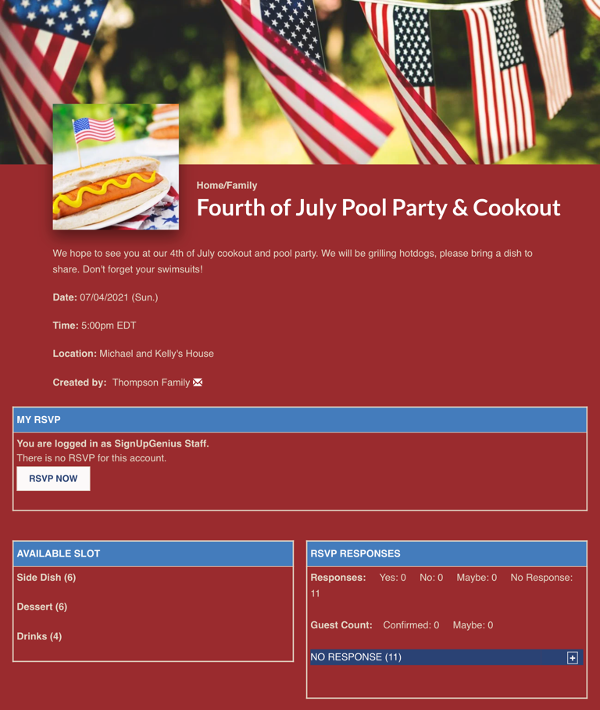 Backyard Dinner Party
An outdoor dinner party can be as simple as a cookout or a fancy potluck affair with white tablecloths and dreamy lighting. Use an online sign up to
collect RSVPs
and request food items and all the essentials. You can
set quantity limits
for items to make sure you don't end up with 10 side dishes and no napkins.
Check out these potluck themes for inspiration and plan for some of these games and activities if you're hosting on the Fourth of July.
After you've welcomed your guests, throw out some of these funny icebreaker questions to help everyone get to know each other.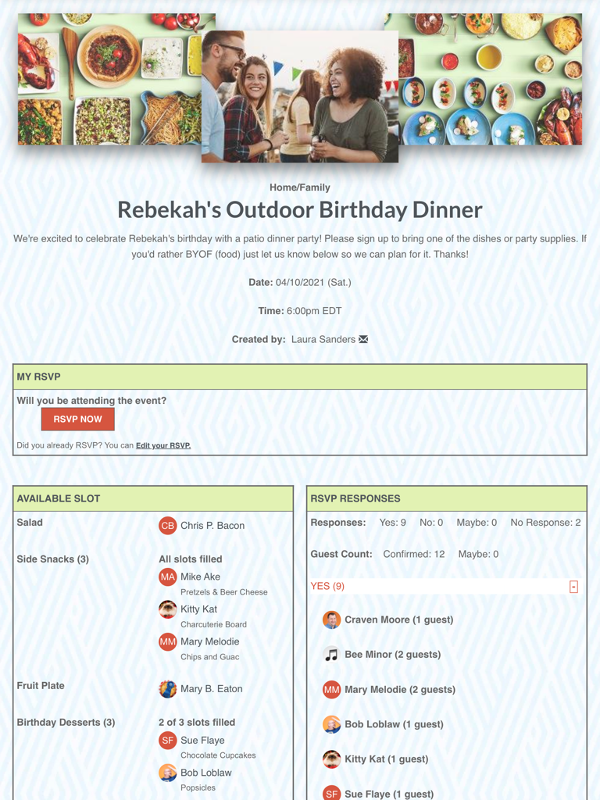 Camping Trip
Dreaming of sleeping under the stars this summer? Whether you pitch a tent in your backyard or hit the road for a camping weekend with friends, you'll make memories on your outdoor adventure. Create a
sign up for your group
to coordinate all the camping essentials from flashlights to s'mores.
Try some of these camping games and activities to get to know each other and turn up the fun in the fresh air.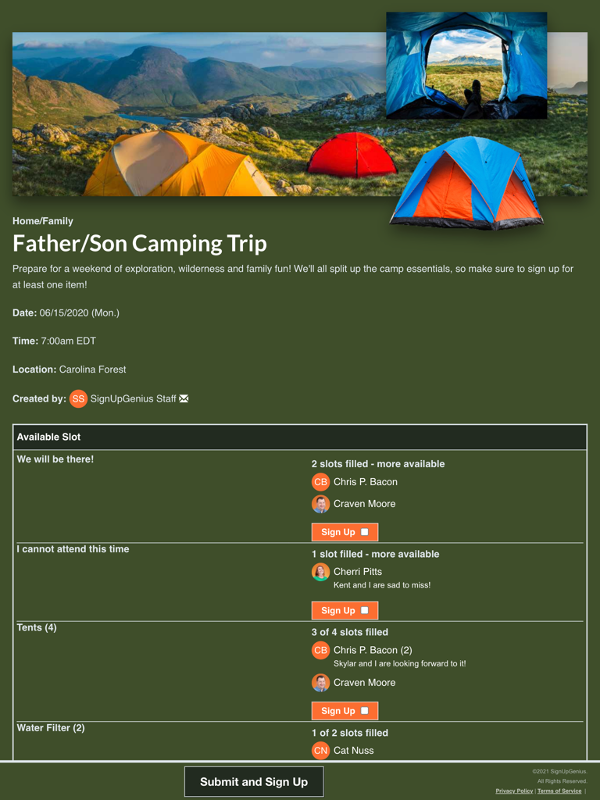 Neighborhood Block Party
Staying at home was easier with neighbors willing to lend a hand (or a roll of toilet paper) and keep our spirits up with a kind word. Bring your block or neighborhood together to celebrate summer with delicious food and fun activities.
There are many ways to make your block party a blast, from an outdoor movie to a water balloon fight. Potlucks are perfect for neighborhood gatherings, or you can keep it simple and order pizza for everyone. Try some of these outdoor games and stock up on inexpensive prizes for the winners.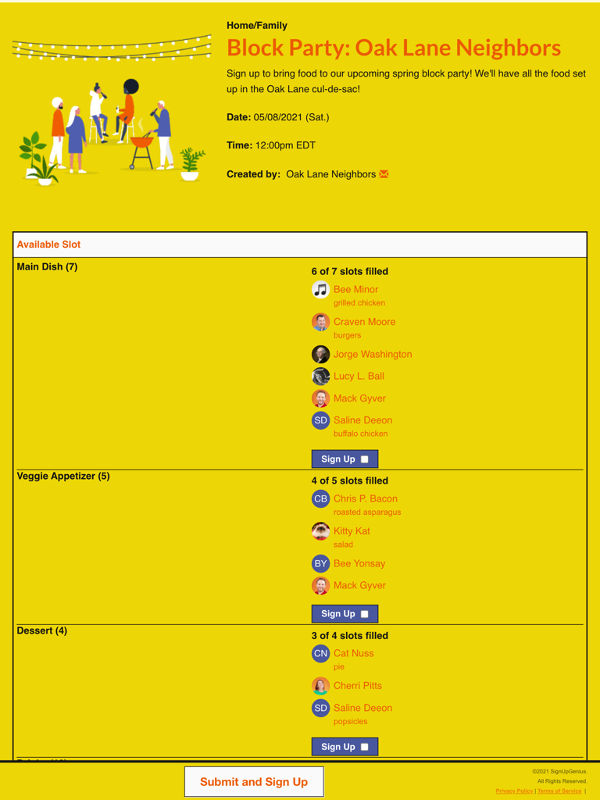 Volunteer in the Community
It can be harder for nonprofits to find volunteers in the summer when many people are on vacation. We can make a difference in the community in lots of ways, from
organizing a food drive
to serving people facing homelessness. Get the whole family involved with some of these
kid-friendly volunteering ideas
or make a difference from home with these
ideas to volunteer online
.
You can easily organize a group of volunteers or a food drive with an online sign up. Get the word out by sharing your sign up in an email and on social media.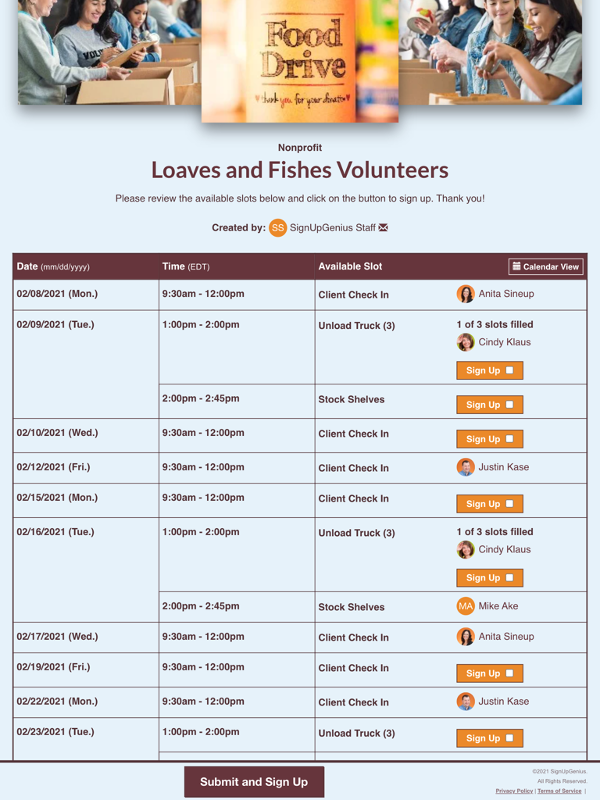 Whether you're at the beach or in your backyard, it means more than ever to bring your favorite people together this summer. SignUpGenius makes it easy to organize your events so you have more time to enjoy this sunny season.