40 Pool Party Planning Ideas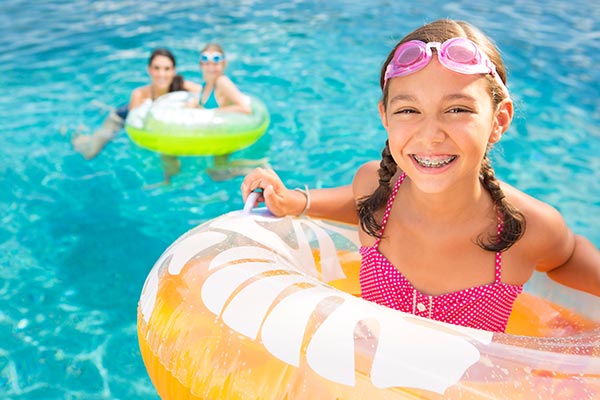 You know summer has arrived when you get invited to the first pool party of the season. With a little creative planning, you can make yours the best summer party under the sun.  
Set the Mood with a Theme
With a few decorations and lots of imagination, planning a themed party can multiply the summer fun. 
Gone Fishin' - Especially fun for a younger crowd, pick up a variety of inflatable fish toys and floats. Make homemade fishing rods to help kids "catch" gummy fish and worms out of plastic buckets. Serve "submarine" sandwiches and blue lemonade out of a fish bowl. 
Aloha Oukou - Plan a Hawaiian luau-themed pool party. Hand out grass skirts, leis and large tropical flowers. Mix up a fruity punch with pineapple slices and serve pineapple pizza. Get out the hula hoops and see who can balance one the longest or give a prize for the best hula hoop trick.
Shark Attack - Cue the dramatic music … duunum … duunum… Create fun waterproof shark fin hats for kids to wear in the pool as they play a shark-themed water version of musical chairs. Substitute pool floats for the chairs. Get crafty with shark tooth necklaces and cardboard scuba masks. 
Just be Beachy - Set out tiki torches to help set the tone — and keep the bugs at bay. Shells, starfish and colorful paper lanterns can add to the vibe. Serve cupcakes covered in icing and "sand" (brown sugar) and topped with tiny colorful umbrellas. 
Ahoy, Mates! - Let guests search for hidden treasures at the bottom of the pool by diving for "gold coins" (pennies). Give a prize to the person who collects the most. Provide pirate eye patches, personalized plastic goblets and water balloon or inflatable swords. Later, watch partygoers walk the plank into a big splash of fun.
Under the Sea - Create a magical sea experience for all those young (and young at heart) who love the world of mermaids and mystical sea creatures.  A message in a bottle invitation is a great place to start. Sand art and seashell crafts add to the fun. Take photos in mermaid tails and crowns.
Surf's Up - Make decorations using vintage surfer gear, real or cardboard cut-out surfboards, inflatable palm trees and flip-flops. Everyone loves crazy straws and drinks from coconut shells. Make sure to have lots of classic surfer music ready (Beach Boys, anyone?) for crazy coconut bowling tournaments.
---
Gather supplies for a pool party cookout with an online sign up! SAMPLE.
---
All American Fun - Cheers to the red, white and blue. Take advantage of all the inexpensive Fourth of July decorations available this time of year. Create patriotic drink stirrers using wooden skewers stacked with blueberries, strawberries and marshmallows. Spray paint mason jars in red, white or blue, tie on festive ribbons and fill with fresh-cut flowers. Serve hamburgers and hot dogs off the grill and host an old-fashioned watermelon seed-spitting contest.
Bug Out - If you can't beat them, try joining them. There are so many fun creepy crawly treats and decorations available. Serve "dirt" cake or cupcakes using crushed Oreos and gummy worms. Kids also love to wear painted bugs "crawling" up an arm or eyebrow.
Glow in the Dark - Get creative with glow sticks and other glowing items for a nighttime affair. Try using glow sticks in the bottom of an ice cooler to spotlight drink selections or place some inside balloons floating in the pool and in and around table decorations. You can even find blinking light-up pool noodles. Plan games with glowing beach and ping pong balls or host a glow in the dark ring toss.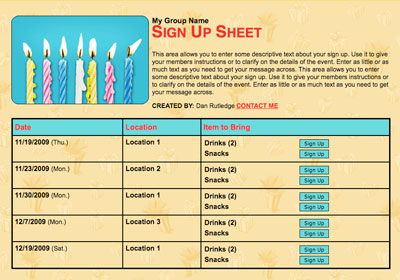 Tempt Them with Treats 
There's just something about hanging out by the water's edge that makes guests ready to eat snacks and sip tasty beverages.   
Keep it Cool - Frozen treats such as homemade popsicles and ice cream sandwiches never disappoint. Just make sure to have plenty of ice on hand to keep treats cool or you could have a sticky mess! To be extra impressive, ask the ice cream truck to swing by or hire an ice cream cart for the occasion.
Try Something Fishy - When you're aiming to complement your water theme, try goldfish crackers, gummy fish and worms. Create a fun take on "fish and chips" by setting out Goldfish crackers and tortilla chips. Place snacks in nautical-inspired containers.
Make it Float - Send cold drinks or water bottles nestled inside a sea animal floaty across the pool for a sure-fire hit with thirsty guests. Really want to score points? Search online for inflatable drink holders for the pool — you'll find some real winners, from pink flamingos to palm trees.
Put It in a Cone - And not just ice cream. Try filling ice cream cones with colorful candies, cake, sweet popcorn variations or trail mix.
Add a Tiny Umbrella - From colorful cups of blue Jello topped with brown sugar (for sand) to cupcakes and tropical cocktails/mocktails, there's just something about that little umbrella that makes it more fun.
Make Some Melon Madness - Deliciously chilled cantaloupe, watermelon and honeydew melon balls on a skewer are hard to beat. Beautifully carved melon baskets and other carved designs (search for ideas online) create a fantastic presentation.
Serve from a Beach Pail - All sorts of tasty items such as candy, cookies, crackers, chips and dip taste better served from a fun container. You can find these cheap at dollar stores. (No, you probably shouldn't use your kid's bucket from last year's beach trip.)
Make Wine Ice Cubes –Pour your favorite white or sparkling wine into ice cube trays and freeze for a grownup treat. Slip them into a fruity drink for an instant chiller and pop of flavor.
Be Kitschy - Remember, it's OK to unleash your best puns on the menu. Some of our favorites: a small sign labeled "take a dip" inside your salsa, pigs in a blanket that you call "sea snails" or cheese puffs labeled as "beach balls."
Decorate Your Cake - If your pool party happens to be a birthday celebration, don't forget to match your cake to your theme. Simple ideas include decorating your cake as a life preserver or beach ball. Mermaids and sea creatures are welcome for the more experienced cake designer.  
---
Gather RSVPs for a neighborhood pool party with an online sign up! SAMPLE.
---
Organize Water Games and Activities
Even the simplest of games seem more fun when water is involved. 
Have a Squirt Gun Race - Players spray their guns to race inflatable ocean animals in the main pool or small plastic ducks in the baby pool.   
Turn on the Sprinkler - Play a game of musical freeze tag if you've got a lawn to work with. When the music stops, everyone must freeze in their spots as you turn the sprinkler on to get them soaked!
Noodle Jousting - Using two pool noodles and two pool rafts, players battle until someone falls off their raft. Depending on age and skill levels, players can kneel or sit on their rafts.
Sponge Relays – Take the competition outside the pool by splitting the partygoers into two teams, each with empty buckets at a set distance. Place a large sponge and a bucket of water next to each team. One person at a time, each team must try to fill the empty bucket with water using only the sponge. The first team with a full bucket wins!
Synchronized Swimming Contests - You might not be an Olympian, but you can guarantee laughs by pairing up and brainstorming a "synchronized" performance to perform in the pool. Keep those cameras rolling.
Set Up Face Painting Stations - Use colored zinc oxide sunscreen to give little faces a fun look. Parents always appreciate activities that serve a dual purpose.
Diving for Treasure - Divide players into two teams and throw pairs of items into the pool such as plastic rings, coins and diving sticks.  The first team to collect one of each item wins.
Pool Noodle Crafting - From floating flowers and boats to obstacle courses and swords, it's amazing what kids can make when given the chance to get creative with inexpensive pool noodles. Make sure you've got a table for this one, and make sure to supervise younger children (or pre-cut shapes).
Beach Ball Relay Races - Pretend you're a seal! Teams must swim across the pool pushing an inflatable beach ball with only their noses.
Play Octopus – This is similar to classic tag. Select someone to be "it" and station them in the middle of the pool. When they tag someone, they must join hands with that person, forming a multi-armed creature that will try to tag more people. The last person swimming wins!
---
Celebrate simplicity with this printable birthday party checklist. SAMPLE.
---
Send Guests Home with Flair
Make a good last impression with your guests with fun summertime favors. 
Hydration Station - Hand out personalized plastic water bottles — these will serve dual purposes. They'll keep partygoers hydrated during the main event and give them something to remember your soirée.   
Digging for Treasure - Buy plastic beach shovels from the dollar store and place a fun snack like gummy worms or popcorn inside. Wrap with clear cellophane and attach a note that says, "We dig you."
Ocean Slime - Homemade slime is having a major moment, so find a recipe to mix up with your kids (make sure the instructions allow your final product to be blue.) Stick the slime in a clear plastic favor bag and add some plastic fish for a cool effect.
Fun in the Sun - Make your pool party feel like a day at the beach by handing out plastic buckets, sunglasses, Goldfish crackers and some bubbles. Attach a thank you note that says, "You make life a beach."
Have a Ball - Hand out mini beach balls (inflated or uninflated) with a note that says, "Thanks for splashing with us."
The Wet Side - Do you have a Star Wars fan who happens to also want a pool party for her birthday? Cut some pool noodles in half and tape the bottom in some silver duct tape. Use a black marker and red stickers to make it look like the handle of a light saber.
Summer Sipping - Punch a hole in the lid of a mason jar, insert a colorful straw and fill with some goldfish for a favor that's both edible and reusable. Check your pool rules for glass — if you have restrictions, make sure to pass these out at the very end.
Water Fight - Kids love squirt guns! Make this classic fit the theme for a Despicable Me lover by labeling them as freeze-ray guns.
Pineapple Bags - If you've got a slightly older crowd, pick out some yellow favor bags, and cut out spiky green construction paper shapes that look like the top of a pineapple. Fill with a lei and plastic sunglasses to get guests in a festive mood.
Fin Time - Celebrate the animal lover by passing out plastic shark toys with a note that says, "Thanks for making my party fin-tastic."     
Summer sun and a poolside party are sure to make your event a hit. Bring your sunscreen, plenty of water and prepare to have a good time. 
Laura Jackson is a freelance writer based in Hilton Head, S.C. with her husband and two teenagers.