Birthday Party Planning Checklist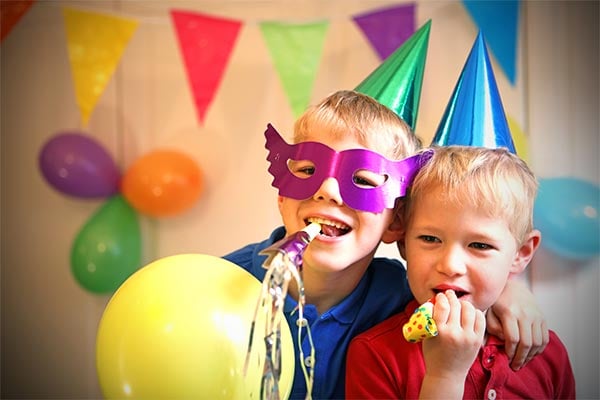 Whether you have been dreaming of your child's party since last year or last week, your birthday party can be a blast with a little planning. Use this handy list to get all the details checked off just in time to make your celebration a success.
A Month (or More) Before the Party
Before setting a date, check with your child's "must-have-BFF's" to make sure they are available. (If your child doesn't care as much, move on to #2.)
Choose a theme with your child's suggestions or make it a surprise featuring a favorite character or activity.
Decide whether to host at home or at a venue. If hosting away from home, call the venue for availability as early as possible and have a few date options in mind.
Remember to consider time of day when booking a venue and whether you will need to include a meal.
Book an entertainer such as a magician or face painter (or a character to coincide with the theme), if desired. 
Document the day by asking a friend who enjoys taking photos or book a photographer.
Order hard-to-find theme-related decorative items for things like a photo booth or party favors (some take 4-6 weeks delivery).
Create a timeline for the party. Be sure you don't make it too long or too short for your planned activities.
Order paper invitations - be sure to confirm the delivery timeline and plan in advance accordingly. Or, see next.
Save money and time by creating an online sign up 3-4 weeks in advance. Genius Tip: An online invitation is a simple and quick way to collect RVSP's for your celebration! 
---
Collect birthday party guest RSVPs with a simple sign up! SAMPLE
---
Two Weeks Before
Plan a menu for the party. Aim to make as much food ahead of time as you can.
Want special baked goods for the occasion? Now is the time to get recommendations for a bakery and even go in person to see (and taste) their samples.
Make your first trip to the store and start to pick up streamers, banners, table decor and linens.
If you have younger children, ask someone to help out before and during the party so you can focus on the birthday child and guests. Consider hiring a mother's helper or sitter for a few hours.
One Week Before
Make a second trip to the store to pick up non-perishable food and goody bag or craft items.
Borrow extra tables and/or chairs from friends and family if needed.
Check that you have candles and matches, or a working (be sure to check it!) lighter.
Follow up with invitees who haven't replied so you can get an accurate headcount.
Confirm with your venue, entertainers, photographers or other folks involved in the birthday planning.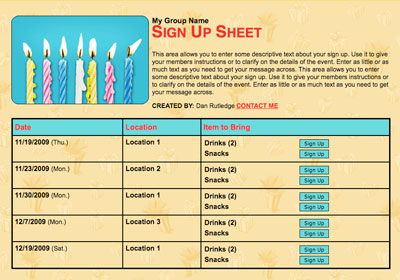 Four to Five Days Before
Fill and label goody bags and label cups for everyone.
Make a music playlist and make sure your speaker has batteries for outside use, if needed.
Have a plan for the parents who decide to stay. Think of some jobs you are happy to hand off and offer some adult-friendly beverages in a sitting area.
Take inventory of serving utensils like tongs, serving bowls, a cake stand and serving spoons to make sure you don't need to borrow any.
If planning on outdoor games, get your gear out and make sure you have what you need.
Think about how you want the big day to go and work back from the time guests will be arriving. Consider when to start cooking or prepping food, and make sure to give yourself plenty of time to get ready.
One to Two Days Before
Grab those last food items from the store and prepare anything that can be in the fridge until the party.
Pick up or bake the birthday cake.
Have family help clean the party area and rooms where guests will be gathering. Stock up on clean hand towels and toilet paper.
Put up your indoor decorations and check the weather if decorating outdoors.
Get any extra ice you might need if you have room to store in your freezer.
Pack the car with non-perishable food, decor, party supplies and table wear if you will be going to a venue.
---
Know exactly who's coming in real time with online invitations! SAMPLE
---
The Day of the Party
Don't panic if you forgot something at the store. Text a family member or friend to pick it up on the way, as they are usually happy to help.
Pick up helium-filled balloons before the party (helium typically lasts for less than a day).
Make sure pets are put in a safe spot away from the action and that doors are shut for "off-limits"" rooms if you are hosting the party in your home.
Arrange the food and drink area keeping in mind the flow of the rooms and easiest spot for messes to be cleaned up.
Don't forget to stash a few large trash bags in your car if you're going to a venue. They're perfect for carrying gifts.
Grab all the big trashcans from around the house or party venue and put them in plain sight.
Have a pen and paper (or smart phone) handy to note what gifts were received from whom. This will make writing thank you notes easier.
One to Two Weeks After
Get out that list of gifts and send thank you notes!
Select some favorite photos from the party and make a keepsake book for your child.
Don't sweat the small stuff, as they say. At the end of the day, having a great attitude is one of the best gifts you can give your guests and the birthday celebrant! Here's to happy planning and a wonderfully memorable party for all!
Julie David lives in Charlotte, N.C., with her husband and three daughters.