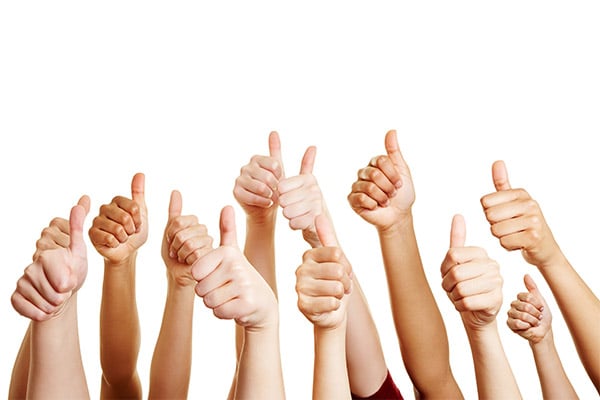 We all know it's important to get involved with our communities, and especially to teach children the value of volunteering at a young age. Introduce the concept of giving back to your little ones with one or more of these 50 kid friendly volunteering ideas!
Start Close to Home
You don't have to go far to find opportunities to help others.
1.  Walk around the neighborhood with a garbage bag and pick up trash on the side of the road.
2.  Offer to rake leaves, pick up sticks, or mow the lawn of a neighbor.
3.  Plant flowers for a neighbor or in a communal neighborhood area.
4.  Start a community garden.
5.  Collect and deliver supplies to neighbors who have just had a baby, undergone surgery, or experienced a house fire.
6.  Use SignUpGenius Payments to collect money for new playground equipment or another neighborhood need.
7.  Volunteering can be as simple as making people smile. Have your child draw pictures or write notes to deliver to your neighbors.
8.  Make it seasonal. In the fall, offer to rake leaves. In the winter, be available to help shovel snow.
9.  Use SignUpGenius to coordinate a collection of used books in your neighborhood and donate them to your local school.
10.  Coordinate a neighborhood garage sale and donate the proceeds to a local charity.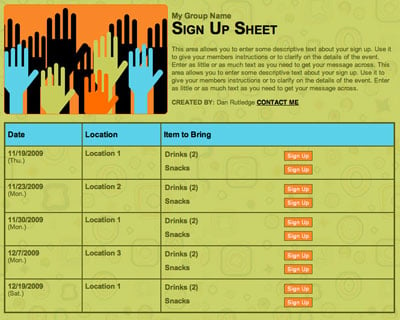 Homeless and/or Hungry 
Homelessness is a difficult issue to explain to young children, but you can help them learn about helping others less fortunate than them and expose them to volunteer opportunities. 
11.  Bring your children with you to cook or serve meals at a homeless shelter.
12.  Make care packages for the homeless. Include travel-sized toiletries, granola bars, and bottled water. Carry them with you in the car to hand out when you have the opportunity.
13.  Donate books or art supplies to a homeless shelter for children.
14.  Collect coats and give to a homeless shelter in winter.
15.  Sponsor a child through Toys for Tots or the Angel Tree to make sure these children have magical holidays.
16.  Check with your local soup kitchen to see if young children can assist with setting tables or handing out small fruits like apples and bananas.
17.  Shop for a toy to give away, and then have your child give it to a child in need.
18.  Gather canned foods to deposit at a local food bank.
19.  Have your child sort through old toys they don't play with anymore and donate them to Goodwill or another local charity group.
20.  Participate in local events, such as 5Ks, fun runs, or other events that donate proceeds to local charities helping those in need.
---
Coordinate a meal schedule for a family in need. SAMPLE
---
Animal Love
Children and animals are a great pairing. What better way to get your kids excited about volunteering than by helping animals?
21.  Volunteer at a local animal shelter.
22.  Gather information about volunteering at a local nature center, farm, or zoo.  
23.  Donate newspapers, dog beds, or other pet supplies to a local animal shelter.
24.  Place bird feeders in the yard for local wild birds.
25.  Offer to walk a neighbor's dog.
26.  Pet sit for a neighbor when they go out of town.
27.  Keep food or water out for stray animals and contact a local animal shelter to take them in.
28.  Foster a pet in your home.
29.  Help a local pet rescue group at an adoption event.
30.  Adopt a pet!
People in the Community
It takes a lot of different people to make up a community, and you can help keep it thriving.
31.  Use SignUpGenius to coordinate a canned food drive in your community.
32.  Bring smiles to local Senior Citizens by visiting or volunteering at an assisted living or nursing home facility.
33.  Bring easy to eat treats or hand-drawn cards to a nursing home or children's hospital.
34.  Decorate a senior center for a holiday.
35.  Volunteer to grade papers or pre-cut materials at a local elementary school.
36.  Read stories to younger children at schools, libraries, daycares, or churches.
37.  Volunteer to shelve books at a local library.
38.  Plant flowers at a local elementary school or library.
39.  Volunteer to work a booth at a local elementary school event. Even small children can help with ticket sales or simple tasks.
40.  Complete a park clean up.
41.  Offer to be a mother's helper to a new mom.
42.  Hold a lemonade stand or bake sale and donate the profits to a local organization.
43.  Look into the volunteer policies at local hospitals. There are usually wonderful ways for teenagers to get involved.
44.  Bring meals to your local firehouse.
45.  Contact a local firehouse and ask if you can help with cleaning and maintenance. Even young children can be great helpers with scrub brushes, and you may even get to wash the fire truck!
46.  Write thank you cards to local police officers and deliver them to the station to thank them for protecting the community.
47.  Volunteer at a Special Olympics event.
48.  Coordinate a car wash with SignUpGenius. Kids of all ages will love this fun event, and make sure to donate all proceeds to a worthy community cause.
49.  Make gifts for children in the hospital, or distribute Halloween candy, Valentines, or Christmas gifts.
50.  Get your child involved with groups that offer built-in volunteer opportunities, such as the Boy Scouts, Girl Scouts, or 4-H.
Whether it's volunteering in your neighborhood, for the homeless and hungry, with animals, or in a city-wide effort, there are multiple ways to donate your time and talents to help others in your community.
Julia Hembree is a full time mom and part time freelance writer who thrives on chocolate, Starbucks, and toddler kisses.