Press Releases
/ SignUpGenius Unveils New Feature for Back-to-School and Fall Planning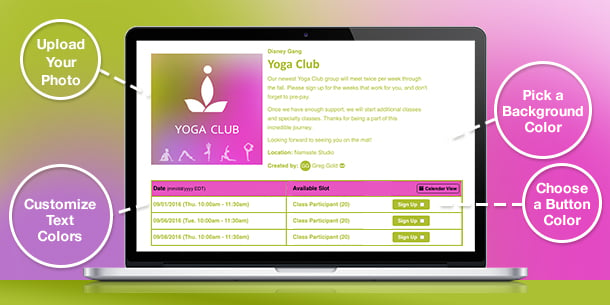 CHARLOTTE — SignUpGenius, the leading online sign up service for event and volunteer management, is introducing a new feature that allows users to design their own custom sign up themes. 
Custom Theme Builder allows SignUpGenius Pro users to upload custom images and create a custom color palette for backgrounds, text, buttons and more. SignUpGenius' site and web app provide online sign up sheets that help groups coordinate large numbers of people for everything from corporate training sessions and job interviews to parent teacher conferences and fundraising drives. 
"Users can easily pick colors that match their custom image or brand. Best of all, you don't have to be an artist. It's extremely easy to use," said SignUpGenius Developer Todd Bruss. "Sign up creators can use the feature to match logos and company or school colors or to plan parties and family functions with even more personalization." 
SignUpGenius also provides hundreds of pre-created sign up themes that people can choose from, including 75 new themes released this month for back-to-school and fall organizing.  
Fall is the busiest time of year for many SignUpGenius planners as schools start classes, groups form and fall activities begin in earnest. Up to 10 million people per month use the site's sign up tools. Custom Theme Builder is the first of several new features planned for fall release. 
SignUpGenius expects 71 million unique users this year who will use its online sign up tools to organize a variety of events at schools, businesses, nonprofits, churches and other groups.  
About SignUpGeniusSignUpGenius simplifies the process of coordinating events and people by providing online sign ups for nonprofits, schools, sports, churches, families, colleges, businesses and organizations. By enabling up to 10 million unique visitors per month to sign up for tasks online, SignUpGenius has done away with the need for paper sign ups, "reply-all" emails and phone trees.
SignUpGenius on Facebook: www.facebook.com/SignUpGenius
SignUpGenius on Twitter: www.twitter.com/SignUpGenius
Contact SignUpGenius: [email protected]