Press Releases
/ SignUpGenius Launches $5,000 Contest to Fulfill Teacher Wish Lists for Back to School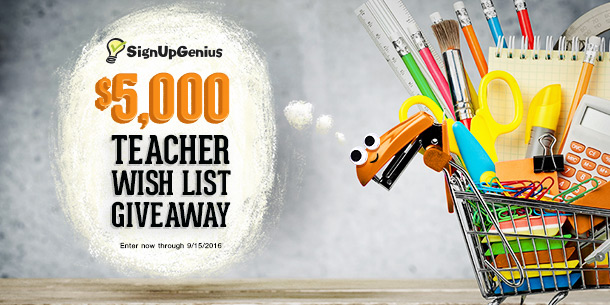 CHARLOTTE, N.C. — SignUpGenius, the leading online sign up service for event and volunteer management, will award $5,000 in a back-to-school Teacher Wish List Giveaway.  
Ten teachers will each receive $500 to help stock their classrooms with school supplies this fall. Winners will be selected randomly after the contest concludes September 15. Nominators can enter the giveaway once daily.  
"We are so excited to give back to teachers who give so much to our children every day," Partnership Strategist Kelly Johnson said. "As a former teacher, I know what $500 can do to support a positive learning environment. Whether building a classroom library, purchasing materials for projects or just buying the day-to-day supplies that constantly need to be replenished, our winning teachers will definitely have a boost to their school year." 
SignUpGenius is used by millions of parents and teachers each year to plan everything from classroom parties and fundraising campaigns to parent teacher conferences and sports carpools. The company expects 71 million unique users to visit the site this year. 
Helping vulnerable children is a particular emphasis for SignUpGenius through its corporate giving. As part of this focus, the company partners with school such as Brookstone Schools, which provides a private, Christian education for underserved urban students in Charlotte, N.C., where SignUpGenius is headquartered.  
About SignUpGenius
SignUpGenius simplifies the process of coordinating events and people by providing online sign ups for non-profits, schools, sports, churches, families, colleges, businesses, and organizations. By enabling up to 10 million unique visitors per month to sign up for tasks online, SignUpGenius has done away with the need for paper sign ups, "reply all" emails, and phone trees.
SignUpGenius on Facebook: www.facebook.com/SignUpGenius
SignUpGenius on Twitter: www.twitter.com/SignUpGenius
Contact SignUpGenius: [email protected]