Press Releases
/ SignUpGenius Supports Local Community with Loaves & Fishes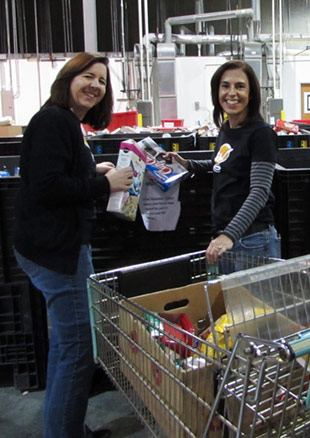 CHARLOTTE, N.C. – March 6, 2015 – The team at SignUpGenius, the leading online signup provider, makes it part of their business to give back to communities at the local, national, and global levels. The group recently helped Loaves & Fishes sort and pack some of the 260,000 pounds of food gathered by the Scouting for Food event. 
"SignUpGenius is happy to be a part of the Loaves & Fishes mission to provide nutritious groceries to people within our own community who are facing hardships," notes Betsy Lytle, Support Specialist at SignUpGenius, who organized the opportunity for the staff.
In 2014, Loaves & Fishes provided groceries to 78,602 people. Children make up 48% of those fed by the nonprofit. "We believe hunger has no place in a child's life," says Valerie Crockett, Volunteer Coordinator at Loaves & Fishes.
With philanthropy primarily focusing on vulnerable or at-risk children, SignUpGenius contributes both time and funds to assist various causes, including Bright Blessings, African Christians Fellowship International (ACFI), Samaritan's Purse, and Brookstone Schools. Several times a year the entire staff serves at a local nonprofit organization.
The company also supports schools and education by awarding funds through partnerships and contest giveaways on SignUpGenius.com.
About Loaves & Fishes
Loaves & Fishes provides a week's supply of nutritionally balanced groceries at no cost to individuals and families who are experiencing a crisis through a network of 20 food pantries in Mecklenburg County.
About SignUpGenius
SignUpGenius simplifies the process of coordinating events and people by providing online sign ups for non-profits, schools, sports, churches, families, colleges, businesses, and organizations. By enabling 7 million unique visitors per month to sign up for tasks online, SignUpGenius has done away with the need for paper sign ups, "reply all" emails, and phone trees.
SignUpGenius on Facebook: www.facebook.com/SignUpGenius
SignUpGenius on Twitter: www.twitter.com/SignUpGenius
Contact SignUpGenius: [email protected]