Press Releases
/ SignUpGenius Awards $5000 for School Library Makeover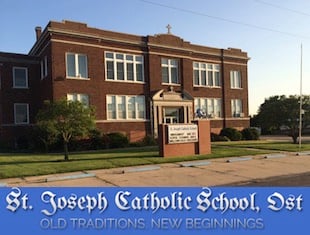 CHARLOTTE, N.C. – March 10, 2015 – In celebration of Read Across America week, SignUpGenius, the leading online sign up service, and Penguin Random House's Brightly, team up to give away a $5000 school library makeover.
St. Joseph Catholic School in Mt. Hope, Kansas has been chosen randomly from over 16,000 entries to receive the contest prize of $5000. School parent Debra Masterson, who nominated the school for this impressive reward, will additionally receive $250.
"The gratitude of our faculty and staff is beyond words," says Eva Harmon, Principal at St. Joseph. "The local parishioners who fund our small school will be excited to know that there are generous people willing to join them in their efforts to provide quality education for our youth."
Furthering a shared commitment to children and education, SignUpGenius and Brightly recognize the need to encourage reading and increase educational opportunities for children. Providing the necessary resources is the first step.
"Schools are such an important part of our user base," affirms Angel Rutledge, SignUpGenius COO, CMO. "We are delighted to partner with Brightly to support education and inspire a love of reading in children with this library."
SignUpGenius backs nonprofits that serve children and has become increasingly involved in providing sign ups and activity ideas for schools celebrating Read Across America over the past two years.
About Brightly
Launched in 2014, in partnership with Penguin Random House, Brightly is dedicated to helping parents inspire a lifelong love of reading in their children. Brightly features book recommendations from all publishers for every age and stage, reading tips and insights, seasonal inspirations author essays, contests, gift guides, and more. www.readbrightly.com
About SignUpGenius
SignUpGenius simplifies the process of coordinating events and people by providing online sign ups for non-profits, schools, sports, churches, families, colleges, businesses, and organizations. By enabling 7 million unique visitors per month to sign up for tasks online, SignUpGenius has done away with the need for paper sign ups, "reply all" emails, and phone trees.
SignUpGenius on Facebook: www.facebook.com/SignUpGenius
SignUpGenius on Twitter: www.twitter.com/SignUpGenius
Contact SignUpGenius: [email protected]