Press Releases
/ SignUpGenius Celebrates National Volunteer Week with Giveaway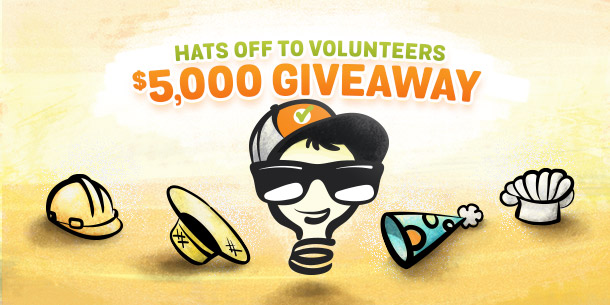 CHARLOTTE, N.C. — SignUpGenius, the leading online sign up service for event and volunteer management, is thanking community helpers across the U.S. with a $5,000 giveaway in honor of National Volunteer Week (April 10-16, 2016).  
The company will donate $1,000 each to five different nonprofits, which will be chosen based on a random drawing from online nominations. SignUpGenius powers volunteer activities for groups ranging from local school PTAs and churches to large national groups such as the Salvation Army and Red Cross. 
"Volunteers are the lifeblood of organizations, and at SignUpGenius we are passionate about making it simple for people to organize groups and change the world," said Marketing Strategist Erin Dunn. "It's important for us to take the time to say 'thank you' and recognize those people who are truly making a difference in their communities."  
More than 62 million people in the U.S. — about 25 percent — volunteered at least once in 2015, according to the U.S. Bureau of Labor Statistics. The median time spent volunteering was 52 hours per volunteer.   
SignUpGenius allows volunteers to spend less time organizing and recruiting and more time helping their communities. In 2015, SignUpGenius users created more than 2.3 million sign up pages, with 41.8 million items ultimately signed up for, which include things such as a volunteer shifts or items donated. 
"As a nonprofit consultant, I've seen first hand what an asset SignUpGenius is to small, grassroots organizations who are making a huge difference in our community every day," said Kara Lopp, vice president of Community Relations for JAJ Nonprofit Resource in Charlotte. "I'm personally so thankful to SignUpGenius for their continued, year-round support for local nonprofits and this contest is just another way they're showing that they truly love to give back to those who do so much with so little. SignUpGenius is definitely a company that knows what's important." 
SignUpGenius is also offering its Pro suite of advanced planning tools for half off through April 16 and will recognize outstanding community volunteers throughout the week. 
About SignUpGenius
SignUpGenius simplifies the process of coordinating events and people by providing online sign ups for nonprofits, schools, sports, churches, families, colleges, businesses and organizations. By enabling up to 10 million unique visitors per month to sign up for tasks online, SignUpGenius has done away with the need for paper sign ups, "reply all" emails and phone trees.
SignUpGenius on Facebook: www.facebook.com/SignUpGenius
SignUpGenius on Twitter: www.twitter.com/SignUpGenius
Contact SignUpGenius: [email protected]