Press Releases
/ SignUpGenius Donates $20,000 to North Carolina Charities on Giving Tuesday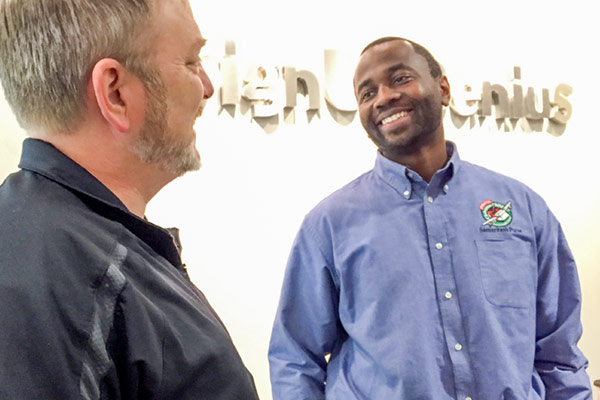 SignUpGenius donated $5,000 to each of four nonprofit partner organizations this week to mark the Giving Tuesday movement. 
Representatives from Brookstone Schools, Samaritan's Purse, Christian Adoption Services and African Christians Fellowship International visited SignUpGenius headquarters Tuesday to receive their donations. The North Carolina-based charities provide important services to vulnerable and at-risk children locally and globally. 
"When groups donate or pack shoe boxes, it's another sign of God's faithfulness. They are really changing lives." said Keith Burney, regional director for Samaritan's Purse. The nonprofit expects to send 11 million shoeboxes this year with gifts and other items through its Operation Christmas Child program.
SignUpGenius has given more than $55,600 this year to charitable causes. Some highlights include: 
$10,300 total for Samaritan's Purse, a Boone, N.C.-based nonprofit that provides international relief services to victims of war, poverty, natural disaster and disease. 
$9,000 total to Brookstone Schools in Charlotte, a K-8 private school that provides a Christian education for financially challenged families.
$7,000 total for Christian Adoption Services in Matthews, N.C., a nonprofit places domestic and foreign-born children with adoptive Christian families. 
$13,590 for African Christians Fellowship International, a nonprofit that helps indigent and orphaned children in Liberia.
$5,000 to Clara Barton Elementary School in Oxford, Mass., for library books and playground equipment.
$5,000 to St. Joseph's Catholic School in Mount Hope, Kansas, for a library makeover.
$1,000 to Silent Images, a Matthews, N.C.-based nonprofit that provides charities with photos and videos.
$1,000 to Urban Ministry Center in Charlotte, which provides food and services for the city's homeless population. SignUpGenius employees also volunteered there in November, helping in the garden and serving lunch at the soup kitchen.
$1,000 to Common Heart food pantry and thrift store in Indian Trail, N.C.
"We have the chance to surround these kids with opportunity and love," said Steve Hall, head of school at Brookstone. "We're all in it together."
Giving back is an important part of SignUpGenius' mission. The company, which provides online sign ups for volunteer and event management, also supports charitable causes that are important to its workers, matching employee donations to registered 501c3 nonprofits up to $300 per year per employee.
About SignUpGenius
SignUpGenius simplifies the process of coordinating events and people by providing online sign ups for non-profits, schools, sports, churches, families, colleges, businesses, and organizations. By enabling up to 10 million unique visitors per month to sign up for tasks online, SignUpGenius has done away with the need for paper sign ups, "reply all" emails, and phone trees.
SignUpGenius on Facebook: www.facebook.com/SignUpGenius
SignUpGenius on Twitter: www.twitter.com/SignUpGenius
Contact SignUpGenius: [email protected]