Press Releases
/ SignUpGenius Announces Employee Donations to Benefit 38 Charities on Giving Tuesday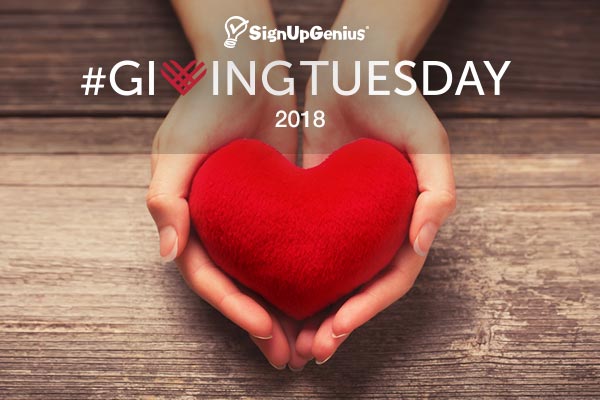 CHARLOTTE, N.C. — SignUpGenius is empowering employees to give back to their favorite charities in honor of Giving Tuesday. The tech company will celebrate the giving season by donating $250 to nonprofits selected by each of its 34 staff members. 
SignUpGenius will also donate $60,000 — $15,000 each — to four nonprofit partner organizations based in North Carolina. The company will volunteer to help the four nonprofits with service projects around the Charlotte area on November 27.   
Founded in 2012, Giving Tuesday is a global movement of giving fueled by the power of social media and collaboration. SignUpGenius has grown its company giving each year in support of the effort. 
This year SignUpGenius' donations helped employees give back to organizations such as:
Friends of York County Animal Shelter, a completely volunteer-run nonprofit organization assisting York County (SC) Animal Control with socializing and re-homing the adoptable animals. 
Beds for Kids assists needy families with children as they rise out of poverty. The organization delivers beds and other essential furniture items to powerfully supplement the family's resources as they become increasingly self-sufficient.
Taylor's Tale is one of the world's leading voices in the fight against rare disease. Founded to honor one little girl with infantile Batten disease, today they work to build a better future for one in 10 Americans – and 350 million people worldwide – who suffer from one of more than 7,000 rare diseases.
Our Bridge for Kids is based in Charlotte, NC with a mission to provide a safe, nurturing, respectful environment for refugee and immigrant students and their families. A place where they can adjust to a new culture, learn English and get the support they need to succeed at school and in life.
"We're grateful to boost our donations this year to $68,500 for Giving Tuesday while also giving back by volunteering with our partner nonprofits in our hometown of Charlotte," says Dottie Bedell, Senior Human Resources Administrator. "It's especially meaningful to help empower our team in supporting causes close to their hearts – from our local schools to children in need around the world. SignUpGenius is thankful to give time and money to serve nonprofits locally, nationally, and internationally." 
SignUpGenius has donated over half a million dollars to charitable causes since the company was founded ten years ago. Along with donating to partner nonprofits, the company regularly supports causes that are important to its team members, matching employee donations to registered 501c3 nonprofits up to $500 per year per employee. 
About SignUpGenius
SignUpGenius simplifies the process of coordinating events and people by providing online sign ups for nonprofits, schools, sports, churches, families, colleges, businesses and organizations. By enabling up to 18 million unique visitors per month to sign up for tasks online, SignUpGenius has done away with the need for paper sign ups, "reply-all" emails and phone trees. 
SignUpGenius on Facebook
SignUpGenius on Twitter
Contact SignUpGenius: [email protected]