Press Releases
/ SignUpGenius Simplifies Fall Planning with Improved Site and Features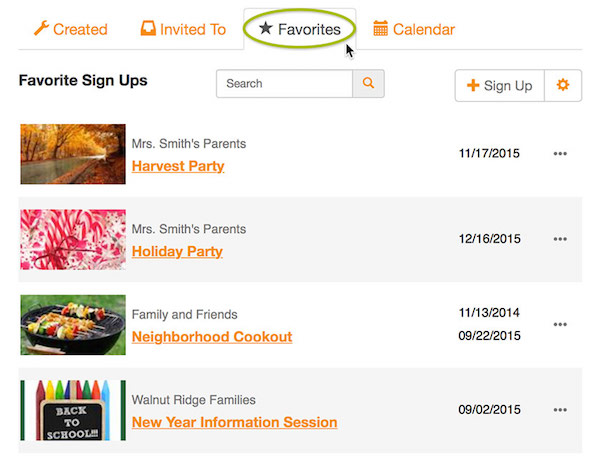 CHARLOTTE, N.C. — SignUpGenius, the leading online sign up service for event and volunteer management, is releasing a series of new features this fall that will help users plan events and coordinate volunteers more easily. 
Upgrades include: 
Improved User Interface on Sign Up Account Page
85 New Sign Up Theme Templates
Chat and Phone Support for Premium Members
Limiting Quantities Participants Can Sign Up for on a Sign Up
Increased SignUpGenius Pro Level Perks
Export Tool for Group Contact Info 
Customizable Print Version of Sign Ups
Enhanced Mobile Site Functionality
Providing a simple user interface and attractive sign ups have been front and center goals for SignUpGenius. To achieve that, updates on the main account page enable SignUpGenius users to sort, archive, delete, transfer or duplicate their event sign ups easily — useful tools for power users. An upgraded recovery system helps users bring back sign ups that may have been deleted in error. Adding 85 new professionally designed themes to a library of over 600 sign up templates also keeps options fresh for new and long time customers. 
Premium subscription customers will receive additional upgrades. SignUpGenius Pro Gold and Platinum users now have access to real-time chat support, and Platinum users will also have phone support. A much-requested feature is part of the release: Sign up creators are now able to set quantity limits to prevent participants from signing up for more slots than desired. SignUpGenius Pro users also enjoy increased levels of sign ups with no advertising and more administrators available on their account. 
"At SignUpGenius, we're passionate about empowering individuals and organizations to make a difference in their community. As we've seen larger groups shift to online organizing, our team has been focused this year on providing advanced features to make it easy and fast to coordinate events with large numbers of people," CEO Dan Rutledge says. "With enhanced creator tools and additional customization options, we're ready to help groups of any size make their fall organizing run smoothly."
Other additions for fall include a "group export" tool that makes contact management a breeze and a customizable print version for sign ups. An update to the site's server architecture was implemented to provide enterprise-level reliability as site traffic continues to rise. As SignUpGenius grows globally, the site has added support for international date formats and new time zone settings. 
Upgrades to the new mobile site include access to hundreds of SignUpGenius resource articles and the ability to edit sign ups without first logging into the site. 
"I just love using SignUpGenius, and it works so well, especially the ability to do reports. (They) really know how to put this kind of support site together because I have been looking for a very user-friendly and 'do all' volunteer-hours tracking system. After checking and trying to use eight different ones, (SignUpGenius) is definitely the top." says Deb Ramirez of Puyallup, Washington, who uses the site to help organize her local parish and Knights of Columbus Council.
About SignUpGenius
SignUpGenius simplifies the process of coordinating events and people by providing online sign ups for non-profits, schools, sports, churches, families, colleges, businesses, and organizations. By enabling up to 10 million unique visitors per month to sign up for tasks online, SignUpGenius has done away with the need for paper sign ups, "reply all" emails, and phone trees.
SignUpGenius on Facebook: www.facebook.com/SignUpGenius
SignUpGenius on Twitter: www.twitter.com/SignUpGenius
Contact SignUpGenius: [email protected]