Press Releases
/ SignUpGenius Boosts Back-to-School Season with $5,000 Giveaway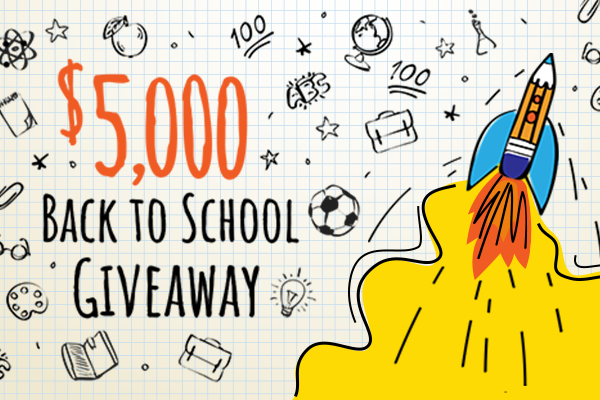 CHARLOTTE, N.C. - SignUpGenius, a leading online sign up solution for event and volunteer management, kicks off back-to-school season with its annual giveaway.  
People can enter their favorite school to win the grand prize — $5,000 cash to spend on back-to-school needs. The winner will be selected randomly after the contest concludes on September 15. Nominators can enter the giveaway once daily.  
Tallahassee Classical School in Tallahassee, Florida won the giveaway in 2020. The school uses SignUpGenius to organize classroom snacks and planned to also use the tool for volunteer management and school events. Teacher Racheal Zauche nominated the school for the giveaway. 
"We are thrilled to have these funds coming our way!" Dean of Students David Chambers said. "We look forward to using them to support our technology needs, including security cameras and Chromebooks for our distance learning students." 
Up to 22 million people visit SignUpGenius each month to organize events and volunteers. During the COVID-19 pandemic, schools are using SignUpGenius to host online learning sessions, schedule virtual parent and student meetings, and coordinate technology and meal pick ups. 
"Schools continue to adapt with little notice during the pandemic, and use SignUpGenius to support students whether they are learning online or in-person," SignUpGenius Marketing Director Kate White said. "We're excited to gift a school with $5,000 as they start a new year of learning and new experiences." 
Giving back is at the heart of the SignUpGenius culture. As part of Lumaverse Technologies, the team organizes service projects throughout the year and supports nonprofits across the country. Lumaverse Technologies is a sponsor of Cardz for Kidz, a nonprofit that delivers inspiring handmade cards to children and seniors around the world. The company also empowers team members to support the nonprofits of their choice by offering two annual dedicated volunteer days and matching donations up to $500.  
About SignUpGenius
SignUpGenius simplifies the process of coordinating events and people by providing online sign ups for nonprofits, schools, sports, churches, families, colleges, businesses and organizations. By enabling up to 22 million unique visitors per month to sign up for tasks online, SignUpGenius has done away with the need for paper sign ups, reply-all emails and phone trees.  
SignUpGenius is part of Lumaverse Technologies, a company funded by Providence Strategic Group that helps people find brighter ways to connect with software solutions for scheduling, membership management, registration and fundraising. Expanding on the power of SignUpGenius, Lumaverse launched in June 2020 to offer technology that empowers people to change the world, together. 
SignUpGenius on Facebook
SignUpGenius on Twitter
Contact SignUpGenius: [email protected]