Press Releases
/ SignUpGenius Celebrates Back-to-School Season with $5,000 Giveaway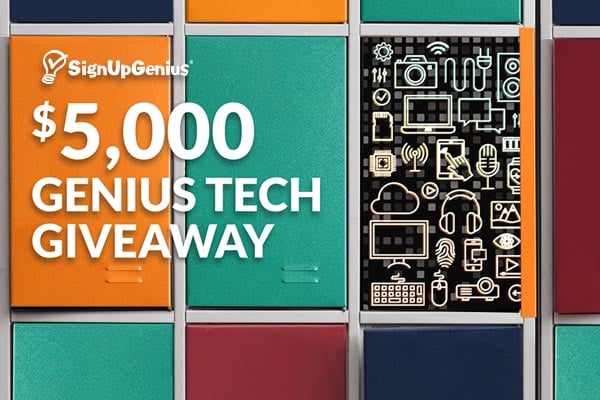 CHARLOTTE, N.C. - SignUpGenius, the top online sign up service for event and volunteer management, kicks off back-to-school season with its annual giveaway.
People can enter their favorite school to win the grand prize — $5,000 cash to invest in technology that benefits students and teachers. The winner will be selected randomly after the contest concludes on September 16. Nominators can enter the giveaway once daily.
St. Mary's School in Bloomington, Illinois won the Genius Tech giveaway in 2017, and shared their plans for the prize money, "St. Mary's is very excited to accept this giveaway as this will allow us to update aging network infrastructure and expand our building's wireless capabilities to support Chromebooks for online learning in the classrooms. These electronic resources supplement classroom instruction, as well as assist in differentiating learning."
Up to 18 million people visit SignUpGenius each month to organize everything from classroom volunteers and sports snacks to parent teacher conferences and potlucks. In 2018, SignUpGenius users planned more than 3.5 million events from PTA fundraisers to disaster relief efforts.
"Our back-to-school contest reflects our focus on advancing the missions of others, and we're excited to help a school supercharge learning with new technology," Customer Support Manager Teresa Clark said. "We love helping our users simplify organizing with SignUpGenius tools, and are ready to help families and schools accomplish more during the busy fall season."
Giving back with people, profits and product is at the heart of the SignUpGenius culture. The company donated more than half a million dollars to charities over its first ten years, with a focus on helping vulnerable and at-risk children. SignUpGenius partners with nonprofits including Brookstone Schools, a private Christian school that provides education to children from financially challenged families.
About SignUpGenius
SignUpGenius simplifies the process of coordinating events and people by providing online sign ups for nonprofits, schools, sports, churches, families, colleges, businesses and organizations. By enabling up to 18 million unique visitors per month to sign up for tasks online, SignUpGenius has done away with the need for paper sign ups, "reply-all" emails and phone trees.
SignUpGenius on Facebook
SignUpGenius on Twitter
Contact SignUpGenius: [email protected]