Press Releases
/ All Pro Dad Scores with SignUpGenius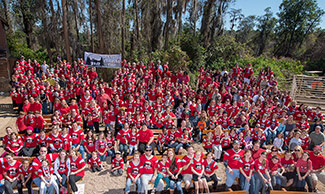 CHARLOTTE, N.C. – April 20, 2015 – An All Pro Dad chapter uses online sign up service, SignUpGenius, to facilitate a 650% increase in registration for the group's annual family camping trip to Walt Disney World.
"Using manual sign up[s], 100 parents and children were able to attend our annual family camping trip," says James Sciandra, All Pro Dad coordinator at Plato Academy Charter School in Pinellas County, FL. "With SignUpGenius, we now have 650 attendees and payments are even collected through the site."
Sciandra uses the online sign up service to organize everything from event registration, lodging, and supplies, to all the volunteers needed during the 4-day event. He cites the ability to collect fees on the same sign up where he coordinates volunteers as a key feature.
Simplifying the organization and payment for the camping trip means Sciandra can focus more time on his own family, true to the mission of All Pro Dad.
"The goal of All Pro Dad's Days is to facilitate interactions between dads and kids for the purpose of strengthening their relationship," says Andy Mayer, School Program Manager at All Pro Dad/Family First. "When chapters plan additional events like Plato Academy's Disney Camping Trip, dads and kids get additional opportunities to spend time together and make memories. Helpful tools like SignUpGenius make these kinds of events just as easy as they are meaningful."
Former NFL player and coach, Tony Dungy, helped launch All Pro Dad in 1997 and continues to inspire dads through his blog, Dungy's Diary. Nearly 50 NFL alumni and coaches act as All Pro Dad spokesmen.
For more information about All Pro Dad and their family-focused events, visit AllProDad.com, or learn more about how the Plato Academy chapter organizes the Disney camping trip through SignUpGenius. 
About SignUpGenius
SignUpGenius simplifies the process of coordinating events and people by providing online sign ups for non-profits, schools, sports, churches, families, colleges, businesses, and organizations. By enabling 7 million unique visitors per month to sign up for tasks online, SignUpGenius has done away with the need for paper sign ups, "reply all" emails, and phone trees.
SignUpGenius on Facebook: www.facebook.com/SignUpGenius
SignUpGenius on Twitter: www.twitter.com/SignUpGenius
Contact SignUpGenius: [email protected]