20 Teacher Appreciation Gift Ideas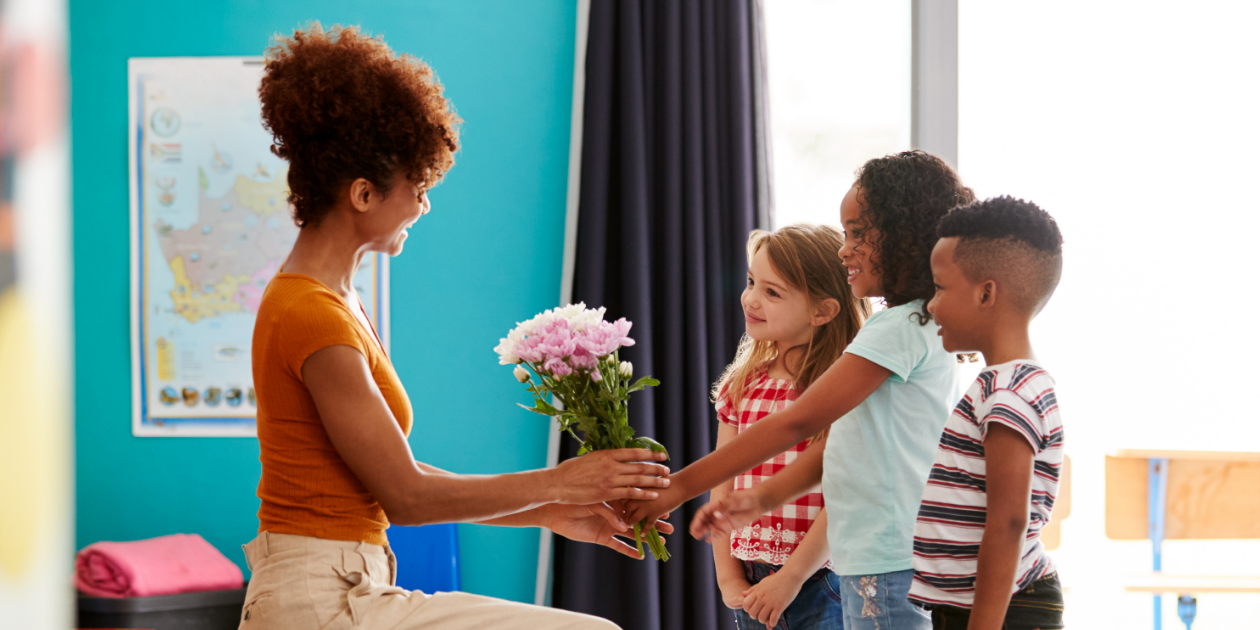 Teachers have the most important job: inspiring young minds to love learning. As we approach the end of the school year, it's time to show teachers our gratitude for everything they do. The week of May 8th – 12th is National Teacher Appreciation Week, giving families the opportunity to let your teachers know just how much they mean to you and to your kids.  There are many ways to thank teachers, from sweet surprises and little luxuries to thoughtful keepsakes and gestures. Here are some gift ideas that are sure to bring a smile to their faces, even if it's been a long day.
Hand-Written Note from Your Child - A great gift doesn't have to cost a lot of money, it just needs to come from the heart. Have your child write a note to their teacher or draw a picture that shows just how much they love them.
Bring in Lunch – Give your teacher the gift of a hassle-free lunch by bringing a favorite dish from a restaurant nearby. Reach out the week before to ask their preferred restaurant and choice from the menu. Add a special treat for dessert and a note of thanks!
Sweet Snapshot – Surprise your teacher with a nice picture frame or photo album to display special memories. If you have a great photo from the school year, include one for a personal touch.
Favorite Things – Help your child create a thank you card out of construction paper or card stock. They can write some of their favorite things about their teacher on the inside and write "Thank You" on the front. Have fun decorating your card with stickers, stamps or whatever art supplies you have on hand.
Flowers – Fresh flowers are always a special way to say thank you. You can often find cute ready-made bouquets at farmers markets or grocery stores or choose to create your own arrangement with a few different varieties of flowers.
Tote - Teachers have a lot to keep up with, so a great tote can be a perfect gift! You could even opt to personalize it with their initials. Fill it with a few treats for an extra surprise.
Wine Kit - While we'd all like to think our children act like perfect angels at school, the reality is that teachers work very long days. And sometimes, they need to kick back after work with a glass of wine. Consider a bottle of wine and cute glasses as a gift.
Shower Spa - Before they start a long day, you can help teachers take away stress by making their morning shower more like a spa. Shower steamers are similar to bath bombs and release relaxing aromas for anybody to enjoy first thing in the morning.
New Stationery - A stationery set or notepad is always a popular gift. You could include some cute notecards and envelopes, or fun pens. Make it even more special by personalizing items with their initials or monogram.
Massage Gift Card - Sometimes teachers just need to relax. A gift card for a spa or massage is an incredibly nice gift for anybody, but especially for teachers who spend most of their days on their feet.
Organize Teacher Appreciation Week volunteers with an online sign up. View an Example
Wind Chimes – Wind chimes are a meaningful gift that will allow your teachers to (hopefully) think fondly of your child every time they sit outside in their yard.
Coffee - We all know how much teachers love their coffee! Give your teacher a supply of their favorite brew or a gift card to a local coffee shop.
Pet Gift - If your child's teacher is an animal lover, you can always win over their heart with a gift for their furry friend. You could shop for a dog or cat toy or send in a gift certificate to your favorite pet supply store.
Restaurant Gift Card - Another great way to treat your favorite teacher is with a meal on you. Consider a gift certificate to a local restaurant or wine bar.
Candy Basket - Of course, who doesn't love candy? Gift your child's teacher an assortment of sweets to give them something to look forward to at the end of a long day.
Summer Fun Kit - Teachers have earned a relaxing vacation, so help them get ready for summer with some fun gifts like a big beach towel, insulated cup for their favorite drink and a gift certificate to a bookstore.  
Clean-up Project - You can show appreciation for your child's teacher by offering a helping hand. Ask if you can help with cleaning or organizing projects in the classroom to make the end of the year go smoother.
Potted Plant - Teachers love to spruce up their classrooms, but decorations and supplies often come out of their own pockets. Consider gifting your teacher a potted plant for the room, or even a realistic looking fake plant to brighten up their classroom.
Personalized Stamp - Teachers of elementary children will especially love a personalized stamp for grading papers. You might consider one with their name that they can use to add a little character to assignments, or to their classroom library books.
Money – Finally, of course, teachers always appreciate money and gift cards. Consider putting cash in a personalized card or a cute mug (if your class collects donations for end of year teacher gifts - keep this in mind when choosing an amount). And gift cards to places like Target are always going to be a hit!
 This Teacher Appreciation Week, show your children's teachers how grateful you are for all they do with thoughtful and useful gifts. And remember, the most special gifts come from the heart, so you don't need to spend a lot of money. Let's all show how much we appreciate teachers for doing one of the most impactful jobs in the world. 
Kelsey Caldwell is a realtor and freelance writer from Charlotte, NC. She and her husband are parents to two amazing kids, a puppy, and rabbit.