50 Book Character Costume Ideas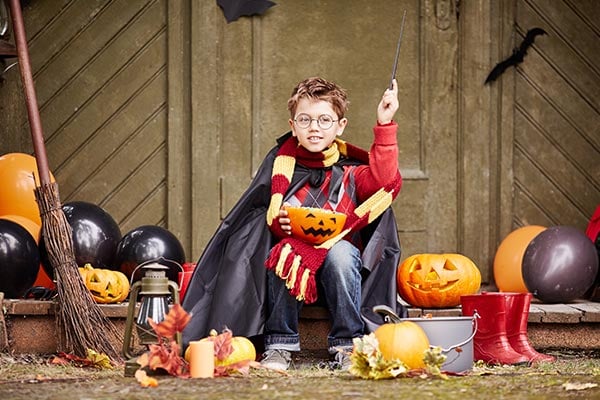 Looking for fresh costume ideas for Halloween, book character day at school or your next dress-up party? You've come to the right place. These 50 costume ideas inspired by book characters and broken down by age group will provide great ideas for years to come. Let's check out the options! 
Ideas for Everyone
Use these ideas for a variety of ages and stages, even up to adult costume ideas. 
Where's Waldo
Waldo - All you need is a striped shirt, round glasses, blue jeans and a Where's Waldo book to carry around.
Odlaw - The odd man out, Odlaw wears a yellow and black striped shirt and hat, black pants and yellow shoes. Bonus points for also grabbing glasses and a mustache.
Wenda - Similar to Waldo, Wenda wears a red striped shirt, blue jean skirt, red and white tights, glasses and a hat.
Woof - Even the dog is a character here, with a red and white striped jumper and hat.
Wizard Whitebeard - A red coat, long white beard, blue hat and rainbow walking stick are the essentials to render the Wizard. Oh, and don't forget that he's barefoot!
Harry Potter
Hermione Granger - A brown wig with bangs is essential to capturing Hermione's look, along with the quintessential uniform — white dress shirt, black coat, striped tie, pleated skirt and knee socks. Don't forget to have her carrying an old, leather-bound book that could be full of spells.
Harry Potter - Grab a short brown wig, circular glasses, a white dress shirt, black coat, striped tie and you're ready for a magical night. Bonus points for a cape and a magic wand!
Dumbledore - The Hogwarts headmaster's look isn't complete with a long, white beard. Finish the costume with long, gray clothing, beaded hat and magic wand.
Professor Snape - For this dark professor, you'll need a shoulder-length dark wig and long shrouded black clothing. Don't forget a cold, blank stare.
---
Coordinate a book character class celebration with a sign up. View an Example
---
Cat in the Hat
The Cat in the Hat - To bring The Cat in the Hat to life, you'll need a giant cat costume along with the iconic tall, red and white striped hat and a red bow tie.
Brother - The narrator of the story, the brother tells us all about their wild day. He has short, spikey hair, a red sweater and blue jeans.
Sally - Don't forget the sister, Sally, with her white blouse, blue jumper, red hairbows and blonde hair.
Thing One and Thing Two - The Things are so fun to recreate, with their giant aqua-colored wigs and red jumpsuits marked with their names.
Daring Detectives
Nancy Drew - Bring to life this well-known book character by wearing glasses, a plaid skirt, blouse with a Peter Pan collar and headband. Make sure to also carry your tools of investigation (notebook, magnifying glass, etc.).
Sherlock Holmes - Represent this iconic detective with a plaid coat, hat, pipe, spyglass, tie and excellent deduction skills. Bonus points if you arrive with your sidekick.
Watson - Often portrayed in black, Watson is known for his dark, tailored clothing, dark hat, mustache and cane.
Harriet The Spy - Represent this vivacious sleuth bursting with personality by wearing a yellow raincoat over a red or brightly colored hoodie, hair parted down the middle and tied in the back, and carry a classic notebook with the word "PRIVATE" written boldly on the cover. Don't forget to take notes about everything you see and hear!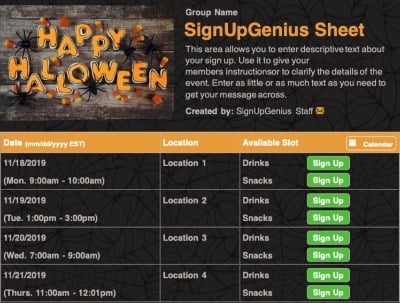 The Lion, the Witch and the Wardrobe
The White Witch - Bring your favorite childhood book to life by recreating the White Witch costume. Go big with white hair, dress, face glitter, wand and all.
Aslan - You must have Aslan, of course, and he is fairly easy with just a head-to-toe lion costume. Practice your deepest voice and stay in character the whole time you are in costume.
Mr. Tumnus - Guys, go shirtless and wear a pair of ears, grow or buy some facial hair and bring Mr. Tumnus to life.
Lucy - Lucy must be there, too, in her long dress and healing cordial. Other books in The Chronicles of Narnia series describe her as golden-haired, so you could add a wig to the ensemble if needed.
Edmund - Become Edmund for a night, either as the young boy that enters Narnia or as the confident king in the end.
Susan - Depict this feisty sister with her dark coat, bow and arrow and magic hunting horn from Father Christmas.
Peter - Rounding out the four Pevensie siblings is Peter, the eldest and slayer of wolves. Don a classic British schoolboy outfit and add a replica of the sword Rhindon.
---
Recruit parent volunteers for the school year with a sign up. View an Example
---
Teens and Adults
With ideas for every type of party, these teen and adult costumes will add a perfect touch of literary magic. 
Pride & Prejudice
Mr. Darcy - Channel this iconic period character by serving up some Austenian attire. You could go with the classic wrapped necktie, vest, long coat and slacks version or the slightly unbuttoned version with a white shirt, slacks and long coat. Don't forget to assume a haughty (but lovable) air.
Elizabeth Bennett - Be the lady of the night, dressed in a long, empire-waisted gown with an overcoat. Fix your hair up in an elaborate updo, with tendrils of hair loose around the face, and sass that won't quit. Bonnet is optional.
Twilight
Bella Swan - Own this moody character with long dark hair and a pale complexion. Have extra fun and come as her pregnant.
Edward Cullen - Everyone will know you're Edward if you dress in sharp, tailored clothes with a fair, sparkly complexion and short, dark hair.
Jacob - Easily represent Jacob as either the dark-eyed protector of Bella or come in his full wolf regalia for a look no one will forget.
Alice Cullen - A super-short pixie cut and dark eye makeup will help you channel the captivating look of this petite vampire.
Rosalie - Known for her long red hair, Rosalie's getup just needs stunning clothes and a stare that will hypnotize anyone who looks for too long.
Jasper Hale - The bad boy of the group, Jasper wears a lot of black, always seems on edge and ready for a fight, and has longer, dark hair.
Phantom of the Opera
The Phantom - You'll be unforgettable in your long black cape and your face partially obscured with a white face mask. Be sure to practice your swoop in and out with your cape and your dark, mesmerizing stare.
Christine - You're the object of his affection, understandably. Who wouldn't fall in love with you when you're dressed in a stunning gown with your dark, curly hair framing your face?
The Great Gatsby
Jay Gatsby - Jay is the owner of a luxurious mansion and he dresses the part. Rent your best suit and bow tie, slick back your hair and channel your inner Gatsby. You've got this.
Daisy Buchanan - Dust off your sparkliest headpiece and grab a fur because you're going to be Daisy. Former love interest of Jay and married to Tom, you stir up quite the drama, which is just how you like it. Load up on the jewelry and brush your short blonde hair before making it a night to remember.
Nick Carraway – Narrator Nick Carraway is known for his bowtie, vest and suit. You're a critical character to bring The Great Gatsby to life, so do him justice.
Myrtle Wilson - Who wouldn't want to be Myrtle? With her bright red hair, even redder clothing, big personality, and drive to improve her life and get away from Tom, she'd be a fun character for a night.
Tom Buchanan - Tom is a cold, hard man with a mustache, dark glasses, very short hair and a sharp, severe suit. Basically, dress like the party security guard and you're ready to be Tom.
Jordan Baker - Born into privilege, Jordan oozes luxury and has a rather aloof personality. Dark, short hair, long layers of pearls, and a chic flapper dress would bring out your inner Jordan.
---
Organize registration for an after-school art program with a sign up. View an Example
---
Best for Kids
Kids of all ages will love these imaginative ideas for costumes. Get creative and use items you already have around the house! 
Charlotte's Web
Fern - Fern is adorable in her farm girl outfit, achieved with a plaid top and rolled up jeans, or a Peter Pan collared shirt with a blue apron or jumper. Hair can be in pigtails or braids — and make sure to stay super close to Wilbur.
Charlotte - You're a spider! Eight long legs on your back with an all-black sweat suit, and you're ready to go party.
Wilbur - The cutest little pink pig by far, Wilbur will be recognizable wherever you go. Go all out with a head-to-toe piggy costume or grab a snout, ears and curly tail worn with all-pink clothing.
Templeton - A full rat costume — or just some ears, whiskers and a tail — will help you transform into Templeton for the night.
A Wrinkle in Time
Meg Murry - Meg begins her journey with sadly low self-esteem — something we all might relate to at 13 years old! But you can wear her glasses, "mouse-brown" hair and teeth full of braces with pride, knowing that she learns to love and believe in herself as the heroine she is.
Charles Wallace - Meg's younger brother may look like a normal five-year-old, but he's also a boy genius. You can even depict him after he gives himself over to the man with the red eyes and becomes robot-like, with glasses showing the opaque blue eyes that he'll wear until Meg rescues him.
Calvin O'Keefe - Tall, thin, red-haired and popular, Calvin joins Meg and Charles Wallace in the journey across time. Despite his social status and self-declared protector role, he longs to belong in a family like theirs, so keep close to their sides all night.
Pinkalicious
Pinkalicious - Every child will know this unforgettable book character by her bright pink dress. Take it even further and spray her hair with washable pink hair spray and glitter.
Peterrific - The little brother, Peter, is an adorable sidekick who loves to build things, so make sure Peter is dressed to play and has a basket or backpack full of building blocks for his giant tower.
Parents - Keep a close eye on Pinkalicious and Peterrific, as they are known to be a bit mischievous. Mom is usually seen in a dress or long skirt, while dad has short dark hair, shirt and slacks.
Since books give us so much room for imagination, you can add your own spin to any of these characters. No matter what you choose, when you get an invite that says costumes required, you'll be the star of the show. 
Erica Jabali is a freelance writer and blogs over at ispyfabulous.com.