50 Creative Food Drive Slogan Ideas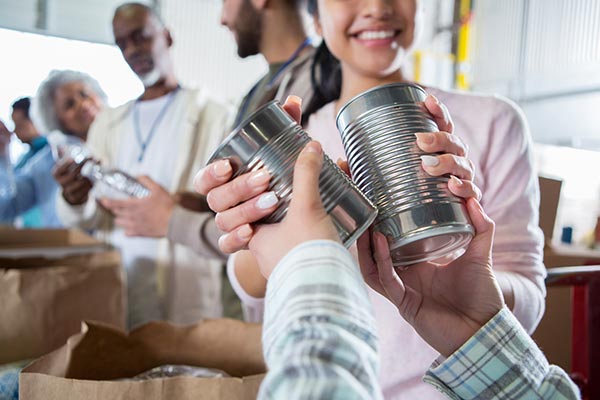 Food drives are a popular fundraiser these days, and for good reason! They meet a huge need, everyone can participate — and with SignUpGenius helping out, they might even be considered easy to organize. Now all that's left is a catchy slogan to help you get the word out! Why not try one of these 40 ideas? 
Funny/Punny Slogans
There are plenty of punny phrases you can kick around with the word "can" or other food words. Get creative!
Hunger should kick the can!
Don't be rude, donate some food.
Give what you can.
Take a bite out of hunger.
Happy as can be.
Can you imagine a world without hunger?
We're not getting younger. Today let's fight hunger!
Dude, let's give some food.
Food for thought — give a can today!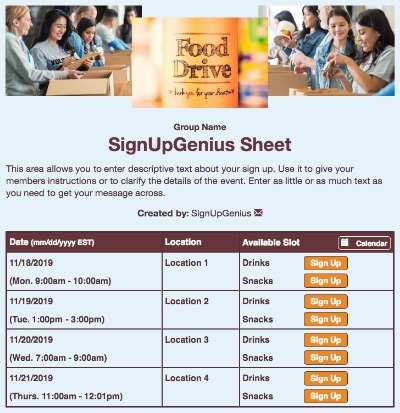 Bring home the bacon (or "baCAN").
It's time for hunger to can it!
We can do it!
We're hungry for donations.
Eat away at hunger.
Lend a hand, give a can.
You can help beat hunger!
Look what we can do together.
---
Gather items for a food pantry with a sign up. SAMPLE
---
Seasonal Slogans
Whether you're collecting food items in December or around Valentine's Day, make the most of the season with your slogan.
Get in the holiday mood; donate some food.
Will carol for cans!
Don't be a Grinch; donate a can!
Giving is better than receiving.
Let it snow; don't let hunger grow.
All I want for Christmas is food.
THANKS for GIVING food!
It's the season for giving.
Don't be a turkey, donate!
Show some love, donate.
Give from the heart.
Giving food is EGG-cellent.
Liberty and good food for all (4th of July).
Deck the halls; give what you can!
New Year, New Donation.
Donate on Galentine's Day.
---
Run a disaster relief donation drive with a sign up. SAMPLE
---
Slogans for Clubs & Activities
From drama club to track team, your group can personalize the food drive slogan according to what you do best.
Band together against hunger (marching band).
Act out against hunger.
Race against hunger (track team).
Let's kick hunger; give a can (soccer team).
100 cans for the 100th day of school.
Scout for food (scout troops).
It's time to score on hunger!
Hunger can eat our dust!
Tackle hunger (football team).
Get dramatic about giving (drama club).
Win the feud; give some food! (This one can be used if you're competing with another organization/school to see who can raise more.)
Sing out for the hungry (chorus or vocal club).
It's time to dunk on hunger (basketball team).
Hunger's not up for debate (debate team).
Book it to our food drive (book club).
We're wrestling hunger to the ground.
Eat local; Give local (for neighborhood farmer's market).
One of these slogans is sure to be perfect for your food drive. Now all that's left to do is collect those donations! 
Kayla Rutledge is a college student who spends most of her time writing, singing for her church and eating quesadillas.