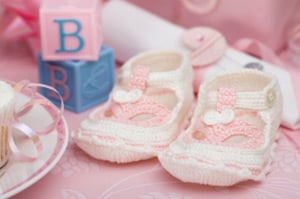 Baby showers, like babies, are each unique. There is no one-size-fits all version, which can be a bit tricky when you're trying to host the perfect event. But don't worry. The good news is there are all kinds of creative ideas you can choose from to make your one-of-a-kind celebration stand out as a fabulous memory in Mommy-to-be's mind. Read on for questions to answer and tips to consider as you put the party planning in motion.
Shower Logistics
Will this be a pre or post birth shower?
If it's to be held before the baby is born, how close should it be to the due date?
Is it a ladies only affair, or can the guys join in?
Which other family or friends of the soon-to-be parents might want to help out?
Tips: Check in with soon-to-be mom to get her opinions on the party logistics and then use SignUpGenius to ask for help from a few folks who would like to be involved in the planning. You can divide up the food responsibilities or even delegate decorations and game needs to a willing volunteer.
Invitations
Do you have a complete list of all the friends and family who should be invited?
Will you use written and mailed invitations or send out one from SignUpGenius?
Where has the couple registered for baby gifts?
Are you going to have a theme for the gifts or a group gift?
Tips: Showers for first babies tend to be more formal than second or third babies. If it's the family's first baby and their main shower, you may want to go with written and mailed invitations. Otherwise, use SignUpGenius to invite guests. You can also ask guests in a written invitation to RSVP online to a sign up link through SignUpGenius. Include registry info on the invitation and let guests know if you are collecting for a group gift. By using SignUpGenius Payments, you can add an easy collection option to your online sign up so invitees can donate money when they RSVP. If the guest of honor is having more than one baby shower, you might want to consider a theme for the gifts like "Date Night gift cards", "Mommy Spa Day" or "Diapers and Wipes". A good rule of thumb is to let guests know about the shower at least three weeks in advance.
Games
What type of crowd will be attending?
Will guests and the mom-to-be enjoy active games or would they prefer games where they can sit and socialize while playing?
Would your guest of honor like to be surprised by the types of games you choose, or would she prefer to know ahead of time what you have planned?
What types of game prizes will you have on hand to give out?
Tips: Make sure to pick games that the ripe-with-child momma is sure to enjoy. This means no wrapping toilet paper around her belly to see how many sheets can fit around her growing baby bump if she's close to the due date and feeling a bit out of sorts. You can't go wrong if you plan a Pamper Mommy time before the party when she can enjoy a manicure and pedicure and maybe even a neck and shoulder massage. If you have the sense that guests or the guest of honor would choose to forego games, you can still plan a time during the shower when other moms can offer words of wisdom from their own experiences.
Decorating
Do you know if the baby will be a boy or girl?
What colors, animals or theme will the baby have in his/her nursery?
How large is the area you will need to decorate?
Tips: Have guests who are already moms contribute to the décor. Hang onesies on clothespins, stack classic baby books on tables, or arrange stuffed animals as table décor. Adding simple touches like photos of the mom-and-dad-to-be and their family members as well as setting out colorful bunches of flowers will add a lot of life to the location. It's always classy to choose a couple of focus colors for decorations and tableware.
Food
Will the shower be held during a meal time?
Will there be a theme for the food?
How much time will you have to prepare dishes?
Will you accept the help of others to contribute any of the food?
Tips: Consider focusing the menu on a specific theme like "Soups and Salads", "Mommy's Favorites", or "Delectable Desserts". If you are preparing all of the food for the shower, choose dishes that are easy to prepare in advance. You may even consider setting a menu and having hosts sign up to bring items online (see this sign up EXAMPLE). It's likely that last minute party needs will sprout up, and you don't want the stress of dealing with them while you're trying to get the food ready. Finger foods that don't have to be heated will simplify your pre-party prep time.
The folks here at SignUpGenius hope you'll find these questions and tips useful as you plan your next baby shower. Even better, we have several creative baby shower templates to choose from when you decide to send that invitation or recruit some help for planning the party!