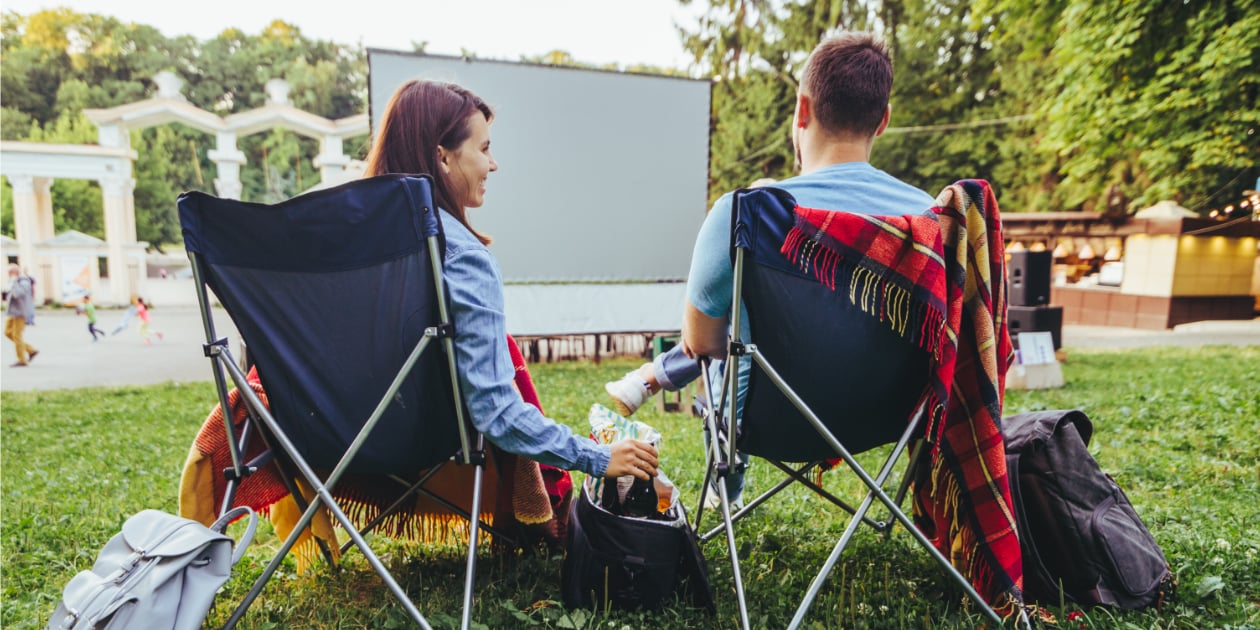 Movie watching is often as big a part of summer vacation as swimming pools and ice cream cones. They can be the perfect escape on a rainy day or an easy way to keep kids occupied on the long car ride to your weeklong getaway. But after most of us spent so many months cooped up in front of the TV and with few movies released in the theatres, you may feel like the pickings are slim. Don't worry! We've got you covered with plenty of movies to see on summer vacation — a mix of classics, kid-friendly flicks and new releases.
Classics and Recent Favorites
1. E.T. the Extra-Terrestrial - The ultimate feel-good movie about the special bond between a boy, an out of this world creature and the family that loves them both is perfect for the whole family. 
2. My Girl - A tween girl finds that her life is turning upside down when she suddenly makes a new friend. Their friendship provides fun and the stability she needs for this season of life. This movie has funny and heartbreaking moments you won't forget. 
3. Mamma Mia - This is a story of a bride-to-be looking for her real father in the stunning landscape of a Greek island. With a soundtrack of the sing along songs of ABBA, this movie may inspire you to plan a trip to Europe. 
4. Star Wars - There's a reason the sci-fi phenomenon has inspired many movies and TV shows. Go back to where it all started with the original trilogy and watch Luke and Darth Vader face off in a father son story like no other. 
5. Splash - This movie has a "real live" mermaid in Manhattan and Tom Hanks as he was just becoming the actor that we all love. 
6. Footloose - The movie that launched Six Degrees of Kevin Bacon got a whole town dancing and will have you cheering. 
7. Indiana Jones - Still one of the best movie franchises of all time. Start with Raiders of the Lost Ark and join the hero archaeologist on his adventures through all four films. Watch for a new Indiana Jones movie in 2023! 
8. Grease - Grease is the word! Don't be surprised if you still know the words to one of the best-selling movie soundtracks of all time. 
9. The Goonies - A treasure map sends this group of close-knit teens on the adventure of a lifetime. No parents allowed.  
10. Beaches - Every summer needs a good tearjerker — especially one that takes place at the beach. This story of a lasting friendship will get you every time. (If you loved Firefly Lane on Netflix, you'll love Beaches.) 
11. The Parent Trap (1961 & 1998) - Twin sisters separated when their parents divorceSeparated during their parents' divorce, twins discover each other when they both attend the same summer camp. Chaos ensues. Both the original Disney movie and 90's version starring Lindsay Lohan are classics. 
12. The Sisterhood of the Traveling Pants - This coming-of-age story is about four high school friends who stay in touch over summer break by sharing one "magical" pair of jeans. 
13. Freaky Friday - Mom and daughter switch bodies and learn to love and appreciate each other more in the process in this Disney movie that was so much fun they did a remake. 
14. Karate Kid - One of the best movies of the 80s is the ultimate summer classic with karate battles, romance and striking Pacific Ocean scenery (remember Mr. Miyagi doing the crane at the beach?)  
Plan an outdoor movie night with an online sign up. View an Example
Kid and Family Favorites
15. Finding Nemo (and Finding Dory) - The movie about everyone's favorite clownfish became an instant classic and spawned a beloved sequel in Finding Dory. 
16. 101 Dalmatians - Watch the original so you can also enjoy the prequel Cruella. 
17. Cool Runnings - What better way to cool off then to watch the Disney take on the delightfully true story of the Jamaican bobsled team. 
18. Wonder - Born with facial deformities, Auggie is heading to a mainstream school for the first time and becomes an unlikely hero. This sweet movie will have you cheering on his journey. 
19. Because of Winn Dixie - This film features a stellar cast and a heartwarming story about girl saved from loneliness in her new town thanks to a dog she names Winn Dixie. 
20. Moana - An adventurous teen sets out on the sail of a lifetime to help save her people. 
21. The Sandlot - This cult classic takes place in the Summer of '62 and tells the story of the new kid in town and how he makes friends thanks to a pickup baseball game. (Also check out Field of Dreams, The Natural and The Rookie to get your fill of the boys of summer.) 
22. Free Willy - A boy forms an unlikely friendship with an orca whale and sets out to free him from captivity. 
23. Harry Potter (8 movies) - Re-watching these movies could take all summer and remind you of the magic and wizardry you loved when first reading the books  
24. We Bought a Zoo - Loosely based on a true story, you'll fall in love with this family who literally bought a zoo and fixes it to get it ready to re-open to the public. 
Sample Sign Up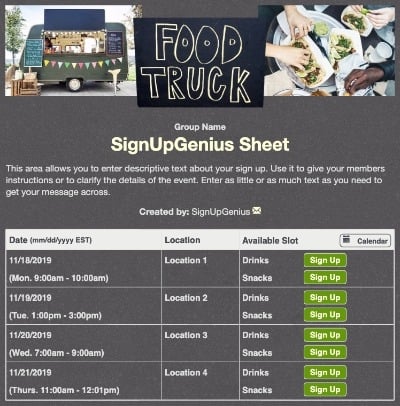 25. Toy Story (1-4) - No matter how old you are this series of movies features talking toys that will make you laugh and tug at your heartstrings.  
26. Remember the Titans - This high school football movie about the integration of an all-Black school in the early 70's is particularly relevant now and will give you a history lesson — and all the feels. 
27. Inside Out – Disney Pixar teaches us that our feelings have feelings with a coming-of-age story told by a young girl and her animated emotions.  
28. Wreck It Ralph – The resident 'bad guy' of an arcade game embarks on a quest to prove he's good. His efforts are thwarted by a young racer who may or may not be a glitch in the system. 
29. Hotel Transylvania: Transformania – Drac and the crew return in an epic continuation of the beloved monster movie series. A suspicious invention turns the gang into humans, causing mayhem-fueled hilarity. 
Organize snacks and RSVPs for a backyard movie night with an online sign up. View an Example
New this Summer - 2022
30. The Bad Guys – A group of animal outlaws face their trickiest con so far when they must pretend to be good in order to avoid a jail sentence.  
31. Sonic the Hedgehog 2- Gear up to travel faster than the speed of light with Sonic, Knuckles, Tails, and Dr. Robotnik in the most recent installment of the franchise. 
32. Top Gun: Maverick – A sequel to the 1986 classic, this action-packed movie will keep you on the edge of your seat as you watch Tom Cruise fly into battle.  
33. Lightyear – If you can't get enough of Toy Story, join the club. Buzz's origin story is revealed in a prequel that takes you to infinity and beyond. 
34. Jurassic World: Dominion – The final chapter of dinosaur misadventures is here. Chris Pratt wrangles Velociraptors and attempts to save humanity once again in the exciting conclusion. 
35. The Bob's Burgers Movie – You only have to watch one episode of Bob's Burgers to get super excited about this movie. The Belcher family solves mysteries and their restaurant's problems in their typical gut-busting fashion. 
36. Marcel the Shell With Shoes – Marcel is a one-inch-tall shell who lives with his grandmother as the only survivors of a mysterious tragedy. After he's the star of a documentary, he encounters new dangers and hope to find his long-lost family. 
37. Minions: The Rise of Gru (Release date: July 1) - The second movie in the Minion series centers on young Gru trying to find his (supervillain) way in the 1970s. Will a mega famous group of bad guys let him join the team? 
38. Thor: Love and Thunder (Release date: July 8) - The God of Thunder returns with his band of Asgard heroes. With Jane Foster gaining Thor's power, what can go wrong? 
39. Paws of Fury: The Legend of Hank (Release date: July 15) - Michael Cena and Samuel L. Jackson star in this animated comedy about a downtrodden canine samurai and his cat sensei. 
40. Father of the Bride – This movie (streaming on HBO Max), inspired by the beloved 1991 remake and the 1950 original, features a father surprised by his daughter's engagement and dealing with the dynamics of his large Cuban-American family. 
Thanks to streaming, watching a movie anytime, anywhere has never been easier. So this summer, grab some popcorn (and maybe the remote) and get watching!
Michelle Boudin is an investigative reporter for WCNC TV and a freelance writer.