Holiday Planning Checklist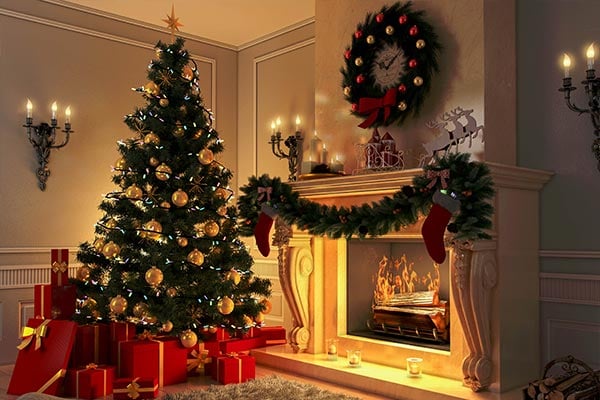 Whether you are a seasoned planning pro or want to adopt some new organizing tricks this holiday season, this checklist will help you shape your holiday season for the better (and not the bitter!). This list is less about adding more to your list, and more about prioritizing for your family, leaving more time for rest and enjoyment this holiday season. 
Decorations 
Decorate Early - Don't judge those who start right after Halloween! For those who travel for Thanksgiving, using the slowish-time in late October and early November can maximize the time to enjoy those holiday favorites.
Decorate After Thanksgiving - If you are a strict no-Christmas-until-after-Thanksgiving person, use the few remaining days of November to get the decorations out of storage, make sure your lights still twinkle and get your halls decked before December sets in fast and furious.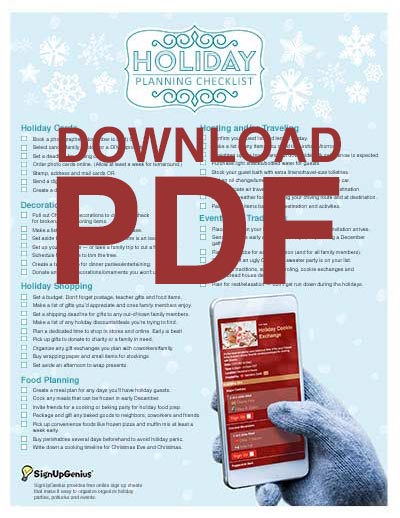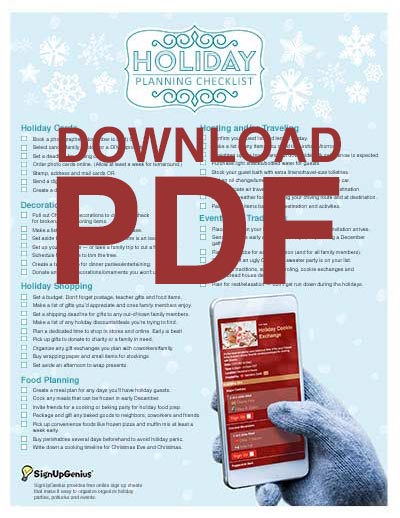 Plan All the Trimmings - Set aside time to hang the lights and trim or, if time is an issue, make your outdoor light dreams come true by calling a seasonal company that will decorate for you. If you want interior help, call a specialty fabric or home decor store to see if they have designers who will work for an hourly rate.
Trim the Tree - If this annual event has lost its sparkle, consider adding a new tradition like watching a special movie or making hot chocolate or fondue while you decorate. Evergreens are lovely, but wait until early December to cut or buy them for decorating.
Create a Tablescape - A week before any dinner parties or entertaining, think about your table decor. Make sure you have enough settings for your guest list. If you are table fashionista, keep an eye out on websites and in stores for inspiration.
Scale Back - Donate extra decorations to a charity or display ornaments on the mantle if you want or need to pare down this year. You can always ramp it up another year when you feel up to it or your schedule allows.
---
Organize holiday decorating with an online sign up! SAMPLE.
---
Holiday Cards 
Plan a Photo Op - Get an appointment early with a photographer (November is best) if this is important to you or ask a neighbor or someone whose photo skills you admire to take a quick pic after church or another dressier-than-normal occasion.
Set a Mail Deadline - Set a date for yourself to drop off at the post office, then backtrack from there to determine when you will address and stamp.
Order Photo Cards - Many online sites offer discounts for early ordering. Give yourself at least a week to get these back before your mailing deadline. 
Gather Mail Supplies - Put stamps and mailing labels on your shopping list and consider ordering stamps online (back up another week from your mailing deadline to be sure these get delivered on time).
Create a Card Display - Find a table or spot in the house to display cards from friends/family. Save address changes right away in your address book or on your computer/phone files.
Go Digital-Only - Don't be afraid to push the easy button if your circumstances have changed and cards and postage need to be taken out of the budget (they can get expensive). This year send out an e-card or send one every other year.
Holiday Shopping  
Budget - Plan a realistic budget. Start by listing who you'd like to give gifts to and an amount limit for each person. Don't forget the cost of cards, postage, teacher gifts, baked goods and other holiday food needs.
Prioritize Gifts - Maybe this is the year to ask for experiences (show tickets, swim lessons, etc.) instead of gifts if toys and other items are taking over your house. Donate old items and determine what's new that would truly be appreciated.
Ask Early - Start asking about gift requests early, especially any ones that will need to be ordered and shipped (and then shipped again to out-of-town family).
Shop Early - November is not too early to get that much-desired toy or clothing item and hide it away before they are all gone off the shelf. Shop an hour before store closings or after work on the weekdays to avoid the weekend crowds.
Think of Others - Grab a few toys to donate to a favorite charity or family in need.
Collect Super Deals - Black Friday or Cyber Monday shopping? Start checking ads as they roll out and keep in a central location. Make a list of items you'd really like to snag at a discount.
Stay Organized - Keep a notebook or folder with coupons and a list of what you need from specific stores to simplify shopping trips.

Buying Late - If you are a gift-procrastinator, embrace your love of getting that last boxed set of perfume and lotion off the drug store shelf. Warn those you love of this habit.
Wrap it Up - Buy wrapping paper early unless you like obscure cartoon characters or patterns that only the paper-designer's mother would love. The same goes for bows.
Get Hostess Gifts - Buy these in early December to stash away as events approach. A kitchen towel given with a bottle of sparkling cider or a holiday plant (but take note of allergies!) can be a thoughtful gesture.
Draw Names - Got so many nieces and nephews your head is spinning? Gently nudge the elephant out of the room by suggesting a gift exchange and price limit.
Fill the Stocking - This is a great place to give a book, gift card or small tokens for fun. This can be done last minute or over time.
---
Set up holiday photo sessions with an online sign up! SAMPLE.
---
Food Planning 
Use a Formula - If you research online, there are actual FORMULAS advising how much guests consume in regards to meat or drinks, etc. If you feel overwhelmed with a place to start, start with a formula for feeding your guests.
Make a Meal Plan, Check it Twice - Fold a paper into thirds, with one column each for breakfast/lunch/dinner. Then make horizontal lines for how many days you will have guests. Fill these in with meal plan ideas.
Freeze It - In early December, make a list of what you can make ahead and freeze (your best bets are side dishes, desserts and breakfast casseroles). 
Plan a Cooking and Assembly Day - Invite other friends who are hosting guests for a fun holiday food prep party.
Go Simple – Pick up convenience foods like pre-made muffins, frozen pizzas and pantry-friendly supplies for a taco night. Plan on shopping the week before company arrives.
Buy Perishables - Buy these four or more days ahead of time to make sure the store isn't out — and save yourself some holiday panic.
Make a Cooking Timeline - Do this both for when you'd like to make holiday baked goods such as cookies, as well as the big meal. What can you prep ahead of time? When does the rib roast need to go in the oven the day of?
Gift Food - If you have a bread maker, fresh bread is always a nice treat for a neighbor, co-worker or service person. Set aside a Saturday for baking if this is something you enjoy.
---
Organize a holiday cooking party with an online sign up! SAMPLE.
---
Hosting and/or Traveling  
Set the Guest List - Confirm with guests the length of stay and start thinking about the meals, beds (do you need to borrow some inflatable ones?), bath towels and linens you will need a week or two before their arrival.
Be Prepared - Have your phone on you (with your ringer on) during arrival day for any last-minute travel changes.
Stock Your Guest Bath - Include all the comforts of home so your guests can look under the sink or in a basket in their room for extra toiletries, clean hand towels and disposable bathroom cups.
Purchase Snacks (Lots of Them) - Place a bag of trail mix and water bottle in their room so guests don't have to troll around in your pantry if they need a late-night snack.
Play it Safe - Get some sidewalk salt and make sure the snow shovel is in good shape if you might get some of the white (or frozen) stuff.
Get a Tune-up - If you are driving, make sure your car's oil change is current, tires are fully inflated and you have your emergency car kit with jumper cables where you can get to it. 
Share Details - If traveling by air, make sure all flight information is clearly communicated to your host.
Double Check - A week before traveling, confirm hotel reservations or call your host to see if you need to BYOB — bring your own (inflatable) bed.
Check the Weather Forecast - Don't just think about your destination but places in between that might get a band of snow or ice. If you are hosting, check it for guests and suggest attire for your climate.
Pack Early and According to Your Destination - Stuff snow boots under a seat in the van in case there's light snow at grandma and grandpa's house.
Events, Traditions and Miscellaneous  
Make a Note - Start filling out your December calendar as each event rolls in. Check with schools and extra-curricular activities for any end-of-season concerts or banquets.
Send Invites Early - Having an early-December gathering? Start making your guest list and consider sending a "save the date" in November so guests can get it on their calendar.
Plan a Wardrobe - Get clothing for the above events and make sure dry cleaning gets done early, fancy shoes still fit, and black pants aren't too short for the holiday concert.
Go Ugly - Ugly Sweater Party? Shop early or they are pretty scarce unless you want to pay top dollar for one (on the plus side, it can be your go-to for the next few years). Consider making your own with a hot glue gun and stockings from a dollar store.
Clean House - Start early with bedrooms (especially if company will be sharing them), and focus on frequently used rooms closer to when guests will arrive.
Reclaim Supplies - Take back your tape and scissors from the kids. Hide them until after the holidays (but not from yourself!).
Plan Traditions - If you are a family that hides elves or goes caroling, those are things that take a little planning as well. Be sure to make a plan, but also hold it loosely as you prioritize what's most important to you and your family.
Rest - This may sound silly, but you might be wise to pencil in a nap or an early bedtime, especially if you will have a long stretch of houseguests or holiday activities. Don't let yourself get rundown and sick.
Even if you're not a checklist-type person, the holidays are one time you will find they really help cut down on stress. Use this as a guide to jumpstart your holiday planning for a season that is merry and bright. 
Julie David lives in Charlotte, N.C, with her husband and three daughters.