20 Easy Field Trip and Outing Lunch Ideas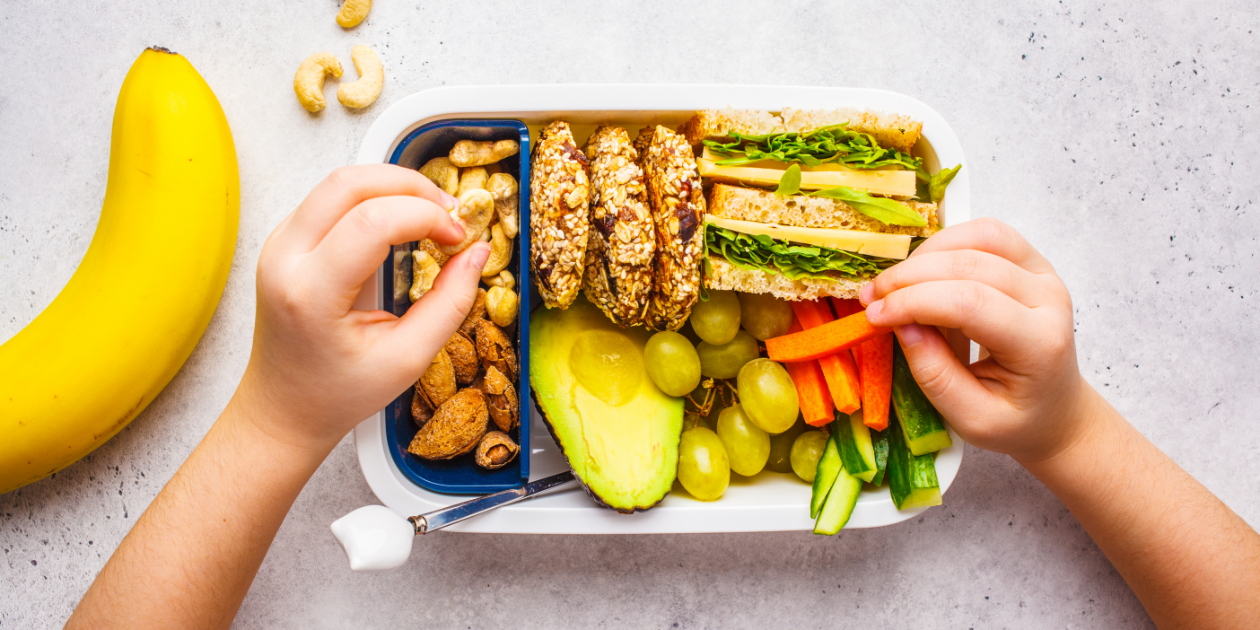 Your child is headed out of the house and into the world to explore, learn and play. Any outing is a fun learning opportunity that is bound to make your little one hungry. Oh, the hassle of trying to think up good lunch ideas to fill your child's lunch box. Problem solved!
Below are 20 creative lunch ideas to fill up your little explorer's stomach and make the day extra special. Genius Tip: Be sure to use disposable ice packs, frozen grapes or a water bottle to keep lunches cool. 
Main Entrees
Leftover Pizza - If you've got kids ready for an adventure, order pizza the night before and make their day with delicious leftovers that are a cinch to pack in foil. 
Wrap it Up - Make the day out extra fun with their favorite sandwich fillings rolled in a colorful wrap. Pack condiments on the side to avoid a soggy lunch and include a yogurt frozen from the day before so it stays cold.
Pasta Salad - Perfect for a warm day, a cool pasta salad is a creative and tasty lunch treat. Cook and drain pasta, then add ham, pepperoni, celery, tomatoes and cheese. Toss with Italian dressing and refrigerate overnight.
Pita Sandwich - Yummy and portable, a pita stuffed with chicken, tuna or ham salad will satisfy their appetite. 
Mediterranean - Assemble pita bread, hummus, carrots, cucumbers and deli meat in a way your little one will enjoy. Make the items into a kabob or package each item separately and include dressings for dipping.
Salad Surprise - Whip up a healthy and delicious salad with ingredients like lettuce, cucumbers, shredded cheese, black beans, chicken strips, turkey, avocado, bacon, turkey, hard-boiled eggs, fruit, tortilla strips and more. Ask your child for ideas and try new combinations they'll love each week.
Skewers - Your child will be all smiles when they open their lunchbox to find a skewer packed with their favorite foods. Make a fruit, meat and cheese or veggie skewer — or pack all three. 
Request field trip chaperones with an online sign up. View an Example
Roll Ups - Use flour tortillas to create an enviable lunch. Spread peanut butter and jelly for a perfect roll up or go Mexican style with salsa, cheese, lettuce and avocado. Roll and serve like a burrito, or roll and cut into bite-size pieces for easy packing. 
Build a Sub - If you have a kid with a big appetite, pack all the ingredients needed for a tasty sub along with thick, toasty bread and let them create the perfect sandwich. 
Sandwich Shapes - Your big adventurer will know how much you care when they find cute sandwich cutouts in their bag. Put together a ham, turkey or cheese sandwich then use a cookie cutter to ramp up the fun factor. Perfect for kids who don't like crusts!
Sample Sign Up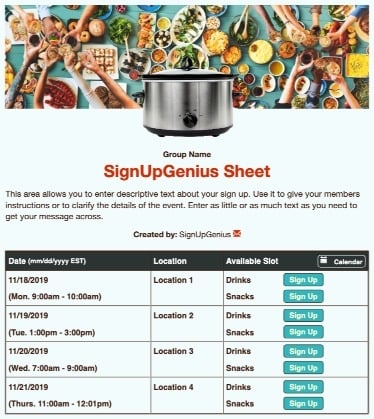 Power Snacks (for a short outing or a boost in between meals)
Protein Pack - Put together a cheese stick, turkey pepperoni, nuts and olives (if your child is a fan).
Go Greek - Greek yogurt is a great source of protein and easy to take on the go, include berries as a topping for plain yogurt.
Granola Galore - Pick up some plain granola at the store (or make your own) and customize with your favorite ingredients i.e., dried fruit, chocolate chips, walnuts.
Go Bananas - Pack a banana with a side of your child's favorite dipping sauce i.e., Nutella, almond butter, yogurt.
Organize your class field trips for the year with an online sign up. View an Example
Packaging Pointers
Bento Box - Serve up all their snacking favorites "bento style" in a container with multiple dividers. Pile on the yum with fruits, veggies, cheese, deli meat, crackers and include hummus for dipping.
Brown Bag It - Go old school with a brown bag lunch. Include peanut butter and jelly, chips, fruit and a drink. Throw some stickers on the bag for extra fun and color!
Thermos Lunch - Don't overlook the Thermos when it comes to creating a lunch they will love. A Thermos can keep soup or mashed potatoes warm, or freeze the container overnight and fill with fruit, a delicious smoothie or cold soup. 
Mason Jar Lunch - Use a plastic Mason jar for a great salad on the go. Make a five-layer salad, spinach salad or fried chicken salad and include the dressing on the side.  
Frozen Lunch Box - Get a Pack-It lunch bag that can be frozen the night before and will keep a perishable lunch cool.
Refillable Water Bottle - Pack a favorite water bottle your child enjoys and they will be sure to bring it with them throughout the day.
These creative and yummy lunches will give your explorer plenty of energy to enjoy a memorable day. Add a handwritten note if they are going on an outing without you by their side. It will add a nice touch of warmth and love.  
Courtney McLaughlin is a freelance writer in Charlotte, N.C. She gratefully shares her life, home and heart with her daughter and their dog.