50 Cinco de Mayo Party Ideas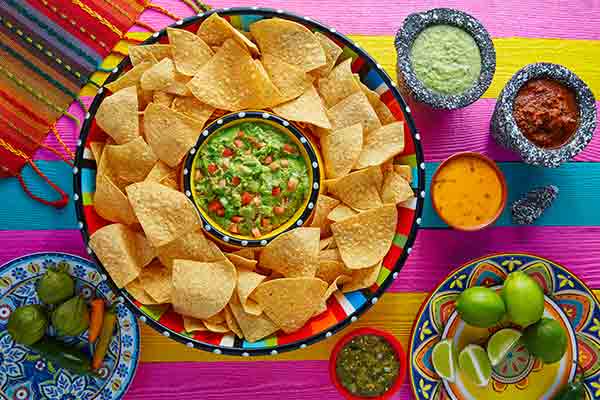 Cinco de Mayo celebrates the Mexican victory over France in 1862. Marking May 5th doesn't have to be all about margaritas — throw in some festive Mexican dishes, decorations and activities that pay homage to this holiday that seems to grow in popularity each year! 
Get the Party Started
Send a Themed Invite - Let everyone know right off the bat that this is a fun, festive fiesta by making sure your invitation reflects your theme. Genius Tip: Send an online sign up to make it a potluck so people can share their favorite dishes.
Create a Sombrero Centerpiece - Set a sombrero on top of a tall vase or glass to give it height and fill the rim of the hat with fun, colorful treats.
Spice It Up - Fill the table with clear vases and margarita glasses that are filled with brightly colored yellow, red and green peppers.
Get Colorful Silverware and Paper Products - Think red cups, green forks and knives and white napkins — then you've got the colors of the Mexican flag covered!
Reuse Containers - Another alternative for an easy centerpiece is to buy canned Mexican food such as beans (put the food in an alternative container or cook it as part of your feast) and fill the cans with big, bright blooms.
Make a Traditional Mexican Banner - Papel picado (perforated paper) is a traditional Mexican folk art. It's a decorative craft that involves cutting out intricate patterns on colorful tissue paper. Fold the tissue paper horizontally, then fold it over again. Use scissors to cut shapes in the paper. (It's kind of like cutting paper snowflakes.) Once you have cut enough little patterns, unfold the paper.
Red, White and … Green - We're all used to dressing in red, white and blue to celebrate July 4, why not get co-workers or partygoers to dress in red, white and green for May 5? (The colors of the Mexican flag.)
Create a Playlist of Mexican-themed Music - You can go classic with authentic Mexican music or cue up some favorite Mexican-American artists like Carlos Santana and Selena.
Hire a Mariachi Band - Nothing gets people more in the mood to celebrate Mexican heritage than an actual, live Mariachi band. Everybody loves the serenade at the local Mexican dive restaurant, so if you really want to impress your guests, have a band come play in person.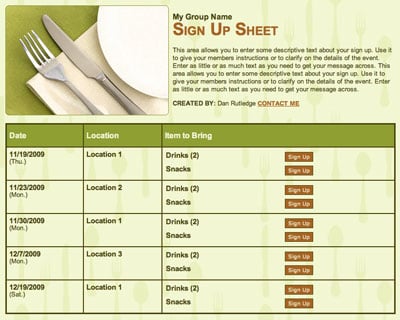 The Feast at Your Fiesta
Flag Food - Make a festive spread of your dips using salsa (red), queso blanco (white) and guacamole (green).
Cinco de Mayo Fruit Cup - With a squeeze of lime juice and a dusting of chili powder, slices of papaya, cantaloupe, mango, watermelon and pineapple take on a new depth of flavor perfect for this caliente holiday.
Build Your Own Taco Bar - Grab hard and soft shells and loads of toppings — think shredded cheese, meats, grilled veggies, Mexican rice, lettuce and more, and have guests build their own tacos. You could also do this with nachos.
Cinco de Mayo Strawberries - Easy and eye-catching, the kids can help you turn strawberries into the Mexican flag. Dip the red treats into melted white candy and top with green sprinkles. Enjoy!
Piled High Nachos - Grab your favorite bag of tortilla chips and spread evenly over a baking sheet. Add a mix of cheddar, Colby and Monterey Jack cheeses (shredded). Now add toppings of your choice. (That can mean ground beef, pork or chicken, black olives, tomatoes, corn, etc.) Bake at 400 degrees for five to 10 minutes (until warm). Then serve with sour cream, salsa or guacamole.
DIY Pico De Gallo - Take four chopped medium tomatoes, ¼ cup diced white onion, two seeded and minced jalapeno peppers, two tablespoons chopped green bell pepper, one clove minced garlic, ¼ cup chopped cilantro leaves, two tablespoons of fresh lime juice, a dash of salt and pepper and mix it all together. Refrigerate for an hour before serving.
Mexican Rice Mashup - This easy recipe will serve everyone at your party. Brown one pound of ground beef and combine with taco seasoning. Then in a cast iron skillet, sauté ½ tablespoon olive oil and ¼ cup of white onion diced. Add in four cups cooked rice, one cup black beans, one cup of corn, one cup of red peppers, one cup of green peppers, one diced tomato, and ½ cup of cilantro and mix with the ground beef. Then squeeze the juice from ½ of a lime over the dish.
Watermelon Jicama Salad - Slice half a watermelon into bite-size chunks. Combine that with one to two cups diced jicama, one mango (peeled and diced), one small bunch of chopped cilantro leaves, the juice of two limes, one teaspoon of salt, ¼ to ½ teaspoon black pepper and mix all the ingredients in a large serving bowl. Cover and refrigerate. Serve cold.
Cheesy Enchilada Bake - Brown one pound of ground turkey or beef and sauté with 1/3 cup of chopped white onions. Add a 15-ounce can of enchilada sauce. Separate the dough of a 16-ounce can of refrigerated biscuits into chunks and add to the meat. Put the mixture into a baking dish and top with 1½ cups of cheese. Bake at 350 degrees for 30 minutes. Garnish with green onions.
Easy Quesadillas - Place one large flour tortilla in a skillet with a little bit of oil, when it begins to brown add grated cheese (cheddar or Monterey Jack) and other ingredients. (You can add mushrooms, green onions, fresh tomatoes, avocado, lettuce and more.) Fold the tortilla in half, cook a little bit longer (until completely browned) and serve.
---
Coordinate a Cinco de Mayo potluck with a sign up. SAMPLE
---
Hot, Hot Mexican Zucchini - Spray a large skillet with cooking spray, bring to medium heat. Add one garlic minced clove and heat until it sizzles. Add one pound of diced zucchini and cook until tender (about three minutes). Add one large diced tomato and one sliced green onion and cook for three more minutes. Remove skillet from heat, add one tablespoon fresh minced cilantro, jalapeno and fresh lime juice. Top with ½ cup feta cheese crumbles.
Corn Salad - Mix two 16-ounce frozen bags sweet corn (thawed), two large tomatoes (chopped), one Vidalia onion (chopped), ½ cup fresh cilantro (chopped), ¼ cup extra virgin olive oil, the juice of one lime, one 14-ounce can black beans (drained and rinsed) and a dash of salt and pepper. Once mixed well, let it stand and serve at room temperature.
Mango and Avocado Salsa - Combine one mango and one avocado (peeled, pitted and diced), four medium tomatoes, one jalapeno pepper (seeded and diced), ½ cup chopped fresh cilantro, three cloves minced garlic, one teaspoon salt, two tablespoons fresh lime juice, ¼ cup red onion (chopped) and three tablespoons olive oil in a medium bowl and stir well. Refrigerate before serving with chips.
Easy Guacamole - In a medium bowl mash together three avocadoes, the juice of one lime, and one teaspoon of salt. Mix in ½ cup of a diced onion, three tablespoons chopped fresh cilantro, two tomatoes and one teaspoon of minced garlic. Stir in cayenne pepper. Refrigerate for one hour or serve immediately with chips.
Mexican Wedding Cookies - Preheat oven to 350 degrees. Beat one cup butter (softened), ½ cup powdered sugar and one teaspoon vanilla. Then add two cups flour and one cup chopped pecans. Bake 14 to 15 minutes or until bottoms are lightly browned. Cool five minutes on baking sheets. Roll warm cookies, one at a time, in ½ cup powdered sugar in small bowl until evenly coated.
Mexican Pineapple Water - Also known as Agua de Piña, this drink is simple to make. Cut one skinned and cored pineapple into chunks and combine in a blender with two cups of water. Once blended, add two more cups of water and run through a mesh sieve. Add more water and one to two cups of sugar until you reach your desired sweetness and consistency.
Watermelon Lemonade - This drink is easy and fun and should fit easily with your party vibe. Mix two cups of watermelon juice (from an actual watermelon) with four cups of lemonade.
Frozen Watermelon Lemonade - Create with or without alcohol. Once you have your two juices mixed, pour the half of each juice into ice cube trays and freeze. Take frozen cubes and simply mix with liquids in a blender.
Strawberry Margarita Punch - Mix 15 ounces of frozen strawberries, 24 ounces of lemon lime soda and 12 ounces of frozen limeade in a blender, then pour in two cups of orange juice and stir. This cocktail is super refreshing, delicious and literally made in minutes. You can make this with or without tequila.
Candy Buffet - Send guests home with a colorful sweet treat in the flag colors. Use Twizzlers or red hots, white chocolate Hershey kisses, green licorice and red and green M&Ms. Set out small bags to scoop the candy into and take home with them.
Hire a Mexican-themed Food Truck - Leave the cooking to someone else while your guests enjoy the fun of the food truck!
---
Plan a Cinco de Mayo class party with a sign up. SAMPLE
---
Games and Activities
Scavenger Hunt - Have guests search for items like a small bag of tortilla chips, a bottle of hot sauce, a sombrero, a mini Mexican flag and more. Make sure the winner gets a fun prize. (Maybe everything they just found!)
How Hot Is It? - Arrange chili peppers (or sauces) with different heat levels on a table. Keep track of how hot everything is. Have a few brave souls try them and the rest of the crowd guess how hot they are based on the reactions.
DIY Piñata - Use a decorative shopping bag and fill it with candy (and some crinkled up newspaper to fill some space), then tape or staple the shopping bag closed and hang it just high enough so that it's hard to hit. Blindfold your guests and watch them take a whack at your colorful creation! This works for kids and adults. You can get creative with how you fill the piñata if it's for kids.
Pass the Sombrero - Much like musical chairs, guests pass the hat and when the music stops, the person holding the hat is out. Make things more entertaining by giving contestants the option to do a Mexican hat dance for a chance to get back in the game.
Mustache Selfie Contest - Buy packs of different kinds of stick-on mustaches and have guests take fun selfies wearing them. Then decide as a group who took the best photo.
Nacho Eating Contest - Blindfold contestants and offer them chips-and-messy-dip and see who can finish the bowl first.
DIY Maracas - Get two mini paper cups. Paint and decorate the outside of each one. Then fill one cup halfway with dried pinto beans. Apply hot glue to the top edge of the cup and place the second cup on the glue to create the maraca. Then shake!
Giant Tissue Paper Flowers Craft - Cut out circles or squares of different colored tissue paper. Give guests two to three pieces and place them on top of each other. Carefully pinch the layers in the center and secure with a twist tie. Then open out the different layers to reveal a multicolored flower.
Terra Cotta Pot Decoration - Have guests use acrylic paint to decorate terra cotta pots with popular Mexican-themed symbols like the flag, the sun, a cactus, sombreros and more.
Traditional Dancing - Get your guests shaking more than just their maracas! Bring in a trained professional to teach the group how to samba, salsa, rumba and more.
Sing It - If your guests are into performing, rent a karaoke machine and use your playlist as the song choices for some good old-fashioned living room karaoke.
---
Organize a church Cinco de Mayo fundraiser with a sign up. SAMPLE
---
For the Kids
Make Your Own Poncho - Lay a paper grocery bag flat on the table. Cut around the outside of it, snipping off the folds. Cut the neck hole by layering the two sections together. Test it on your child's head to make sure it's big enough. Staple the area where the two bags meet at the shoulder. Then decorate with bright colored crayons or markers.
Play the Mexican Lottery (Bingo) - The Lotería game set includes a deck of 54 cards with colorful images and 10 boards, with a random pattern of 16 images. It's very similar to American bingo and you can find a Lotería set online.
Play Ball - Kickball is a traditional game played in Mexican villages (though it's a bit different than American kickball) and is great for an outdoor party. Divide partygoers into two teams. The aim of the game is for each team member to kick a ball around an obstacle course and the first team where every member completes the course wins. You can use cones, chairs — anything — to create the obstacle course. 
Mexican Train Domino Game - Play a game of dominoes where the object is to create a "train" (chain) using all the dominoes in your hand. (You can use a traditional set of dominoes for this version of the game but you will also need to make a "hub" with slots for each players train. You can cut this out of cardboard or buy a fancier set online.
Speak the Language - You and your guests can learn some key Spanish phrases from an español-speaking friend to appreciate the culture behind the holiday. (Hola!)
Make a Word Search - Use the phrases you just learned to create a custom word search for the kids at your party.
Play Marbles - Marbles are still hugely popular in Mexico. Get a variety of marbles in different sizes and colors and let kids play this classic game.
Pin the Tail on the Donkey - We've all played this game — as kids and adults! Considering the donkey is considered a beloved "hero" in Mexico, it seems like a good day to dig out the classic.
Play Soccer (Fútbol) - This popular Mexican sport will help kids burn off some energy. Set up two cones (to form a "goal") on either side of your backyard and host a friendly game of fútbol. Go the extra mile and have T-shirts made to distinguish the teams.
With these ideas at the ready, you're sure to have a festive fiesta. Cheers to that! 
Michelle Boudin is a reporter at NBC Charlotte and a freelance writer.