Christmas Trivia - 50 Fun Questions and Answers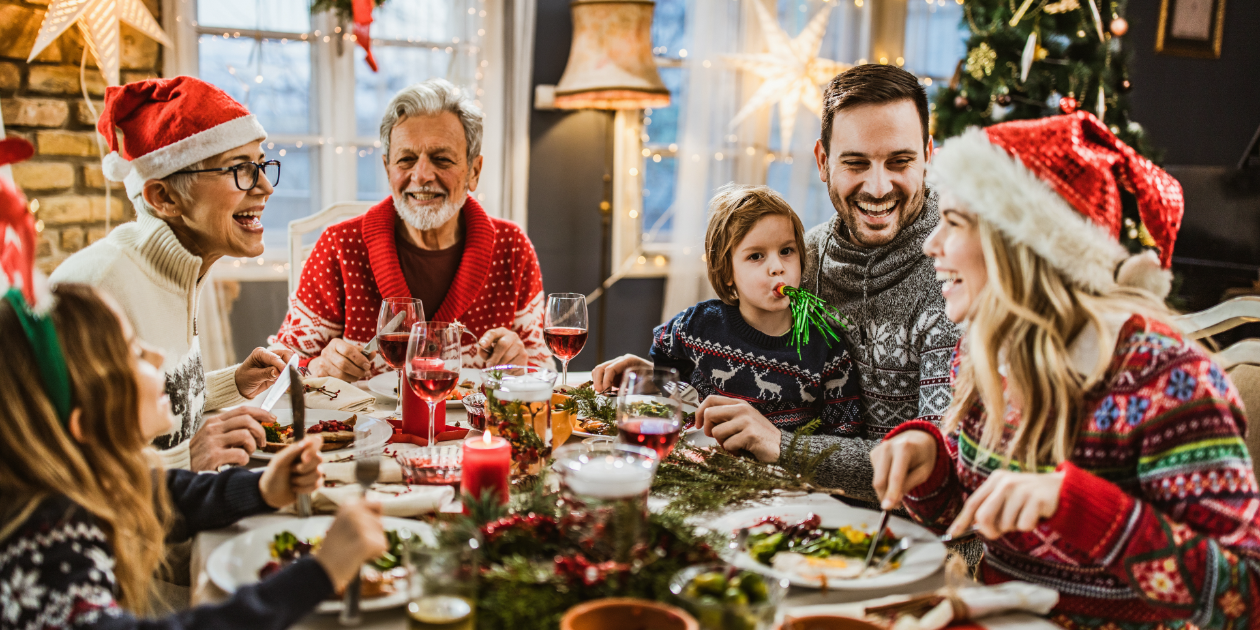 Christmas is a time of year when groups gather to celebrate the holidays. But, how much do we really know about the most wonderful time of the year? Test your group's knowledge and add some fun to the party with this list of 50 festive trivia questions. You'll be sure to find out who is the smartest elf in the room. Use this list for a fun holiday twist at your next cookie exchange, holiday potluck or Christmas party. Good luck!
Q: How much did the holiday classic Elf earn at the box office?
A: More than $200 million
Q: In what state does A Christmas Story take place?
A: Indiana
Q: How many toys were collected during the first Toys for Tots drive in Los Angeles in 1947?
A: Over 5,000
Q: What were branches on the first artificial Christmas trees made of?
A: Dyed goose feathers
Q: In what country is it a tradition to eat Kentucky Fried Chicken (KFC) on Christmas?
A: Japan. Orders must be placed up to two months in advance.
Q: How many Oscars did Miracle on 34th Street win?
A: Three
Q: According to the Guinness Book of World Records, what is the bestselling Christmas/holiday single in the United States?
A: "White Christmas" by Bing Crosby. 
Q: In How the Grinch Stole Christmas (2000), what is the Grinch's costume made of?
A: Yak hair
Q: In what year did A Charlie Brown's Christmas debut?
A: 1965
Sample Sign Up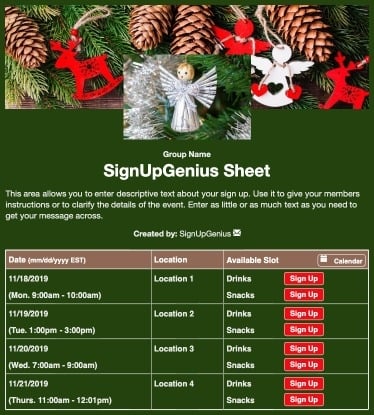 Q: What holiday decoration was originally made with strands of silver?
A: Tinsel 
Q: On average, how long does it take for a tree to reach the ideal Christmas tree height (6-7 feet)?
A: 15 years
Q: How many weeks did it take Charles Dickens to write A Christmas Carol?
A: Six
Q: What movie takes place in a real-life department store?
A: Miracle on 34th Street
Q: When and in what city did The Nutcracker ballet premiere in the United States?
A: 1944 in San Francisco
Q: What store sold the first pre-lit Christmas trees?
A: Target
Coordinate a Christmas food drive with an online sign up. View an Example
Q: What did Harry Potter get for his first Christmas at Hogwarts?
A: An invisibility cloak
Q: How many holiday cards are sold annually according to the National Greeting Card Association?
A: 1.6 billion
Q: Which ocean should you travel to if you want to visit Christmas Island?
A: Indian Ocean 
Q: Who invented electric Christmas lights?
A: Thomas Edison in 1880
Q: What is the opening song in The Nightmare Before Christmas?
A: "This is Halloween"
Q: Approximately how many lights does the Rockefeller Center Christmas tree in New York City have?
A: More than 25,000 
Q: What was the first song placed in space?
A: "Jingle Bells." It was played by the space crew of NASA's Gemini 6A. 
Q: If you receive all the presents from the "12 Days of Christmas" song, how many gifts would you have?
A: 364 
Q: What was the first company that used Santa Claus in advertising?
A: Coca-Cola
Q: According to National Geographic Kids, how many LEGO sets are sold about every second during the Christmas season?
A: 28
Q: What is the first song to ever mention Santa Claus?
A: "Up on the Housetop"
Q: How many Christmas tree farms can you find in the United States?
A: Nearly 15,000 
Q: In what year did NORAD (North America Aerospace Defence Command) start tracking Santa on Christmas Eve?
A: 1955
Q: What other names has Clara from The Nutcracker gone by?
A: Maria and Marie
Q: How do you say "Merry Christmas" in Spanish?
A: Feliz Navidad
Plan a winter potluck with an online sign up. View an Example
Q: What original recording of a holiday song was inducted into the Grammy Hall of Fame in 1964?
A: "Chestnuts Roasting Over an Open Fire" by Nat King Cole.
Q: According to the Guinness World Records, how tall was the world's tallest cut Christmas tree?
A: A Douglas fir topped 221 feet and was put on display at a shopping center in Seattle in 1950. 
Q: What was the first state to declare Christmas an official holiday?
A: Alabama
Q: What did holiday retail sales total in 2020?
A: $789.4 billion
Q: Which country started the tradition of putting up Christmas trees?
A: Germany 
Q: Who narrated the classic 1966 TV special How the Grinch Stole Christmas?
A: Boris Karloff 
Q: What country is the Poinsettia native to?
A: Mexico 
Q: How do you say "Merry Christmas'' in Hawaiian?
A:  Mele Kalikimaka
Q: What was the second song to ever be broadcast on the radio?
A: "O Holy Night"
Q: How many states grow Christmas trees?
A: All 50 states grow Christmas trees, including Alaska and Hawaii. 
Invite guests to an ugly Christmas sweater party with an online sign up. View an Example
Q: What does the holiday wreath represent?
A: The red berries represent the blood of Jesus and the wreath shape represents the crown of thorns. 
Q: In what year did the first U.S. Christmas postage stamp go on sale?
A: 1962
Q: Which popular Christmas beverage is also called "milk punch"?
A: Eggnog 
Q: What beloved holiday classic was a box office bust when released in 1946?
A: It's a Wonderful Life
Q: What two alternate names did Rudolph creator Robert May consider for his star character?
A: Reginald and Rollo
Q: The first known Christmas tree in the White House was placed in the Second Floor Oval Room by which U.S. president?
A: Benjamin Harrison  
Q: What 225-ton gift was given to the United States by the French on Christmas in 1886?
A: The Statue of Liberty
Q: What are two popular names for Santa Claus?
A: Kris Kringle and Saint Nick 
Q: How many reindeer are in the poem 'Twas the Night Before Christmas?
A: Eight. There was no Rudolph.
Q: Which Oscar-winning actor played six different roles in the movie The Polar Express?
A: Tom Hanks 
Test your group's yuletide knowledge when you're on the way to Grandma's house, at the dinner table, or hanging out in your holiday PJs. Add your own trivia questions to the list and start a new tradition!
Courtney McLaughlin is a freelance writer in Charlotte, N.C. She gratefully shares her life, home and heart with her daughter and their dog.