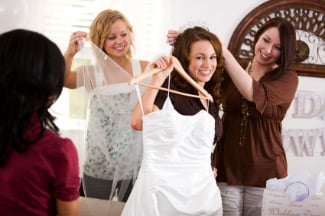 So you jumped up and down and let out some girlie screams when you heard about the engagement, but now the wedding is only a couple months away and your main responsibility of throwing the bridal shower has snuck up on you. Well, don't let it bite you from behind. Turn and face this responsibility like a woman with her big girl britches on. With some help from SignUpGenius.com and our bridal shower planning tips, this party is going to be a blast for everyone, including you.

Break It Down
No, we're not suggesting 90's rap music for this fine affair. We're talking task list here. Planning a bridal shower can be oodles of fun or a real drag. Don't strap yourself with every decision and responsibility. Instead, enlist the assistance of some of your peeps. Whether it's the mother-of-the-bride, bridesmaids or simply a couple of party loving friends, call in the troops as you begin to strategize your battle plan. When you divide and conquer, you're bound to find that you enjoy being in charge. Even better, let SignUpGenius.com simplify your job. Create a sign up list of tasks and let your crew volunteer for the ones they'll cover.
Decide on a Budget
If a friend of the family wants to host the shower at a swanky restaurant or quaint historic inn and pick up the tab, it will make the party planning a cinch. But say instead you're a college student strapped for cash who just happens to be the bride's best friend and therefore, this gala guru. Have no fear. You just need a budget and some creativity. How about a bridal shower picnic at the beach or a finger food lunch at your church?
Next Stop: The Theme
Retro shower or cookout? Co-ed friends or female family members only? Once you choose the theme for the shower, everything else will fall into place naturally. Make sure to communicate the theme on the invitations, so Grandma won't be mortified to find boys at the event and the mother-of-the-bride will know what to wear. Make the RSVP process easy on yourself by sending out invitations via SignUpGenius.com, or at least include an RSVP link on the paper invitation to a sign up so you can keep track of who's coming.
Pick Appropriate Games
There's nothing worse than spending your precious little free time planning games only to have everyone moan and groan about them on shower day. Consider the age level of the crowd and whether or not any male species will be attending. Also try running a few ideas by the bride before you commit to any. She can probably help you decide if this crowd is into physically active games or the sit-and-chat variety.
Decorating Made Easy
If you choose the right location, you might be able to check this off your list already. Think about someone you know who has a beautiful garden and have an outdoor lunch or book an afternoon at your local tea room. If you need to dress up your own digs a bit, try filling vases with flowers or fruit for centerpieces and stick with two classy accent colors for tablecloths and tableware.
A Focus on the Food
Check in with your bride-to-be on this one. Does she prefer salads, soups, finger sandwiches or all of the above? To make life easier on yourself, stick with a theme that involves several choices of one type of dish. Then call upon all the folks who asked if there was anything they could do to help when they heard you were in charge. If you decide to focus on soups, print out recipes for half a dozen varieties and pass them onto your helpers to prepare for the shower. Don't forget to use SignUpGenius.com to organize your volunteers.
Just the Right Gift
Make sure to communicate on the invitations where the bride and groom are registered and be ready with an answer for guests who call to ask what the pair need most. You might even want to organize a group gift if you know there's something special but pricey the couple is hoping to receive. If there are multiple showers planned and you know the couple will either receive most of what's on their registry or already have much of what's needed to set up house together, you could ask guests to get a gift with a specific focus. A "Stock Their Pantry" shower or a "Wedding Night Attire" gift theme are two options.
With all of these great tips for planning a wedding shower and the online sign up tools that SignUpGenius.com provides for free, you might just discover that people think you're the genius for your party planning proficiency. That's what we like to hear. SignUpGenius.com is here to help you do more of life with a whole lot less effort.