35 Baby Shower Themes and Ideas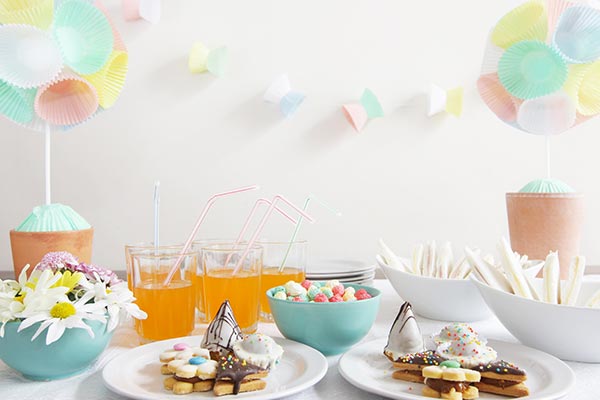 It's big news when you know a little one is on the way! Time to gather friends and family to honor the mother and father-to-be and celebrate the new arrival. Below are baby shower theme ideas including food, games and decorating tips. Pick your favorites, or mix and match to create a one-of-a-kind shower that everyone will love.
Picture This - Baby showers are the perfect occasion to dress up and get pics with the guest of honor, her baby bump and best buds. Decorate a life-size picture frame, collect stylish props and get ready to ham (and cheese) it up. Ask guests to bring their baby pictures and see who can identify each guest the fastest. Serve up more smiles with wraps and fruit skewers.
Spa Day - What mom isn't badly in need of some relaxation and pampering? This is an easy, no-fuss shower for busy moms and their crew! Invite a few close friends and family, book a dreamy spa location and clear the calendar. Arrange for a catered lunch or bring in some treats and nonalcoholic bubbly to make the day extra special.
Fill the Freezer - Answer the "What's for dinner?" question by throwing a fill-the-freezer party. Ask guests to bring a dish that is freezer friendly or prepare meal baskets with ingredients ready to fix in a flash. Encourage guests to bring copies of their recipes to share and be sure to note food allergies and preferences on the invitation. After the party, make a special cookbook for the guests of honor.
Luau - Hosting a classic Hawaiian luau is a fantastic shower idea for mom and friends or a couple's event. Decorate with plastic palm trees, bamboo torches and flowers. Welcome guests with a lei and fruity drinks a la coconut. If you aren't up for roasting an entire pig, make pork sliders, pineapple salad and other Hawaiian fare. Aloha!
It's in the Stars - A whimsical horoscope party will put everyone in a celestial mood. Let the star signs be your guide. Is she going to be a Cancer? Decorate with crabs and a beach theme. Is he going to be born a Leo? Lion plates and cups are a playful party set. Have each guest find their astrological "twin" for a party game.
Family Tree - Welcome the new addition with a celebration of mom and dad's heritage and culture with a family tree theme. Serve up favorite family dishes and play traditional games pertaining to local customs. Ask the grandparents-to-be and other family members to share stories and join in the celebration!
Make a Wish - Wish upon a star and make the guest of honor feel special. Decorate with stars and twinkling lights and ask guests to write wishes for the newborn in a book, or place them in a specialty decorated mason jar for the family to read later. Look to the planets for food inspiration. We suggest Mars meatballs and Saturn (onion) rings.
Mother Goose - Whether a Little Miss Muffet or Jack Be Nimble is on the way, a Mother Goose theme is a fun way to celebrate the new arrival. Choose a favorite rhyme or incorporate them all. Guests will be ready to dig into Peter Peter Pumpkin Eater bars and Little Bo Beep punch!
---
Coordinate a baby shower brunch with a sign up. View an Example
---
Slumber Party - Get some of her besties together and spend the evening noshing on her favorite foods, giving manicures and pedicures and watching classic chick flicks. Ask slumber buds to bring new pajama and lounge outfits for the new mom. She will appreciate the comfortable sleepwear before and after the baby arrives.
First-year Milestones - It's going to be a big year! Help the new mom get ready by assigning guests a milestone (teething, standing up, eating sold foods) and ask them to bring a gift to celebrate the big step. Prior to the shower, ask the guest of honor about her important firsts and host a quiz show to find out who knows mom best. Give a prize to the winners!
Charity Shower - Give back to the community and celebrate mom and baby at the same time. Ask guests to bring one gift for mom and another to donate to a shelter or organization that supports families (or pets) in need. Find a local organization that will welcome your group and take this baby shower on the road.
Shabby Chic - If the mom to be is all about vintage, show her you appreciate her style with this shower. Visit antique and repurpose stores to find just the right décor and flatware. Let guests choose from a variety of mismatched teacups to make one-of-a-kind flower pots for a fun party favor.
Fairytales - Dreams do come true! With a fairytale theme, the sky's the limit on the magic you can create. Travel to Once Upon a Time with Snow White apple fritters, Cinderella cheese (don't be late to the) balls or Peter Pan-cetta. Really set the mood by asking guests to come in costume.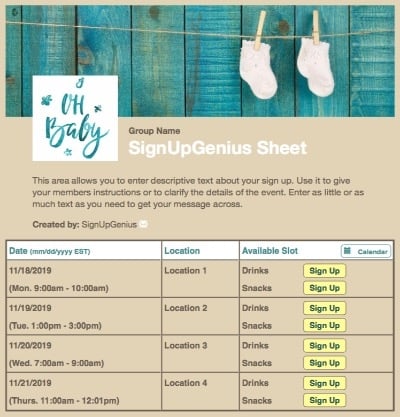 Gamer Shower - Go gamer glam for the Wonder Woman in your life. Get ready for Player 3 to arrive with Mario stuffed mushrooms or Pac Man snacks. See how fast friends can circle words in a nursery-themed seek and find or unscramble popular baby phrases. There's no Game Over at this party.
Movie Theme - Does the guest of honor have a favorite movie? This is a great starting point for throwing a fabulous party. From Breakfast at Tiffany's to Pretty in Pink or Airplane, take inspiration from her most-loved flick and pile on the fun. Play a few rounds of movie trivia and award the winners their very own Oscar.
Lullaby Shower - Rocking the little one to sleep with beautiful lullabies are some precious moments ahead of the mom and dad-to-be. Set the mood and decorate with puffy clouds, a moon and twinkling stars — and don't forget a jumping cow. Play name that tune or Pictionary with classic songs.
Southern Brunch - Start everyone's day off on the right foot with a big southern breakfast shower. Feed hearts and souls with biscuits and gravy, ham, hash brown casserole and all the fixin's. Top it off with a coconut cake. Don't forget the Bloody Marys!
Mocktail Party - We love this idea for a couples baby shower. Host a mocktail party complete with trendy appetizers, groovy music and tasty mocktails. Asks guests to bring a creative non-alcoholic drink to mix and share with the group — and don't forget the recipes! Have everyone vote on their favorite libation and give the winner a big bottle of bubbly.
---
Help your office chip in for a baby gift when you collect money on a sign up. View an Example
---
Bling it On - If the mom-to-be loves her bling, throw her a shower as gorgeous as she is. Make a centerpiece that sparkles, use champagne flutes to serve drinks, sprinkle treats with lots of sprinkles, and don't forget glitter, glitter and more glitter. Keep living the good life and have each guest put a celebrity's name on their backs. Answering only yes or no questions, see if guests can figure out who they are before time is up.
Spread the News - Extra! Extra! Read all about it — a special delivery is on the way. Create a personal news edition for guests and include stories about the couple, baby name rumors and other fun facts about the family. Stop the press and play a celebrity match the baby with his or her famous parents game.
Beach Baby - Give the honored guest a chill day at the beach with friends. Fill a baby pool with drinks and gifts and have large sunhats and beach bags at the ready for selfies. Decorate with large beach balls and ask guests to write words of advice and congratulations as they get passed around. These themes scream for a waterside cookout.
Classic Tea Party - Surprise the classy mom-to-be with an epic tea party. Go Mad Hatter or classic English royal-tea. Serve scones, biscuits and other bite-size teatime treats. Invite guests to wear their going-to-tea outfit and have them make their own hats as a creative shower activity. Pinkies up!
Planes, Trains and Automobiles - Use a travel theme to celebrate the new mom and welcome the little one. Use a passport or plane ticket for the invite and put up pictures from travels where the mom has visited. Serve fashionable food fare from grand Paris, Rome or Morocco.
ABC Baby Shower - This shower is as easy as ABC, one, two, three! Ask guests to bring a gift based on an assigned letter and serve food using the ABC's (asparagus, biscuits, chocolate). If they know the name of the baby, print out large letters spelling his or her name and invite guests to write attributes they think the new baby will have starting with that letter.
Sports Theme Shower - Hosting this shower is a slam dunk! If she has a favorite college or professional team, go all out with colors, pompoms and pennants (and don't forget the team song). Get active with a game of cornhole, croquet or h-o-r-s-e.
Mustache Theme - I mustache you a question, are you ready to welcome the baby boy with this themed party? Start the fun with a creative invitation, serve up individual mustache cupcakes and post the festivities on a decorated chalkboard. Play pin the mustache on the father-to-be and see who has mad skills.
British Baby Shower - Give a royal welcome to the little one with a classic royal baby shower. Break out all things Union Jack and serve double-decker sandwiches and a darling red photo booth cake. Use bows from gifts to make creative fascinators and end the day with royal wedding trivia.
Little Golden Books - Invite beloved characters from Little Golden Books including The Big, Bad Wolf, Three Little Pigs, The Little Engine That Could, Puss in Boots and others. Stock the little one's library by asking guests to bring their favorite Little Golden Book story and write a personal dedication to baby on the inside.
---
Plan a family reunion potluck with a sign up. View an Example
---
Let's Go to The Movies - Roll out the red carpet and give mom the movie star treatment. Get friends together before the party and make "Now Showing" posters with pictures of the family and catchy movie titles. Serve food inspired by her favorite movie! Try authentic Italian pizza from Eat, Pray, Love, M&M's from E.T., baby corn from BIG or a fab milkshake from Pulp Fiction.
How Sweet It Is - Life is about to get a lot sweeter with the arrival of the newest family member. Guests will love filling up their bags at the candy bar. Go all pink for a girl, blue hues for a boy or keep it neutral if the couple is keeping it a secret. If you are planning on noshing all afternoon, we suggest setting out a delicious and nutritious salad bar to start.
Holiday Theme - You don't need cold weather or snow to throw a fantastic holiday party-themed baby shower. Trim the tree with baby clothes and serve a traditional holiday dinner with turkey, mashed potatoes, green bean casseroles and all the fixings. Stockings filled with goodies make a perfect party favor. Arrange for Santa to stop by and ask the guest of honor and friends their wishes for the baby.
Under Construction - Friends and family will be excited to welcome the beautiful project that has been under construction for nine months. Celebrate and put everyone in the "zone" with hard hats and finger foods served in plastic construction vehicles. Decorate with lots of red and yellow caution signs. The awesome party is ahead!
Board Games - Get the party started with a theme everyone will love getting into. Use Scrabble tiles to spell out the congratulations, make a Candy Land cake, play baby Bingo, the baby diaper game and other games to see who emerges as the winner.
Color Theme - Can't decide what theme fits the couple best? Plan a shower around the colors of the nursery or pick a classic hue scheme and dress it up with coordinating decorations, flatware and table toppers. Fruit or meat and veggie skewers are easy, beautiful and the perfect food to munch on while chatting with the new mom.
Alice in Wonderland - A Mad Hatter, a Cheshire Cat and of course Alice! Get more and more curious with a whimsical wonderland theme. Serve guests "Eat Me" mini cakes, Queen of Hearts quiche and white rabbit mocktails. Decorate with playing cards, teacups and clocks. No one will want to be late for this very important date.
No matter which theme you choose, gathering great friends, serving up delicious food and hosting creative games will be a hit! Planning a day with lots of love and laughter will be a surefire success when it comes to welcoming the new little bundle of joy. Be sure to include mom and dad in the shower planning and incorporate their ideas for the big event.
Courtney McLaughlin is a freelance writer in Charlotte, N.C. She gratefully shares her life, home and heart with her daughter and their dog.