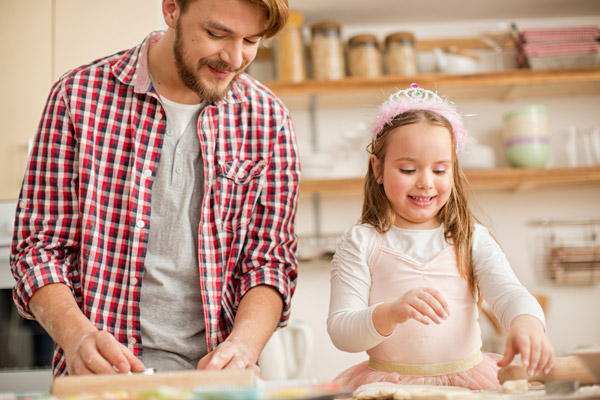 Are you hoping to make this Father's Day extra special for your dad? Here are 30 activities for you and him to do together that are sure to inspire a fun-filled, memorable day.  
Activities for the Dad Who is Still a Kid at Heart
Technically he's a grownup, but here are some activities for the dad who still plays like a kid. 
Go-Kart Racing - Does your dad love a high-speed car chase? Take dad to the go-kart track and let him satisfy his need for speed as he races his children around the track.
Scavenger Hunt - Create a scavenger hunt and give dad clues to help him find his special Father's Day gift. This can be an indoor activity or a scavenger hunt bike ride around the neighborhood. Arrange to have dad find his last clue at a picnic lunch or a nearby restaurant.
Laser Tag - Remember when dad tried to get in on the fun at your laser tag birthday party a few years back? Laser tag is fun for all ages and will be a surprise activity sure to put a grin on dad's face.
A Zip Line Adventure - If your dad loves the outdoors, take him out for a zip line excursion. This memorable event will be sure to make the "remember when" category in future years.
An Arcade Day - A day at the arcade is fun for kids of all ages! If your dad is a kid at heart, then treat him to a day of family friendly arcade games on Father's Day.
A Day at the Water Park - A day riding water slides and swimming in the wave pool brings out the kid in everyone!
---
Go in on a group gift for dad with an online sign up! SAMPLE.
---
Activities for the Sporty Dad
Is your dad the first to volunteer whenever they need a tee-ball coach? Does he always wear his lucky jersey on game day? If so, then here are some sport-themed activities for you and your dad to enjoy together.  
Dad Olympics - For the dad who likes all kinds of competition, set up a Dad Olympics. Dad and the kids can compete in fun games such as Frisbee throwing or three-legged races. Younger children can decorate the game props with Father's Day wishes and pictures.
Golf - If your dad is a golfer, then make the traditional Father's Day round of golf special by arranging a best ball tournament. Groups play together and the best shot from every hole counts toward a team score. Kids of any age can team up with dad for a day of camaraderie instead of competition. Matching golf shirts for dad and his entourage will make for a great photo op!
Baseball - Play ball! Organize a neighborhood baseball game for the family. Be sure to follow this activity with a postgame cookout, so the dads will have an opportunity to retell — and embellish — their game highlights! Genius Tip: Planning a multi-family event for Father's Day? SignUpGenius can help organize the menu and activities!
Family Football - Get dad a jersey to represent his favorite team. Then, organize a family football game, complete with his favorite tailgating foods.
Movie Marathon – Does dad have a favorite sports movie? There are so many good ones to watch, including Rudy, Rocky, Space Jam, Hoosiers, Remember the Titans, Miracle, The Bad News Bears, Field of Dreams and so many more. Prep your best concessions to accompany the flick fest.
Tickets to a Sporting Event - Surprise your dad with tickets to his favorite sporting event. Whether this is a professional level or a local team, it will be a win-win when Dad gets to spend time with his children watching one of his favorite teams compete.
Activities for the Sentimental Dad
For the dad who likes to reminisce about the good ole days, create a Father's Day experience with a bit of history. 
Visit a Historical Site - Whether you choose a particular historical site, a museum honoring a historic place or event or a walking tour through your city, you and Dad will enjoy stepping back in time together.
Classic Game Night - Buy several classic board games that your dad enjoyed playing when he was a child, and celebrate Father's Day with a throwback game night. Make it extra special by serving some of Dad's favorite childhood snacks, too!
Create a Puzzle for Dad - There are many companies that will create a puzzle based on a childhood photo or a map of the town where your dad grew up. Your father will appreciate the thoughtful gift and cherish the time spent doing a puzzle with his children.
Make Dad a Playlist - Do a bit of research and create a playlist based on your dad's favorite songs from his teenage years.
Movie Night – For another take on this idea, rent or buy a few of dad's favorite movies — the ones where he can quote his favorite lines from memory — and watch them together.
A Taste from the Past - Does your dad reminisce about a favorite childhood restaurant or meal? Recreate it! Sharing this sentimental meal will be a special way for dad to share his stories of his past with his children.
---
Organize a potluck meal with an online sign up! SAMPLE.
---
Activities for the Foodie Daddy 
If delectable dishes are the way to his heart, try one of these yummy ideas. 
Campfire Cooking - Everything tastes better when you cook it on a stick over an open flame! Gather around the campfire, and let dad entertain the family with stories from his childhood while the children cook hotdogs and roast marshmallows.
Cooking Classes - If your dad likes to cook, then sign the two of you up for a cooking class. Dad will have a wonderful experience cooking with his child, and the two of you can share your new skills and recipes with the whole family. Look for a theme he'll enjoy, such as summer grilling classics.
Brewery Tour - If dad thirsts for a quality cold brew, then invite him to a beer tasting or brewery tour.
Personal Chef - Give your dad the night off from the grill on Father's Day and hire a personal chef to come to the house and prepare his favorite meal. Dad will love being the guest of honor in his own home!
Assistant Chef - If your dad would rather be in charge of the meal, then offer to be his assistant chef. You take care of the shopping, chopping, cleaning and assisting, while dad gets the glory of preparing the meal.
Pizza Party - Throw dad a homemade pizza party on Father's Day. Make sure to have all his favorite toppings available as dad and the children make their own pizzas together.
---
Volunteer for dad's favorite charity with an online sign up! SAMPLE.
---
Activities that are All About Dad
Does your dad have a favorite hobby or activity that plays a large role in his life? These are Father's Day activities that are all about what Dad likes to do.  
The Project Dad - Get your dad a new tool and include plans for a father-child project, such as a birdhouse or a bookshelf. Your dad will greatly appreciate the together time working on this project. 
The Musician - If your Dad loves music, then take him to a concert. This can be a big concert if one of his favorite bands is on tour or just a local show that the two of you attend together.
The Philanthropist - Does your dad spend lots of time heading up a charity? Get involved, and make Father's Day into an occasion where you are dad's right hand man at his favorite charity.
The Fisherman - If Dad likes to fish, arrange a day of fishing out on the lake for the two of you. It will make his favorite activity extra special when he gets to share it with you.
The Auto Enthusiast - If your dad loves cars but is resigned to driving the family minivan or SUV for carpool purposes, then surprise him with a classic car or sports car rental. Dad will love driving around with the top down this Father's Day weekend!
The Tech Savvy Dad - If your dad loves his tech toys, then download a game that the two of you can play together via phone or computer. This idea works well for the long-distance dad! Though this game is an activity that begins on Father's Day, you and your dad will continue to enjoy it — and each other — year round.
No matter your dad's personality type, he'll appreciate a gesture that shows you took the time to think about what he truly enjoys. That's priceless! 
Stacey Whitney is the mother of two teenagers and owner of WordsFound, a content company.