20 Ways to Make Friends in a New City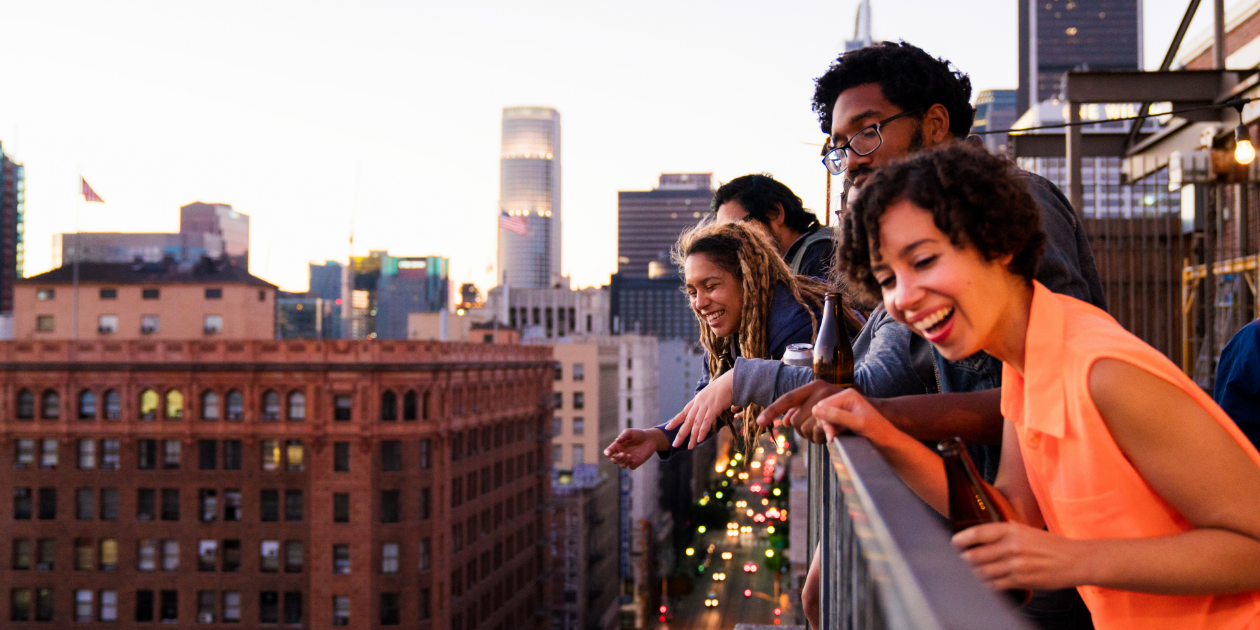 Moving can bring a lot of new and exciting experiences into your life, but it also requires starting over in a lot of areas like building a friend group. Unless you're moving to a place where you have immediate social connections, you may have to put some effort into finding and creating your new tribe.  Luckily, technology has made it easier than ever to find like-minded friends and groups that we can participate in. Here are some creative ways to be intentional about making friends when moving to a new city.  
Volunteer - Find a local organization that you feel passionate about, such as an animal shelter or community garden, and make time to volunteer regularly. You'll be crossing paths with others who have a similar passion for this subject and that can be the basis of a new friendship.
Participate in a Hobby - Is there an activity that you enjoy doing or would like to try, such as rock climbing, Pilates classes or painting? Find a local place where you can try this activity and attend regularly. If possible, attend the same sessions, so that you can start to get to know others with similar interests and schedules.
Join a Group - There are so many kinds of activity groups now, from people who love bike riding to crafting clubs. You can usually connect with these groups online, such as in local Facebook groups, on Nextdoor, on Meetup, or find information in local publications. Look into local groups that interest you to join and get involved.
Network – Can your career and your social life benefit from networking? Look for groups that fit your career experience or specialty, such as young professionals or an industry focus. Connecting with networking groups is a great way to meet people who share your interests.
Get Social - There are social apps focused on helping you find friends, just like you can use for dating, like Yubo, Bumble BFF, and Meet My Dog. Many people have shared stories of finding their new best friend using these apps. Bonus points for not even having to leave home to find friends!
Walk Outside - Not only is walking outside a healthy activity for your mind and body, but it's also a great way to meet the people who live around you. You may even start talking to a neighbor who would like some company on their walks and find yourself a walking buddy.
Start a Group - Is there something you are interested in and can't find a group around you? It's likely there are other people who share your interests whether it's reading mysteries or baking. Why not start your own group and get the word out on social media? Even if you gathered a few people, you'd be making like-minded friends.
Attend Church Groups - Most churches have groups that bring people together for a common goal, such as volunteering or helping organize church events. Churches often also coordinate social groups for different ages and interests, such as singles or young parents, that can help you find others on a similar life path.
Coordinate a running club with online sign up. View an Example 
Join Nextdoor - Nextdoor is an online community that you join by address. This means you're getting to interact, share and read posts from people living in your immediate area. Many people post activities and groups that you can join or participate in and you can post your own, too.
Ask Your Friends - Are you on social media? Why not put up a post sharing the news about your big move and ask your friends if they know anyone in your new area? Chances are likely someone has a connection and can help you get in touch with them.
Start at Work – It's likely there is someone on your new work team that could be a potential friend. Start eating lunch in the break room instead of hiding at your desk and attend any work functions that could lead to meeting new people. Even if you find one great friend, it'll make your job a lot more fun.
Get a Side Job – If your schedule allows, consider getting a side job at a place you really love, such as a cool coffeehouse or an art gallery. You'll be hobnobbing with customers who share a similar passion and can strike up conversations with new people every time you work.
 Eat at the Bar - Try out local restaurants and eat at the bar. People at the bar are usually flying solo and are often happy to strike up a conversation. Make sure to trade contact info if you meet someone you'd like to talk to again.
Join a Book Club – Being part of a book club is a great way to make friends who also enjoy reading. To find one in your area, contact local bookstores and ask for their recommendations. If this doesn't yield any results, ask neighbors for suggestions or post on a community site.
Sign Up for Sports - Do you miss the days of playing on sports teams? You can find adult sports leagues in many areas that offer opportunities to play all types of sports, indoors and outdoors, throughout the year.
Support the Arts - Do you love theater or get inspired browsing museum galleries? Join a local group that supports the arts or volunteer to help at local theaters, museums, or performance venues. Sign up to attend events for supporters and mingle with people who share your creative passions.
Get neighbors together for a fall harvest party with an online sign up. View an Example
Go to the Gym - Join a local gym and start participating in group classes. If you make it to the same class each week, you're likely to get to know some regulars who also enjoy the same kind of workouts. Strike up a conversation, let them know you're new in town and start inviting people to get together.
Get a Dog - There's a big community of people who love their pets and you can be part of it by adopting your own Spot or Sadie. Having a dog gives you a live-in best friend, but also a way to connect with other dog parents on walks, at dog parks, pet classes and much more.
Explore Social Media - Social media gives you the opportunity to search a wide variety of people and places in your area. Head to the explore page to see what Instagram recommends or look at the people following a local place you like to go, too. Consider sending a friend request for anyone with a public profile that has similar interests and follow it with a quick message introducing yourself and letting them know why you sent the request.
Get Involved - Does your community have a lot of local events? Volunteer to help out or contribute and get involved in the event. Show up at holiday festivals, talk with local business owners, and roll up your sleeves to help your local community and you'll be sure to meet a lot of people that have the potential to be good friends. Plus, you'll all be connected by your shared love for your community.
 Making new friends as an adult is not easy and probably won't happen by accident. Take the time to be intentional about activities that you engage in with the purpose of making connections. Then, don't be shy about introducing yourself and getting contact info for anyone you connect with. Most people love to be invited to get together or to attend an event, so this is a great way to make others feel included and welcome, too.  Hopefully, these ideas will just be the starting point to get involved in your new community and build new and lasting friendships.
Erica Jabali is a freelance writer and blogs over at ispyfabulous.com.