50 Care Package Ideas for College Students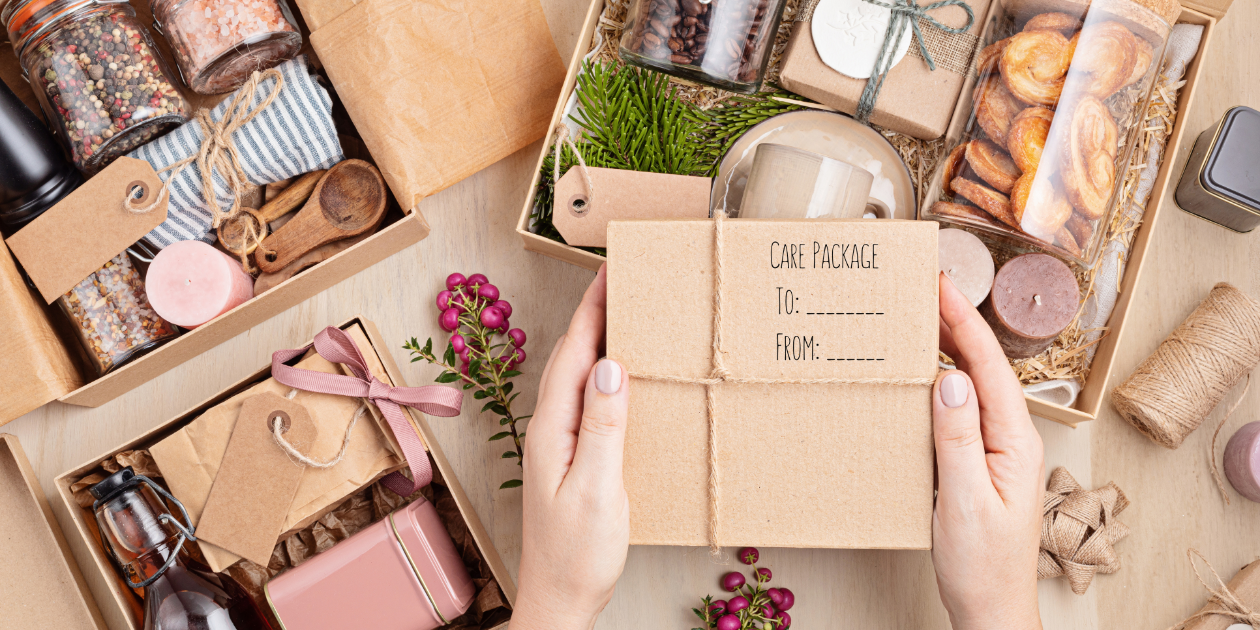 Stay connected to your favorite student with a care package sure to brighten their day. These 50 ideas can be as simple or elaborate as time and budget allow. No matter what you put together, they will surely appreciate the thought. Use these themes for inspiration and add your own ideas to keep the love coming!
Color Box – Make your loved one happy and send a package with fun items in their signature hue. 
Mix-Up Holiday Theme – Surprise and delight your student with a mix-up holiday care package. Send holiday greetings in March or Valentine sentiments in December. 
Movie Night – Assemble popcorn, gummy candy and a soft blanket and encourage your student to relax and enjoy a night in. 
Chef's Table – What's on the mind of every hungry student? Food. Put together a basket with simple ingredients like pasta and sauce or challenge them with all the ingredients to make a favorite family recipe. Include a gift card so they can shop for meat and produce.
Socks – Go cozy and cuddly for the win! Pack a pair of cute feet warmers for every day of the week.
Bed and Bath – Pamper your favorite people with scented soaps, soothing lotions and comfy new pajamas. Dorm life is rough - they need it!
Gift Cards – Send gift cards from their favorite stores and eateries and let them feel the love all month long. 
Restock the Desk – Make sure they are stocked up on school supplies with pens, sticky notes, notepads, highlighters and other tools of the trade. 
First Aid – Prepare them for the bumps and bruises of life with bandages, aspirin, cotton balls, thermometers, cough drops and more. 
Sports Team Theme – Root, root, root for the home team with a package filled with colorful fanfare. 
Letter Writing Supplies – Encourage the lost art of letter writing with fancy stationery, pens, preaddressed envelopes to friends and family and a personal letter. 
Sugar Rush – Satisfy their sweet tooth with a collection of their favorite candies that will let them feel the rush. 
Photo Box – Send fun frames and a photo album to hold new memories and send a few old pictures to remind your student of how far they've come. 
Stress Break – School is stressful, give them a fun way to cope with stress balls, fidget spinners and aromatherapy kits.  
School Spirit – Keep your loved one looking good with t-shirts, sweatpants, hats and other gear from their future alma mater. 
Laundry – Make laundry day less of a chore with a package filled with detergent, fabric softeners, extra hangers and money for the machines. 
Picnic – Encourage fresh air and friendships with a picnic basket, packable treats and a frisbee. 
Brunch Basket – Send waffle molds, egg cookers for the microwave, fancy glasses for OJ and a cookbook for inspiration. 
Card Play – Go old school with playing cards, UNO, Old Maid and other classic games perfect for passing the time. 
Warm Up – Cold mornings and chilly nights call for a cup of hot chocolate, coffee or tea. Send all supplies needed for a warm hug in a mug.
Clean Up – Help your student tidy up with a pack of sponges, spray cleaner, disinfectant wipes and other must-have items.  
Water Fun – Chill them out with water balloons, squirt guns and a raft for fun in the pool or lake.   
Coloring Book – Offer a brain break with a coloring book and a set of crayons or colored pencils. Inspire them by adding your creative touch to the first few pages. 
Plants – Send easy care succulents and cacti or let them try their green thumb with potting soil and a packet of seeds.
Books - Even if they don't have time to read the latest novel, sending a beautiful coffee table book can offer a much-needed break from the grind.
Hometown Gifts –From local treats or homemade candles to hand carved treasures or a book from a local author, bring back memories of home no matter where they are. 
Cords and Chargers – Cords, chargers, blocks and electronic organizers are always a welcome gift. 
Journal– Encourage them to express themselves and create a wonderful keepsake for years to come with a pretty journal. 
Dollar Store Spree– Challenge yourself to spend $20 at a discount or dollar store and see how creative you can get.  
Letters – Ask each member of the family and close friends to write a letter to your student offering encouragement and support. 
Spa Day – While a trip to the spa might not be in the budget, a box filled with mud masks, polish, exfoliators and slippers should do the trick.
Healthy Snack Pack –Think trail mix, dried fruits and protein packs to give them a much-needed boost. Perfect for students on the go!
Art Supplies – Help relax their mind and create beautiful works of art with a paint by number set or box of art supplies.
Decorating Essentials – Keep their home away from home looking fresh and fun. Include a cozy throw and a new set of cups or mugs, and practical items like no stick hooks, storage bins and magnets. 
Go Wild – Put together items adorned with animal print for a "safari" theme or ocean inspired items for an "under the sea wonderland" theme.
Encouraging Words – A book of motivational quotes, poems and sayings could be just what they need to get through the tough moments. 
Stargazing – Remind them to always aim for the stars with a care package that includes a book about the constellations and flashlights.
Jerky Joy – Nothing says love like flavored, cured and dried beef! Go big or go home with this great idea. 
Alpha Theme – Send items that start with a certain letter of the alphabet. See how long it takes them to figure out the letter!
Pet Pals – Send a care package from the family pet and be sure to include a picture and a letter. 
Beach Day – You don't need an ocean to have a beach day! Pack a colorful towel, beach ball and koozies to keep drinks cold.
Stickers – You're never too old for stickers. Include all shapes and sizes and let them know you are thinking of them, just like when they were little. 
Get to Know You – Send a package with items to help them get to know new people. Think Mad Libs, games or a book of questions.  
Hair Care – Keep the beard and locks in tip top shape with a box of their favorite hair care products. 
Baked Goods –Let them taste the love with baked goodies they can share with friends. 
Tool Kit –Include a hammer, nails, duct tape, string and screwdrivers to make home or dorm projects a cinch.   
Personalized Games – Go online and make crossword puzzles with clues specific to their personality.
Menu Mashup – Do a quick map search of area restaurants and take out venues and send them along with a few gift cards.  
Collectables – Add to their collection of stamps, coins, stuffed animals or whatever they love most.
Fitness Pack – Reinforce healthy habits with a yoga mat, weights, exercise bands, workout clothes and other items to help them sweat it out. 
These suggestions are perfect for students away at school or those who live close to home! Get packing and send the love.   
Courtney McLaughlin is a freelance writer in Charlotte, N.C. She gratefully shares her life, home and heart with her daughter and their dog.