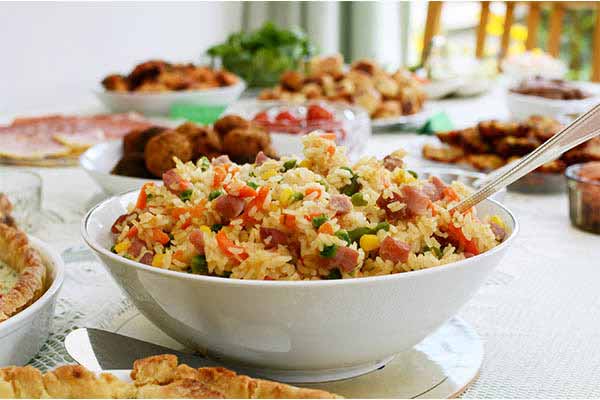 An office potluck is a great way to change up monotonous lunchtime routines. Choose one of these unique party themes and create a sign up to get the party started!
1. Appetizers & Desserts
Skip the main course. Appetizers and desserts are often the favorites at any party. So, cut out the middle course and give the people what they want. Be specific on the sign up sheet so the same chips and dips don't roll in.
2. Take Me to the Ballpark
Baseball is one of America's favorite pastimes, so a ballpark-inspired potluck will be a grand slam. Menu items can include Chicago-style hot dogs, turkey sausage sandwiches, nachos supreme, beef burgers, pigs in a blanket, and caramel corn - certain to delight any baseball fan.
3. Havana Nights
Host a Latin American potluck featuring grilled pork, zesty shrimp, avocado salad, fried plantains, rice and beans. Mambo music turned up makes for a festive Cuban lunch.
4. A Taste of Home
Consider a theme based on your childhood. Everyone shares his or her favorite childhood food. Perhaps this theme will spark conversations and provide an opportunity to learn something new from your co-workers.
5. Going Green
Try hosting a vegetarian potluck featuring meat-free dishes, salads, and casseroles. Throw in interesting breads, cheese trays, and bean dips to the sign up sheet.
6. Brunch
Most office potlucks are scheduled over lunch, but why not change it up and host a breakfast foods only potluck. Have people bring in egg dishes, breakfast meats, muffins, and breads. Don't forget breakfast beverages and fruit.
7. Tailgate
Score a big win with the home team with this crowd-pleasing theme. You just can't go wrong with foods from a tailgate - barbequed ribs, burgers, hot dogs, chili, and wings. Don't forget the sides - jalapeno poppers, nachos, potato salad, chips, and dips.
---
Potlucks and parties made easy! GET STARTED
---
8.
Signature Dish
Everyone has a favorite dish from his or her repertoire that always has people coming back for seconds. Have everyone bring their best dish to the next office potluck.
9. Hawaiian Luau
Get festive with this theme by conjuring up warm tropical beaches with a Hawaiian Luau. Think shrimp kabobs, barbequed pork, and pineapple.
10. Salad Potluck
There are several options for this healthy, yet tasty theme. One is to have everyone make his or her favorite salad to share. The other is to assign salad ingredients, allowing folks to create their own personalized salads from a variety of ingredients provided by co-workers.
11. 5 Ingredients or Less
Try this cost-effective theme to help reduce cost and prep time for busy employees. A quick search online will result in a slew of easy 5 ingredients or less recipes to make.
12. A Tour of the Mediterranean
Turn the conference room into a Mediterranean inspired potluck with foods from around the Mediterranean Sea. Greek, Spanish, Italian, and French dishes can make their arrival to this office potluck. Knowing a dish from one of these countries wouldn't be difficult for employees.
13. Takeout Tuesday
No cooking, and easy clean up, too. Participants have to bring in their favorite takeout dish.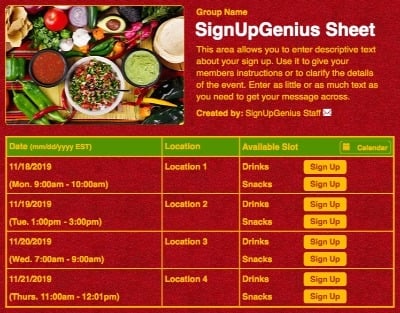 14. Orient Express
Depending on your group, an Asian theme could be easy or a bit challenging. A cooking challenge could be fun to spark some interesting dishes. Besides noodle and rice dishes, there are endless options. Think egg rolls, sushi, chicken satay, curried meatballs, stuffed cabbage rolls, and chicken wings in an Asian sauce.
15. Keep the Vampires Away
This theme is a garlic lover's dream. Every dish must include garlic, except maybe the desserts.
16. Spanish Tapas
Transport the office to Spain and throw a Spanish Tapas potluck. Tapas dishes range from delicious meatballs in a savory sauce, turnovers filled with meat or veggies, fried potatoes, chorizo sausage, olive and cheese plates.
17. Comfort Food
Everyone loves a hearty plate of comfort food, so give the people what they want with a comfort food potluck. Comfort foods are traditional and often provide a nostalgic feeling to the diners. Fried chicken, green bean casserole, baked beans, mashed potatoes, mac 'n' cheese, and dinner rolls will be the top dishes. Don't forget apple pie for dessert.
18. No Cooking
Step away from cooking and get to dicing, chopping, and mixing to create this theme. From salad to sushi to bean salads to sandwiches, there are hundreds of ways to make a dish without turning on the stovetop. A clever cook could buy a rotisserie chicken to make chicken salad.
19. All One-Color Food
Choose any one color and have participants make an item in just the chosen color. Another take on this theme, try two colors - like black and white. This theme can be a bit challenging, but interesting to see what co-workers can come with.
---
Invite your guests via an online sign up. See our themes!
---
20.
New Orleans
Plan a Big Easy potluck to enjoy savory Cajun and Creole flavored dishes. The office will be filling with gumbo, shrimp, jambalaya, po'boys, red beans and rice. Don't forget the beignets! These yummy flavors will have the employees come running.
21. Under the Tuscan Sun
Bring the taste of Italy to your next office potluck. Pasta dishes will be the first to get signed up, so encourage participants to consider bringing Italian hoagies, calzones, risottos, stuffed peppers, and frittatas.
22. Chili Cook Off
Employees can make different varieties of chilies. Those who don't want to get into the competition can bring toppings: cheese, onions, sour cream, and chips. Add a cornbread competition and have people sign up for each category online. SAMPLE
23. Roots
Encourage everyone to bring a dish that reflects his or her family heritage. This theme will produce a variety of foods creating a worldly lunch while generating conversations about the unique dishes brought in to share.
24. Try Something New
Everyone has to make a new dish, something they have never made before. This theme will be a bit stimulating, but the results could be interesting.
25. Surprise Ingredient
Assign everyone a surprise ingredient. Choose a vegetable, meat, nut or spice. Ask guests to incorporate the ingredient into the dish they bring.
26. Baked Potato Bar
A serve-yourself potato bar is an easy office potluck to throw. Besides potatoes, co-workers can bring in a huge variety of tasty toppings, which makes the perfect opportunity for everyone to customize their lunch.
27. Meatless Mondays
Assign a different veggie to all the participants to give a wide spectrum of dishes.
28. Something You Love That You Hated as a Kid
Brussels sprouts anyone? Try this fun twist on a potluck that could spark some interesting conversations among co-workers.
29. Mexican Fiesta
This theme is wildly popular, since it is a crowd pleaser. Try it for Cinco de Mayo, or really anytime! Burritos, nachos, tacos, and fajitas are all the rage at an office potluck. Throw in salsa, guacamole, bean dip, and chips. Don't forget to have Mariachi music playing.
30. Last Meal
A popular theme is the last meal where everyone brings a dish starting with the letter that begins with his or her last name. Another version, ask participants to bring in a dish they'd want to eat if, it were their actual last meal.
Work functions don't have to be complicated. Organize all of your business events, parties, training and more with a sign up. With these themes, you'll be able to enjoy the people you work with and catch up over a yummy meal. Bon appetit!
Sara Kendall is a freelance writer and mom of two daughters.