30 Office Party Themes for Your Business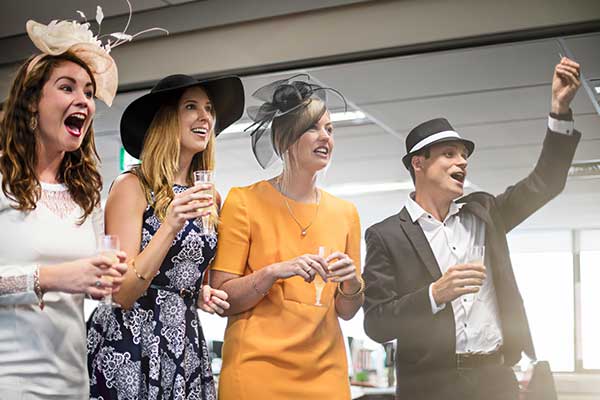 There is always something to celebrate around the office. Some holidays make for obvious parties, while other ideas are just plain fun. Sometimes a simple themed party is just the morale boost your employees need. Try these fun ideas to get the party started.
Dog Days - Most people are happier when there's a furry friend around. Let a handful of staffers bring their dogs to work (too many dogs may be tough to wrangle). Set up a kiddie pool on the lawn for the dogs to play in and ask all employees to bring in a dog toy that you can donate to the local shelter.
Red, White and Blue - Several times a year we all get the chance to show our patriotic side. This works for Memorial Day, Flag Day, Independence Day, Labor Day even Election Day! Decorate the office with festive streamers and balloons, have a patriotic-themed lunch (hot dogs and burgers and a red, white and blue cake are easy) and see if you can get everyone to wear their favorite all-American duds.
Derby Days - This is all about the hats for the ladies and the bowties for the gents. Host a hat decorating contest and then a parade where everyone can show off their Derby best. Serve mock mint juleps and sweet tea to really get in the mood.
Team Spirit - Nothing brings people together like rooting for the same team. Have employees dress in the colors of a (hockey, basketball, football, baseball) team in your town at a pivotal point in the season. Take it one step further and organize an in-office competition on the same day. Genius Tip: Get inspired by these 25 team building activities for work.
Scream Teams - Halloween isn't just for the kiddos anymore. Have a costume contest and encourage employees to set up trick or treat stations at their cubicles. Up the ante by asking everyone to dress in a specific theme (favorite movie character, a hot news topic or a certain time period).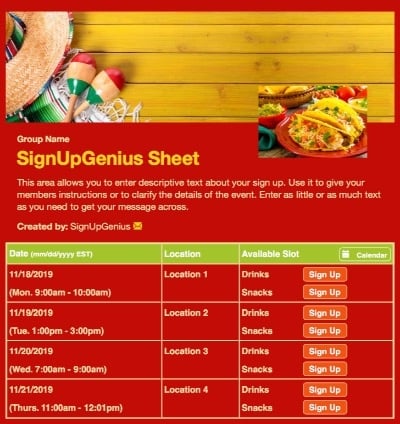 Food Fight - Who's got the best chili recipe? Who makes the cheesiest mac and cheese? Have employees bring their best dish and everyone gets to vote for their favorite. Employees will eat well at lunch and get to show off their prowess in the kitchen. Give away aprons with the company logo to the top three vote-getters.
The Longest Day - Celebrate the first day of summer (and the longest day of the year) by assigning every hour of the workday to a different staffer. Ask each person to do something fun on the hour. Someone can bring cupcakes, another can tell a joke over the intercom, another can send out a fun email, etc.
Pot LUCK - Have each employee sign up to bring a dish and then help them find a little luck by hiding scratch-off lottery tickets around the office.
Monday Motivation - We all need a little motivation on Monday. So why not make a mini party every Monday? Encourage staffers to plan to share something fun that happened over the weekend, a cool quote or interesting photo and offer a few dessert options to make Monday just a little bit sweeter.
---
Coordinate an office chili cook-off with a sign up. SAMPLE
---
Breakfast for Lunch - You may not want employees wearing full-on PJs, but you can offer to let them dress down. Serve your favorite breakfast foods — hash browns, pancakes, cereal, bagels and of course coffee. Lots of coffee!
Minute to Win It - This popular party trend gets the adrenaline going and offers everyone a chance to compete. You can use basic office supplies and a little creativity to come up with a handful of tasks competitors have to complete in 60 seconds. Whoever wins the most, wins a prize. Genius Tip: Start the timer with one of these 20 minute to win it business party games.
Flashback – The 1960s had the Beatles and hippies, the 1970s had the disco, the 1980s were known for big hair, shoulder pads and bright colors … and flannel was prominent in the 1990s. Have staffers dress for their favorite decade and play a mix of the best music from each generation.
Toga Party - Have everyone get creative with white sheets and crowns made of leaves. Serve grapes and cheese and party like the Greeks. Design your own gladiator-style competition where the winner gets a fun prize.
Remote Control - Ask people to come dressed as a favorite TV show character and let others see if they can guess who they're supposed to be. The guessing process could be very entertaining!
---
Collect RSVPs for an office picnic with a sign up. SAMPLE
---
Do Good Feel Good - Giving back is both good for the soul and can be a great team-building experience. Have everyone submit details about a charity they're associated with or someone in the community they know who is in need. Evaluate which causes your team can help serve and plan a day of giving back.
Happy … Selfie Day?! - There's a random holiday for everything these days. Want to celebrate doughnuts? There's a day for that. Love hot dogs? The calendar has a day dedicated to hot dogs, too. Find your favorite(s) and build a party around them!
Company's Got Talent - You may not know that Helen in HR sings in the church choir or the IT guy plays a mean guitar. Ask people to perform for their colleagues. Make sure to offer worthy prizes for the winner.
Mardi Gras - Find fun masks to use for decorations and necklaces with lots of big beads. Ask people to come dressed in purple, gold and green and make sure everyone leaves with a bag full of candy.
Summer Santa - Christmas in July gives you a chance to dust off the tree, string some lights and get some faux snow to decorate. Break out the ugly holiday sweaters and make sure to play some favorite Christmas tunes. Hire some carolers and have a mini gift exchange if you're really in the spirit! It will help ease the pain of the sweltering temperatures outside.
Give Thanks - Go around the room the week of Thanksgiving and ask employees what they're thankful for. This will give employees a chance to share and get to know each other in a personal way. Serve a traditional turkey with all the fixings, and apple pie and ice cream for dessert.
---
Plan office events for the year with a sign up. SAMPLE
---
Have a Heart - Encourage staffers to use their lunch hour to get their heart rate up — walking together or hitting the company gym. Then celebrate with a fun heart-themed lunch. Use red balloons around the room and a selection of Hershey kisses and SweeTARTS to decorate tables and fill goodie bags.
Luck of the Irish - Everyone loves to celebrate St Patrick's Day! Create an office scavenger hunt with a "pot o' gold" at the end. Most people should already be in green on this day and it's easy to decorate. Make sure to serve favorite Irish dishes like shepherd's pie and Irish stew. Genius Tip: Try these 25 St. Patrick's Day games and ideas to really get inspired.
School's In - The start of school can be stressful for kids — but a little bit freeing for parents. Celebrate the start of school by offering a buffet of cafeteria favorites (pizza, PB&J and chicken nuggets). Decorate tables with school supplies and then donate the supplies to an area school.
Winter Hawaiian Luau - Donning a Hawaiian shirt is way more fun when it's freezing outside. Serve chicken teriyaki, upside down pineapple cake and make sure to have umbrellas for all the (virgin) piña coladas.
Game Night - Go old school and pull out some of the classic board games. We're talking Monopoly, Checkers — even Twister if you're feeling adventurous. Offer fun prizes for the winners.
Cinco de Mayo - People seem to get more excited about this holiday every year. And while you're probably not going to serve margaritas in the middle of the day, there's still plenty to do to get in the spirit. Decorate tables with sombreros and Mexican flags, make sure to hang a piñata (and let everyone take a swing at it!) and put out a spread filled with guacamole, tacos, quesadillas and more. Genius Tip: Get 50 Cinco de Mayo party ideas.
Cookie Exchange - This has been around in neighborhoods forever, but it's something coworkers could have just as much fun with. Each staffer bakes a different kind of cookie and brings enough to exchange with everyone in the office. Everyone goes home happy!
Ugly Sweater Party - This has become the must-have party of the holiday season. To make things more interesting, offer prizes for specific categories (ugliest sweater, funniest sweater, most creative). Give a not-so-ugly sweater as the prize. Genius Tip: Win the award with these creative ugly sweater ideas.
Under the Sea - Put out a spread filled with seafood and use the colors of the ocean to help you choose the decor (look for blue balloons, tablecloths and more) or be playful and bring in Little Mermaid or Finding Nemo decorations.
It's Magic! - Hire a local magician to do some fun tricks and encourage employees to pull out a few tricks of their own. Decorate using black and white, top hats and playing cards.
With these themes, your office will be ready to party!
Michelle Boudin is a reporter at NBC Charlotte and a freelance writer.