Ugly Christmas Sweater Ideas and Party Tips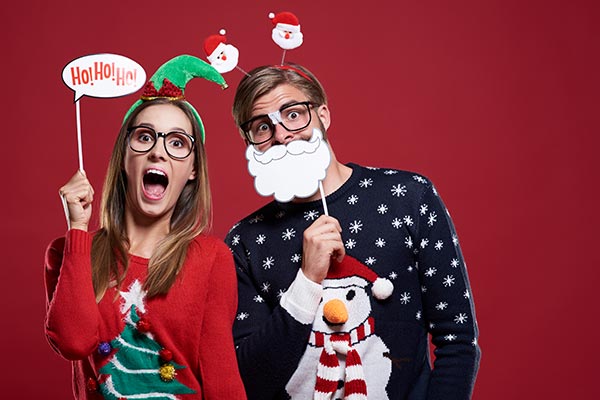 With all the hustle and bustle of the holiday season, it's fun to take a break and participate in one of its silliest traditions — the ugly Christmas sweater. Here are a few DIY ideas for sweater creation and planning the perfect event. It's amazing what you can accomplish with a few inexpensive crafting items, fabric glue and a healthy helping of creativity. 
Sweater Ideas 
Let It Snow - All over your sweater. Think cotton balls, silvery glitter and wintery scenes.
Rudolph the Red Nose Reindeer - Had a very shiny nose — right in the middle of your sweater — along with antlers and some really large googly eyes. You can even add a battery-powered red nose that lights up.
O Christmas Tree - Some of us still have one of these sweaters in the back of our closets that we actually wore in the '80s. You may want to pull out your old Christmas photos for proof. A great big green tree with lots of tiny, dangling ornaments is always a hit.
Make a List and Check It Twice - Share some laughs over who makes it on the naughty and nice list displayed on your sweater.
Wrap It Up - Be your own present. Use multiple ribbons, ties and even wrapping paper to become the perfect gift.
Be Your Own Snow Globe - This can be a great option to go over your sweater without actually having to ruin it for later. All the glittery items needed to create your snow globe can be placed inside a large, clear plastic bag (or even a big plastic container) and then placed over your clothes. 
---
Send an ugly Christmas sweater party invitation. SAMPLE
---
Jingle All the Way - Make an entrance with a jingle bells sweater that creates some noise and lots of Christmas cheer. 
All is Merry and Bright - Light up your sweater with battery-powered twinkling lights — they can be strewn across a Christmas tree shape, a wreath or a welcoming front door.
Frosty the Snowman - Cut and glue large circles of white felt or other fluffy cotton material for the body, design some captivating eyes and don't forget an extra-large carrot-shaped nose. A cozy scarf and top hat will complete the look.
Pocket Surprise - Create a sweater with multiple pockets filled with gifts, reindeer and all sorts of Christmas-themed items spilling out of them.
It Must Be St. Nick - There are so many ways you can display images of Santa on your sweater — he can appear in a chimney protruding off the shoulder of your sweater or poking out of a fireplace pasted on the front. Since tacky is the name of the game, the sky's the limit here.
Bow Out - Cover your sweater in lots and lots of bows and ribbons in all sizes, shapes and Christmas colors.
Go Glitter Crazy - From designs of Christmas trees and gifts to Santa hats, you'll be surprised at all the possibilities using red, green, gold and silver glitter fabric paint.
Couples Sweater Theme - Create a design that takes two, such as the head and tail of a reindeer or Mr. and Mrs. Claus.
All in the Family - Craft a design that makes a statement as a whole using words or letters or be a family of elves or snowmen.
Let Your Pooch Participate - Matching pet and owner Christmas sweaters never fail to get the big "Aww" response.
Christmas Movie Theme - Pattern your sweater off one of your favorite Christmas movies, such as the infamous leg lamp from A Christmas Story.
Caught in Christmas - Cut up a stuffed reindeer and stick the arms, legs, head and antlers to the sweater as if it's actually trapped inside. This works great with other Christmas-themed stuffed animals too.
Santa's Pack - Attach a large sack, preferably with a drawstring, to the sweater and fill it with wrapped boxes, candy canes and ribbons spilling out.
Be the Tree - Instead of just decorating your sweater as a Christmas tree, also wear a decorated tree skirt and a star headband to top it off.
Hung by the Chimney with Care - Secure a stocking to your sweater and fill with overflowing gifts and candy.
Send Christmas Cheer - Find the ugliest Christmas family photo card you can find and use it as your sweater theme. Bonus points if all of you are wearing Christmas sweaters in the photo.
Create a Christmas Stamp - Create a sweater based on a favorite holiday stamp. Consider creating an envelope that opens and closes with extra flaps of material for added fun.
Poinsettia Power - They're big, red, floppy and easy to find fake ones at a craft store this time of year. Use a combination of sizes and some gold glitter to create a powerful statement.
Not a Creature Was Stirring - Decorate your sweater with a cute Christmas mouse carrying off presents or Christmas treats.
---
Coordinate an office holiday potluck with a sign up. SAMPLE
---
Hang On - Using red and green clips or ribbons, hang a variety of holiday items on your sweater such as ornaments, candy canes and stockings.
Christmas Ties - Find a variety of men's ties with Christmas themes to attach to the collar or top of the sweater. Look for bright colors and graphics.
Make a Sweater Vest - Change it up by cutting off the sleeves and creating a vest design such as a gingerbread house theme with cookie and candy designs.
Go to Town with Tinsel - Make all sorts of crazy sweater designs using shiny, colorful tinsel such as wreaths, Christmas trees and ornaments.
Santa's Elves to the Rescue - Round, smiling faces with rosy cheeks topped off with pointed red and white hats make an adorable Christmas sweater. Changing up the elves' facial expressions can add to the goofiness factor.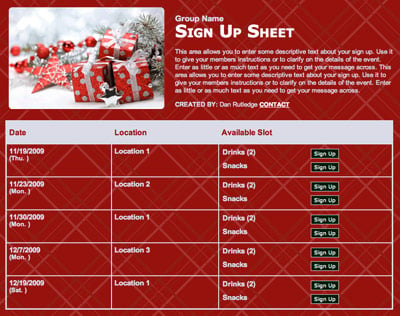 Party Decoration Ideas 
Make an Ugly Sweater Banner - Draw a small sweater outline on a sheet of cardstock to use as a pattern to then trace additional sweaters. Create fun sweater designs using leftover scrapbook paper, scrap material, buttons, colored markers or whatever you have on hand. Cut a long piece of string or colored ribbon and attach the sweater cutouts with clothespins.
Create Sweater Trees - Wrap sweater material (look for an old sweater to cut up or check consignment stores) around Styrofoam cones. For added sparkle, poke in sequins with sewing pins.
Dress Wine Bottles in Sweaters - Fuzzy socks with holiday designs make ideal wine koozies. Simply cut off the toe end and place over the bottle. Extra decorations of red and green pompoms and sequins add to the fun.
Craft Sweater Gift Boxes - For use as table decorations or party favors, wrap boxes in sweater material and tie with colorful ribbons.
Place Sweaters on Tall Candleholders - Using purchased wine bottle covers or your own homemade versions, wrap tall candleholders in sweater designs and decorate with additional tassels and ribbons. 
---
Organize an evening of caroling at your church with a sign up. SAMPLE
---
Games and Refreshments 
Hold Contests - Provide prizes for most creative, most original, most hilarious and more.
Make Ornaments - For an especially fun activity for the kids, provide pre-cut felt sweaters with string attached to the tops ready for hanging on the tree. Set up a table covered in Christmas wrapping paper and stocked with craft supplies for decorating their ornaments.
Host an Ugly Sweaters Pet Parade - Ask guests to arrive with their pets in sweaters or provide basic materials for them to create fun designs as a party craft.
Set Up a Photo Booth - Decorate with lights and provide playful props such as Santa hats, reindeer antlers, elf ears, Rudolph noses and mistletoe.
Christmas Karaoke - Discover which guests can belt the best and worst Bing Crosby imitations.
Christmas Scavenger Hunt - Have guests hunt for a variety of Christmas icons — many to be found on each other's sweaters!
Create Gift Tags - For a fun craft activity, gather a variety of craft materials including colorful papers, glittery glue, scissors, hole punch, ribbons, stickers, sequins and fringe. Provide pre-cut sweater patterns as the base and let the creative juices flow.
Dress Up the Gingerbread Cookies – Bake sugar or gingerbread cookies using sweater-shaped cookie cutters, and set out a variety of sprinkles and icing for guests to decorate their ugly sweaters.
Put Pigs in a Wreath - Bake pigs in a blanket and lay them out like a Christmas wreath. Use ketchup and green hot sauce for holly embellishments.
Decorate an Ugly Sweater Cake - You can find cake pans in sweater shapes online. Bake a yummy holiday cake decorated with crazy icing and toppings.
Garnish the Beverages - Use pipe cleaners as antlers, pompoms for noses and googly eyes to make reindeer cups or glasses.
Bake a Christmas Tree-shaped Pizza - Tomatoes and pepperoni make yummy ornaments on homemade dough. Thinly cut and layered bell pepper slices become great garland.
One of the best features of the ugly Christmas sweater and party is that there are no rules and no formalities. Enjoy the night! 
Laura Jackson is a freelance writer based in Hilton Head, S.C., with her husband and two teenagers.