How to Run an Effective Meeting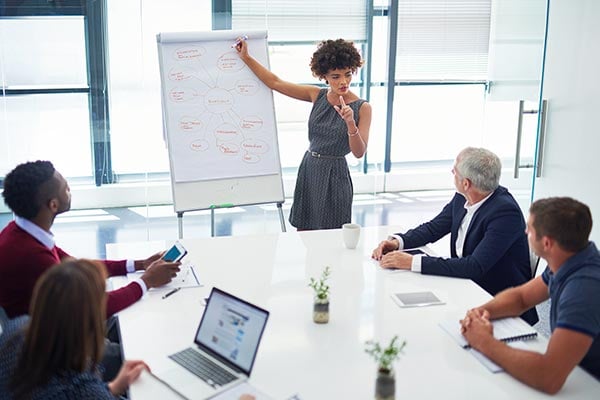 Meetings can be an integral part of the workflow — but they can also be a dreaded part of the day. More productive meetings mean more time to improve your strategy and the bottom line of your business. Try these 10 tips to get started. 
Prepare for the Meeting - The old Scout motto holds true in the corporate world, too. In addition to a well-thought out agenda, consider these questions as you plan:

What tools do you need to make the most of this meeting? A PowerPoint presentation/projector? A handout? A dry erase board? Video?
Who should be at this meeting? Be thoughtful about who you ask to attend. On the one hand, you don't want to waste anyone's time. On the other, you don't want to leave someone out who will have to get caught up later. Genius Tip: Start off on the right foot with these 20 quick icebreakers for meetings.

Keep Regular Meetings on Schedule - Having an outline of the agenda helps keep things on course for these weekly meetings. Evaluate what really needs to be addressed with the entire group and eliminate anything that can be dealt with one-on-one afterward. Remember, while regular meetings should still allow for personal interaction, make sure this doesn't derail the agenda. No one wants to be there longer than necessary — even the co-worker who loves to throw his two cents in. Genius Tip: Scale back on too many announcements and instead include them in a weekly email newsletter.
Get Everyone Together in One Room - As companies spread out with global footprints and more remote workers, it's harder to get everyone in the same room for a face-to-face conversation. Try to avoid the "calling in" trap — people don't always pay attention. Instead, use technology for interactive video of your meetings. Studies show there is a difference between just calling in to a meeting and actually seeing people's faces.
---
Create an RSVP for a company lunch and learn with a sign up. SAMPLE
---
Change Things Up - This is especially true for weekly meetings. Even if you tend to cover similar territory each week, change the order — or who does the bulk of the talking. Review your previous presentations and eliminate anything that didn't work well. Take suggestions from employees and actually implement them.
Consider an Informal Meeting - Institute a monthly "stand-up" meeting — possibly even in the break room or a lounge space with couches. If you don't need everyone, try to avoid the sterile, forced feeling of the conference room and look for a more informal setting in the office. These are best reserved for smaller announcements or a casual setting to get employee feedback or brainstorming ideas.
Plan Meetings in Advance - Consistency is best. For instance, in newsrooms, there is always an editorial meeting first thing in the morning at the same time. When employees know what to expect and what time to be there, they can be prepared. Scheduling last-minute meetings can be a frustrating and slow progress. (If someone has an important client meeting already scheduled, forcing them to reschedule at the last minute isn't good for anyone.) Genius Tip: Create a conference room reservation schedule with an online sign up.
Provide Incentives - While you'll run into companies that provide big incentives for attending certain meetings — think tickets to top concerts of Broadway plays — you don't need to be nearly that extravagant. Mix things up with a lunch and learn or breakfast items at an early meeting. You can also offer employee recognition with regular "job well done" shout outs where employees who are recognized can leave a half hour early that day. Genius Tip: Try these 51 employee recognition and appreciation ideas at your next meeting. 
---
Hiring? Coordinate interviews with a sign up. SAMPLE
---
Choose an Off-site Location - If you're planning an extensive meeting — like an all-day brainstorming session that focuses on a major new product launch — get everyone out of their comfort zone and in a new environment. A change of perspective can do everyone good. Don't be afraid to change up your regular meetings either. Taking your team down the street to a local coffee shop for your monthly strategy session will be welcomed.
Don't Run When the Meeting is Over - Sometimes the best things happen off the cuff in the more casual environment that happens when people are getting up, shuffling around about to leave. Don't leave the meeting right away, instead linger and listen to what's being said. This is also a good time for employees to approach a manager for clarification or further explanation of a topic covered in the more formal setting.
Sometimes the Answer is NOT to Have a Meeting - If you simply need to inform or update people on something going on with the company, perhaps it's possible to spell everything out in an email. Meetings are important because of the give and take — the brainstorming that happens when people are all together in a room. But if sharing ideas is not what the meeting is about, consider another way of getting everyone up to speed. (Unless, of course, it's a truly major company announcement.)
Set your meeting's purpose and be sure to write an agenda so that everyone knows how the meeting will run and the issues that will be discussed. The more thought and intention you put into your time with co-workers, the more productive and successful you'll be. 
Michelle Boudin is a reporter at NBC Charlotte and a freelance writer.